52 Exercises #34: Zumba – Latino Love and Energy Boost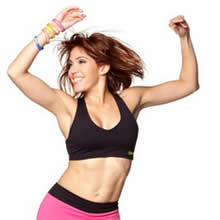 Nella is from Venezuela. She is five foot nothing with wild curly hair and more energy than a litter of puppies.
She's standing on the stage now beaming, wearing a pair of lime trousers adorned with tassels and a sports bra under a sexy backless midriff shirt. Nella looks as if you she's ready for some fun and so am I.
"Summer is coming!" says Nella in her beautiful Colombian accent.
"So we are going to do some extra squatting today to shape up those gluteus muscles." She turns to the side, sticks out her bottom and grasps it firmly with both hands.
"So when you are squatting make sure you when you raise yourself you push up through your heels because that will strengthen your gluteus muscles and we all want a strong firm bottom, don't we?"
I nod.
"We all want to look good in our shorts this summer, but also strong gluteus muscles  are important for a healthy body and not just for what you think."
A murmur passes through the 19 women and solo male who have come to Zumba, but before we have time to think about what Nella thinks we are thinking about the music starts pumping salsa.
I'm ready to start shaking my hips right now but first we have to warm up and do the aforementioned squats and lunges, all to a soundtrack which makes me even more ready to dance.
But before too long Nella is dancing properly, feet moving to the beat, body swaying in time to the music and hair swinging around her face. The are some hardcore Zumba fans at the front. They've got the Zumba trousers, tassels and bra too and they know the routines.
Meanwhile I'm on the back row keeping up most of the time but occasionally getting distracted by thoughts of a new business venture I'm getting started on.
Nella is watching though. Once the music starts she never talks but relies on body language to teach us the moves. She makes eye contact with me, exaggerates her steps and taps her arm to show me which one I need to move first.
She's good and it's good to learn by watching and doing instead of watching YouTube videos and thinking about what I'm going to do when the new business project is launched.
I've been doing a lot of exercise recently but I'm spending more time working now too. I need the extra exercise to cancel out the hours sitting at the computer. I need to balance intellectual learning with physical exercise, thinking with doing, and mental challenges with active pursuits.
"If you can't keep up with the moves don't worry" I was told at the door "Just have a wiggle and a giggle." That's exactly what I needed and exactly what I got here at Zumba with Nella.
The class is over and we warm down. Nella kisses her fingers and presses them to her left cheek, her right cheek and then to her bottom and belly.
I thought she was blowing kisses  to us at first but now I'm confused. She can't be telling us to kiss ass but that's what it looks like. When the music is off Nella speaks again.
"You know what that means right?" she asks, repeating the kissing routine.
"It means love yourself. Love yourself, even your rolls." She grabs her tummy then jiggles it.
Aha! It all makes sense now. I'm not sure if this is a Colombian thing, a cultural gulf which has just been crossed but I'm glad she set me straight.
I feel as if I've been on  holiday to South America this morning, taken on some of the energy and excitement of Latino life and now I'm ready to get back to my own.
Zumba Exercise Review
Cost: $12. If you're in Noosa you can find Nella's Zumba timetable here.
Time Exercising: 60 minutes
Calories Burned: 248 cals
Average Heart Rate: 132 bpm.
Peak Heart Rate: 161 bpm.
Fun Factor: 7/10
Fear Factor: 2/10 Interesting how fear is dropping away as the weeks go on.
Post-exercise Glow: 8/10.
——> Check out more episodes in the 52 Exercise quest now.
Thank You for Reading
If you're enjoying Get In the Hot Spot and 52 Exercises please take a moment to share this post on Facebook, Twitter, by email or any way you please. You can use the handy buttons below. Thank you.
Get the weekly newsletter – If you'd like email updates from Get In the Hot Spot click here to subscribe now. You won't get an email every time I update the blog but I will try to create a weekly newsletter to tell you about the best stories.
Share This Story, Choose Your Platform!