52 Exercises #37: Tai Chi, Getting Glasses and Other Rites of Passage for Ageing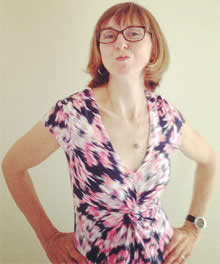 I've finally done something I've been needing to to do for a while. Something I've been putting off for months, maybe even years. I've been to the optician, had my eyes tested and I've got my first pair of reading glasses. I'm wearing them right now.
My eye sight is fading. I find the print in some of my books is too small to read. My eyes ache from being on the computer all day  and reading in bed at night which I love makes me sooooo tired.
I suppose I delayed getting glasses because fading eyesight is a sign of old age. But I love glasses. When I was a student I used to wear a pair of glasses with no glass in them to uni discos. They were just bare glass frames which I wore because I thought I looked cool and it was a good conversation opener.
So I shouldn't feel ashamed or sad about needing reading glasses aged 45 because it's a rite of passage. Just a normal part of getting old much like these other landmarks:
the first wrinkle;
the first grey hair;
the first hair growing out of a mole;
the first time you say "I remember when…";
the first time you see a policeman younger than you;
the first time you notice the liver spots on yoru hands;
the first time your under arm wobbles when you wave;
the first time you get called a silly old fart.
And now here I am at Tai Chi, another sign of being old but one I'e been looking forward to because I'm tired again and keen to conserve energy, to harness my mental energies and do what is called moving meditation.
We are 11 women and two men, all advanced adventurers learning new things in the second half of life. Although many of the others are probably in the final quarter of their life they chatter away before the class starts and seem vibrant, full of energy and fun. I am the baby and I love that.
The teacher is wearing sandals, baggy trousers and a cotton kaftan top. Everyone is wearing street clothes and I feel a bit foolish in my exercise gear.
There's one other new student. She's anxious, not sure where to stand and worried about what to do. That would have been me at the beginning of the 52 Exercises quest but now I am full of confidence. Meeting new people and trying something new every week will do that to you.
I reassure her that I'm new too and she joins me at the back of the class. The thick, straight penciled-on eyebrows give her a fierce look but her face is kind and warm.
We warm up, following the teacher in movements which are barely exercise at all, raising our arms and twiddling our ankles as if miming what exercise would be like if we were actually doing it.
But then things hot up. The teacher announces we will start the routine, a series of slow complex movements which is almost impossible for us newbies to keep up with. My new friend shoots me an anxious look, her eyebrows have sunk lower and I send her a look which is half smile, half grimace.
"She's not a very good teacher is she?" she comments and I inwardly agree although it turns out our timing as new students is unfortunate. We learn that the Tai Chi sequence is known as Beijing 24 and the class have been learning it all year, for the last nine months in fact.
Even though no one seems entirely sure what to do the teacher announces she will watch us while we do the routine alone. Thankfully my meditation and acceptance practice mean that I take it all in my stride, happy to muck around and try to follow along because, even though I should be on my computer working, Tai Chi seems like a better place to be.
The teacher takes time to break the last 30 second sequence down for us. I love the name of the movements like 'needle at bottom of ocean', 'fair lady plays shuttles', 'fair lady playing lute' and 'patting high horse'. They're beautifully poetic and old-fashioned. The Tai Chi itself reminds me of a slow dance sequence, I concentrate on learning the moves and I lose myself in the gentle rhythm.
Seemingly easy, some of the m0ves are strangely hard to execute. There is talk of cross brain activity and I see how Tai Chi can stretch you mentally if not physically.
The lesson ends just as I am getting into it. The others clap and cheer because they have finally completed Beijing 24 and I joke with my new my friend about mastering it in only one class.
Then the Tai Chi is over and the class disperses; to the cafe for some and back to work for others.
We bid each other farewell and hope to see each other again soon. There wasn't much physical exercise in Tai Chi but I noticed that while our eye sight may fade when you get older your love of learning, curiosity and sense of fun can keep right on going.
Tai Chi Exercise Review
Tai Chi cost $13 at the Noosa Leisure Centre. I didn't wear my heart rate monitor as that would have been even more ridiculous than turning up in my exercise gear. I probably burn more calories cooking supper than doing Tai Chi but don't let that put you off.
Meditation is great and if you can do it moving I'm all for it, but the learning curve in this Tai Chi class seemed to be quite steep. I was pooped afterwards and slept like a baby that night though – must have been all that cross brain activity.
What's the 52 Exercises Quest About?
It's an idea I dreamed up to try a different exercise each week in the hope it would fix a pesky little midlife crisis I was suffering from earlier in the year.
Tai Chi is exercise number 37 (the 37th different exercise I've done in 2013!) and I've tried everything from body building to soccer so far. The good news is it's working – or something is. I feel much better now thank you.
Check out more episodes in the 52 Exercise quest here.

Thank You for Reading
If you're enjoying Get In the Hot Spot and 52 Exercises please take a moment to share this post on Facebook, Twitter, by email or any way you please. You can use the handy buttons below. Thank you.
Get HOT with our free weekly newsletter – Click here to subscribe now. You won't get an email every time I update the blog but I'll try to create a weekly newsletter telling you about the best stories.
Share This Story, Choose Your Platform!