How to Tell People the Truth About Yourself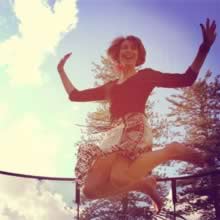 "The truth will set you free, but first it will piss you off."
Gloria Steinem
Blogging is great. Becoming a public figure, albeit on a very small scale not so much because unintentionally me, my name and my blog have now become a brand.
I started Get In the Hot Spot to create a fun, positive place. The kind of place you'd go to when you needed a lift or inspiration but recently that's come back to bite me on the bum.
Although I've suffered from depression in the past I didn't think about what would happen if I got depressed again. I didn't think about what would happen if I created a blogging platform which ended up becoming a ledge, a place where I seemed to be stuck on a pedestal with only one way to go. Down.
So how do you tell people the truth about things you'd rather not admit to?
1. Know that not telling the truth makes you sick
So for a while when I got depressed I glossed over it on my blog. I continued to write the kind of upbeat posts you may have grown to love Get In the Hot Spot for. But my sparkle had gone. I rarely laughed any more in my daily life and that carried through to my writing. The silly jokes that probably only made me laugh anyway disappeared completely while I peered into my inner depths and found only darkness, doubt and despair.
The truth is I do feel ashamed telling you I'm depressed. I didn't sign up for this but nor did my dear readers. I don't want to drag other people down with me and I also don't want to mess with this beautiful brand which I've worked hard to build.
I fear that by telling the truth about my patchy mental health and irrational emotions I will scare off valued readers as well as advertisers who may no longer want to support me and my community. There are so many people I admire and respect who I've connected with on social media but I worry they'll lose respect for me now. There are many brands I'd love to work with who might not want to work with me when they read this.
They say the truth will set you free but I'm not so sure. The truth that I'm currently suffering from depression might trap me. Get me labelled with something which is only a small facet of me, the side I least want to share with the world, let alone be linked with forever.
But I'm telling the truth anyway because if I can't be honest I can't help myself and if I can't help myself I can't help anyone else either. I'm telling the truth because studies have shown that not telling the truth makes you ill so maybe telling the truth will heal me.
2. Explain the truth clearly to avoid misunderstandings
The truth is I'm taking anti-depressants now. In case you want to know I'm taking an SSRI (Selective Serotonin Reuptake Inhibitor) called Citalapram which works by increasing levels of the mood enhancing hormone serotonin in the brain and it's turned my life around in three short weeks. I feel like my old self again. My confidence, sense of humour and sunny outlook have magically reappeared. I'm once again the kind of person I want to be.
But I don't like taking these drugs. I never wanted to take them and I already want to stop. So I am working on making changes so that when I do stop taking anti-depressants I'll still be the positive me.
I'm also seeing a therapist with an interest in mindfulness, something which I want to work on, and I'm looking forward to that. To be honest I am also just looking forward to talking to someone who I can trust and share everything with but I want to share it with you too. I emailed the therapist before we met saying:
"My problems include (but are not limited!) to depression, low self esteem, addiction, perfectionism and lack of focus. Also, the GP put me on anti-depressants and everything is masked right now."
3. Don't dwell, move forward and turn the negatives into positives
So those are my secrets, the skeletons I'm letting out of my cupboard to cleanse my soul. Now you know the worst things about me although none of the gory details which I still hope to cover in my memoir.
I don't plan to bore you with the details of my treatment but I want to assure all of you who are concerned, have left comments or emailed me that I am being looked after and, more importantly, I'm looking after myself. And I'm hoping that I can start writing more of the upbeat, inspiring posts I want to share here and that they will come from the heart. But I'm also giving myself permission to be real and to share even when I am not feeling positive.
I dearly hope you will stick with me through this journey and that I can be a living example of some things I want my kids to know.
We all have secrets, we've all done things that we're ashamed of. We all live in fear of being judged by others but keeping secrets only makes things worse. Being real with yourself and with other people is the only way to live fully.
Secrets lose their power once shared and become stories. Stories we can learn from and grow with, stories that remind us that everyone makes mistakes and that the greatest power we have is our inborn ability to grow and transform into something better every single day.
With that in mind I've created a new slogan for Get In the Hot Spot:
Advanced adventures for body and soul.
I want to cover travel, wellbeing and personal development for people who may be getting older but never want to be boring. If you'd like to join me in rebranding the term "old bores" into advanced adventurers stick around.
Like the best people Get In the Hot Spot is constantly evolving and one of the big things that makes this blogging journey truly great is you.
Do you find it hard or easy to tell people the truth about yourself?
Have you signed up for the NEW Get In the Hot Spot weekly Newsletter?
It's 100% free, fun and designed to make you feel fabulous. Take 10 seconds to subscribe now and get secret content which you can't read on the blog direct to your email box every Sunday as well as links to the hottest posts.
Share This Story, Choose Your Platform!