52 Exercises: Iyengar Yoga and Letting Go of the Bank Balance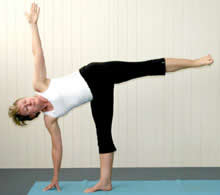 The Internet is down at home which is the perfect excuse to start the week as I mean to go on, by focusing on my physical and emotional well being and worrying less about work and the bank balance.
Considering it's nine o'clock on a Monday morning the class is packed, filled with other people who are more interested in their work life balance than their bank balance. I'm trying Iyengar yoga today but I couldn't really care what type of yoga it was. I'm just happy to be here, looking forward to relaxing and enjoying a slow start to the week.
It all starts off well as we sit on the mat, legs crossed,  hands in the prayer position and let rip with three good Oms. There are so many people here I don't feel self conscious and the sound reverberating round the room is quite beautiful. Spiritual almost. I let rip.
My shoulders are horribly hunched forward though and the teacher comes to pull them back which is a relief. If I start the week like that I'll be hunch-backed by Friday.
Apparently it's a week of standing poses so there is no rest during this class. It's challenging to balance on one foot with one leg in the air while looking at the ceiling and hoping the block you've got your hand on doesn't wobble over and send you crashing to the ground.
I'm soon aching although it's not clear if that's from the 10km (7 mile) run I did earlier in the morning or from the yoga.
Hands and feet planted on the ground we lift our bums in the air for dog pose.
"God is dog spelled backwards," the lady next to me comments. She's bright eyed and bushy tailed. I like her even though I'm a cat person.
We lie down with one arm stretched to the side and the other shoulder contorted round to stretch the shoulder and upper arm. The teacher tells us she's used this pose to fix many shoulder injuries.
"But if you didn't have a shoulder injuries before, you will do now," the lady next to me pipes up. Everyone laughs.
"So how often do you come here?" I ask her after the class.
"Every day," she says. "You see I'm retired and I don't play golf, I don't play bridge and I don't knit. So I do yoga."
It sounds good to me although I might do yoga and bridge when I retire. We'll see.
But retirement's a way off for me. It's nearly 11am on a Monday morning now. My physical and emotional well-being has been topped up and I'm ready to go to work on that bank balance now.
Inyengar Yoga Review
Cost: $20 for a casual visit at the Noosa Yoga Center on Sunshine Beach Road in Noosa Junction.
Time Exercising: 90 minutes.
Fun Factor: 6/10 – It's more about chilling out than having fun.
Fear Factor: 2/10 – Not a problem, it's easy to hide in a packed class.
Post-exercise Glow: 7/10. Came out feeling nice and mellow and ready to get to work.
How do you balance work and life?
——> Check out more episodes in the 52 Exercise quest now.
Thank You for Reading
If you're enjoying Get In the Hot Spot and 52 Exercises please take a moment to share this post on Facebook, Twitter, by email or any way you please. You can use the handy buttons below. Thank you.
Get the weekly newsletter – If you'd like email updates from Get In the Hot Spot click here to subscribe now. You won't get an email every time I update the blog but I will try to create a weekly newsletter to tell you about the best stories.
Photo credit: Noosa Yoga Centre
Share This Story, Choose Your Platform!