Worst Fellow Passenger on a Plane: Travel Photo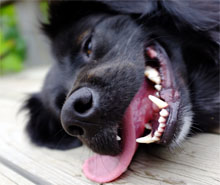 My husband went on holiday without me once. Actually, he's done that a few times.
I usually manage to tag along, but sometimes he needs a boys only break. I don't understand why but that's how it is.
When we lived on Waiheke Island in New Zealand, the Mucho Man nipped over to Great Barrier Island one weekend. We'd been there ourselves before when our first-born child was six months old. It's a beautiful, sparsely populated island that remains wild because it's a two-hour ferry ride from Auckland so definitely not on the commuter track like Waiheke.
Apparently the Mucho Man and his mates had a lovely time scuba diving and drinking beer.
On the flight home the tiny three seater plane had an extra and non paying passenger. A very large and exceedingly hot black Labrador who smelt strongly, as only black Labs can, then panted and drooled the whole way there. His saliva pouring off his tongue, onto the plane floor and his fellow passengers' feet.
I guess that's what you get when you go on holiday without me.
Finally, note that the Mucho Man sat next to the pilot (you can't see him, he took the photo) and his travel mate (with a water bottle squeezed between his knees) got the back seat with the dog owner and her dear doggy. Did I tell you already he's very smart?
I had one of my worst journeys on a bus from Bangkok to the Thai coast and some dreamy island destination. Long over night bus journeys are never fun but the Mucho Man made that one even worse… but that's another travel story for another day.
Who, or what, is the worst passenger you've ever shared a plane, bus or train with?
Photo credit: Xlibber
Share This Story, Choose Your Platform!