World War 2 Tour in the Solomon Islands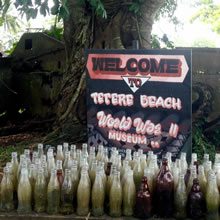 Some things have barely changed in the Solomon Islands since 1942 when the US soldiers packed up and went home. Traditional life continues in the outer islands, where the daily commute involves a dugout canoe and the evening meal is catch of the day, cooked over a fire and eaten in a hut woven from palm leaves.
Progress is slow in the Solomon Islands but things still change. Massive trees have now grown up around army tanks the troops left behind and a thousand tropical fish weave their way in and out of the wrecks of planes and ships that litter the seabed in between Guadecanal Island and Savo Island.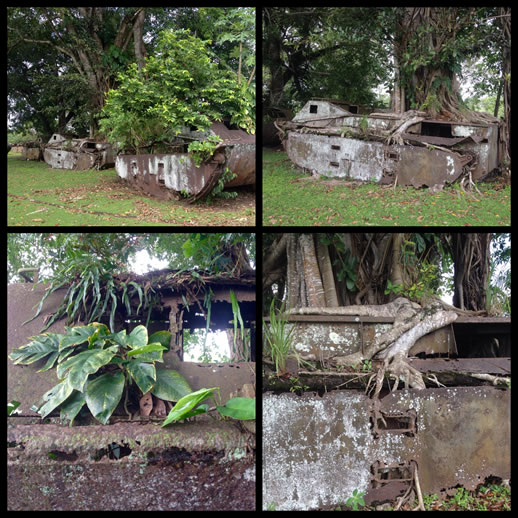 Even for someone who's not a history buff it's an arresting sight that makes you want to find out more.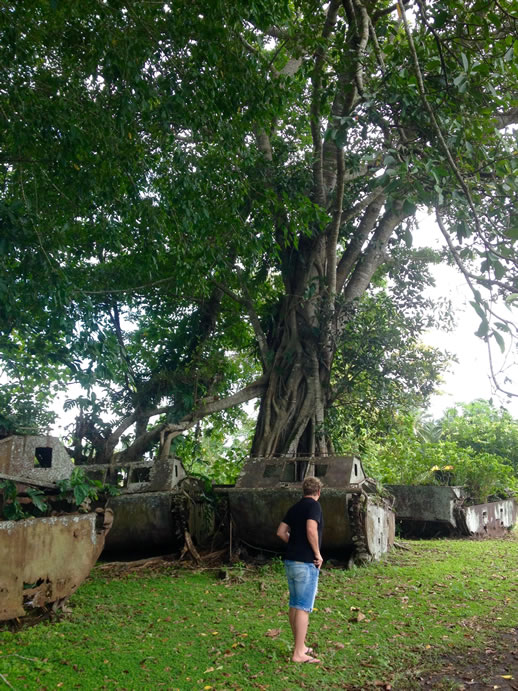 The Solomon Islands played a key role in World War 2 with the battles fought here preventing the Japanese from reaching Australia and the American troops and local helpers becaming war heros.
Perhaps the most famous US soldier ever, John F. Kennedy, was shipwrecked was in the Solomons and rescued only with help from locals who took a messaage he'd carved on a coconut back to base.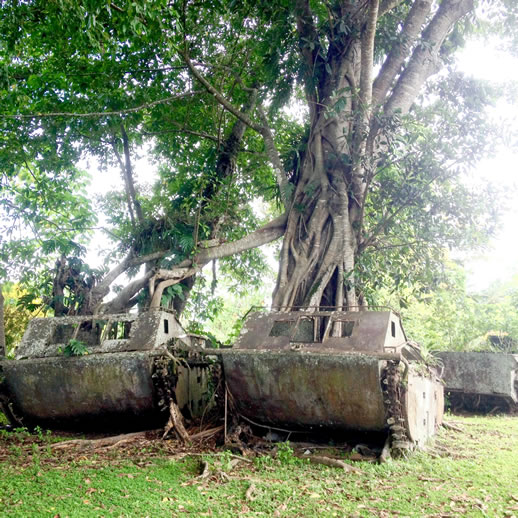 The Battle of Guadecanal, the main island and home to the capital of Honiara, was a long, bloody one.
It started in May 1942 when the Japanese landed in the Solomon Islands and took over Tulagi, the center of British administration, and Lunga airstrip. Now called Henderson Airport, with international flights arriving from Brisbane, the airstrip was originally built by 1,850 "strong soldiers" from Japan who wanted to secure a base in the South Pacific from which to operate their campaign.
The battle of Guadecanal lasted six months ending when the Japanese withdrew on 31 December 1942, athough the US established a base here and stayed until 1945.
Our World War 2 Tour takes in the Peace Memorial Park on Mount Austen, commemorating the 118,700 Japanese soldiers who died; the Old World War 2 road;  the World War 2 lookout tower; and the US War Memorial to commemorate the US marines who were first to land on the Solomon Islands. Those US troops paved the way for allied occupation and saved the Solomon Islands and Australia from Japanese invasion or occupation.
We also visit Alligator Creek where 980 Japanese bodies were exhumed in 1982 and Tetere Beach Museum, where 3,000 Japanese are still buried in an unmarked grave. The mass grave was only discovered in 2000 when a bar was built here and the Japanese are still deciding how best to recover the bodies and commemorate those who died.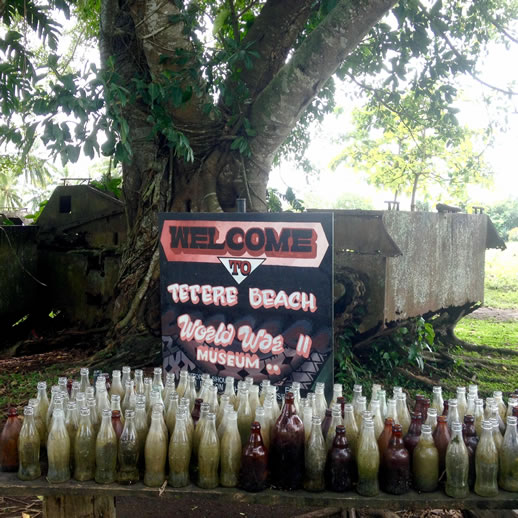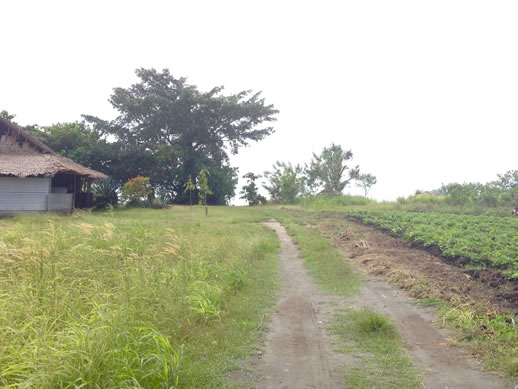 The museum is the highlight of our World War 2 tour, although it is not a museum as we know them.
The most impressive exhibits are the twisted, rusting carcasses of US tanks with trunks of giant banyan trees growing through them. It's an eerie sight. A natural monument that highlights the death and destruction of war in a way the other memorials never can.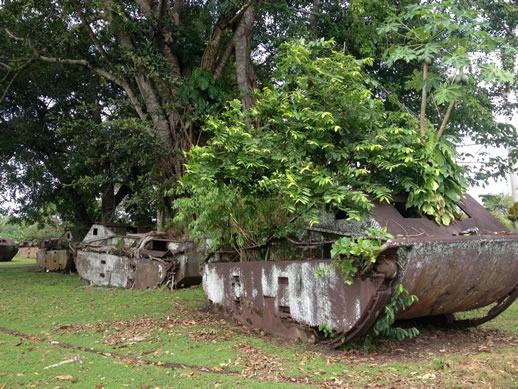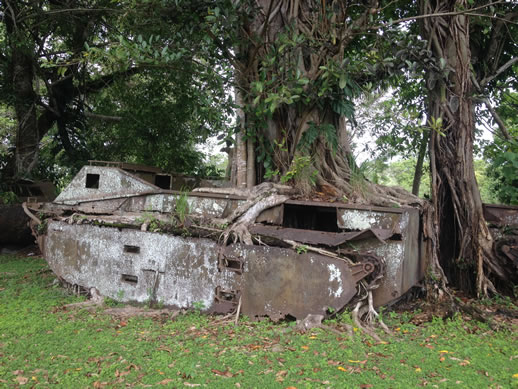 Our guide at Tetere Beach Musem is a man called Samuel who looks as if he has just climbed out from under a car engine and shows us a book stuffed with clipping about the war. It takes us a while to understand that Samuel says he is the grandson of Seargant Major Jacob Vouza, a Solomon Islands war hero who helped allied forces.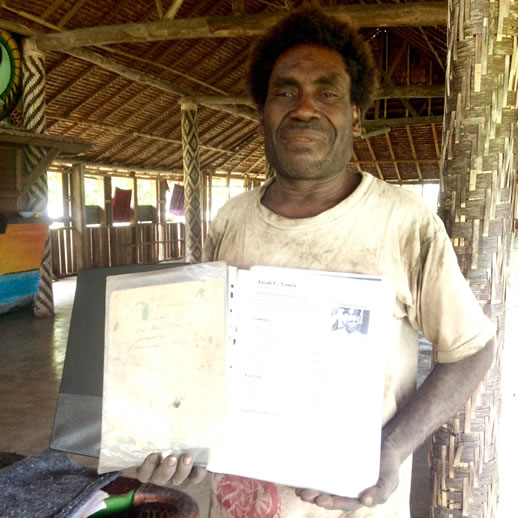 We learn that Jacob Vouza was captured and tortured for hours by the Japanese, bayoneted in both arms, throat, shoulder, face and stomach. Despite this he refused to give them information and was eventually left for dead tied to a tree.
But Jacob was tougher and more determined than most. He chewed free of his bonds and crawled three miles through the battle area to reach the allied forces where he managed to splutter valuable information about the Japanese forces.
He was  treated at the US marine hospital in Honiara and received 12 pints of blood during his 16 day hospitalisation. Once fully recovered he continued to battle with US troops and perform still greater deeds of bravery.
When the war was over, Jacob Vouza was awarded the George Medal by the British and the Silver Star and Legion of Merit medals by the US. He continued to serve his country after the war and was knighted in 1979. A proud and loyal soldier to the end Vouza wore his Marine Corps uniform until he died in 1984, aged approximately 84; although he had a strong sense of justice and honour he never knew the year of his birth.
Samuel, born in 1958,  told me his is Jacob Vouza's grandson and is now the guardian of his grandfather's medals and sword as well as his story.
August 2017 will mark the 75th Anniversary of the Battle of Guadalcanal. Although the war is long over, the sense of horror and hopelessness of war lives on here, alongside incredible stories of endurance and courage like that of Jacob Vouza who, when pressed to explain his actions, simply said:
"Better me die plenty than give the Solomon Islands to Japan."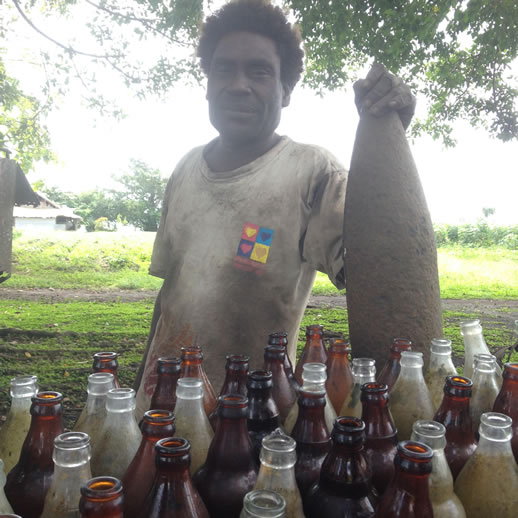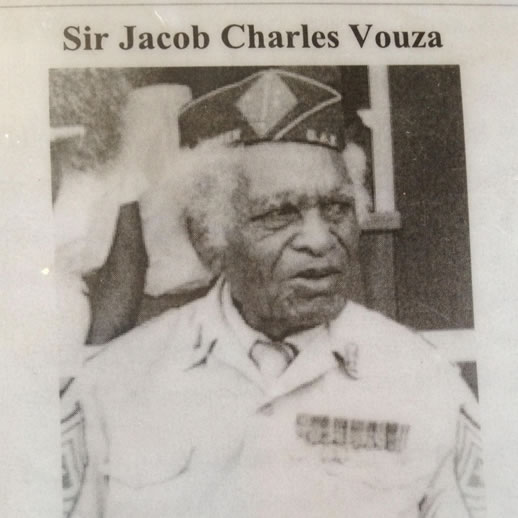 Find out more about the Solomon Islands
I was a guest of the Solomon Islands Visitors Bureau during my visit. See their website for  photos, travel information or to plan your trip including a World War 2 Tour.
Get Free Inspiration for Your Next Travel Adventure
Stay tuned for more travel stories, ideas and inspiration. Get free email updates from Get In the Hot Spot – a weekly injection of tips to help you be more adventurous and have more fun. Sounds good? Click here now for free updates.
Share This Story, Choose Your Platform!