Rethinking Sending Gifts Home to the UK & British Sweets Giveaway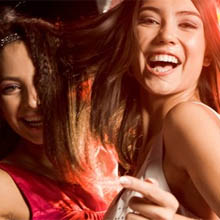 The best compliment I've ever received was when my best friend asked me to be godmother to her baby boy. We'd had some adventures together including our university days in London, travels in Egypt and the infamous baguette incident in Paris.
Now my friend was starting the biggest adventure of her life. She was a brand new mummy. I was thrilled for her, but terrified too, because that transition from being a couple to being a family with a baby is huge.
I hadn't handle that change well when I had my first baby a few years earlier. First I almost died in childbirth, then I let years of undiagnosed post-natal depression wear down my confidence and my will to live. So I hoped that my dear friend would manage the transition to motherhood better than me.
Most of all I wished that I could be there to help her with the practical things new mums most need help with like shopping, cleaning and cooking. But I was in New Zealand and she lives in the UK.
I felt torn knowing I probably shouldn't be a godmother since I don't believe in God. But I knew my friend didn't care about that –  she had chosen me for my values, not for my beliefs.
We both knew the role of godmother was symbolic. That it meant if anything happened to her I am her first choice as a stand in mother to her son.
Compliments don't get better than that. An OBE from the Queen of England would not honor me more than that seal of approval from my friend.
But since we all hoped she would mother her son to adulthood and become a granny one day I did what I could do and what my godparents did for me; I sent birthday and Christmas presents to my godson every year.
Or at least I tried.
Jacob just celebrated his 11th birthday and I strongly suspect that sometimes there was nothing from me under the Christmas tree. It was hard to send gifts when we lived in Costa Rica with no Internet and no shops or post office nearby. I may have done it anyway, I can't remember but I tend not to give myself the benefit of the doubt.
So this year I was determined not to fail my godson.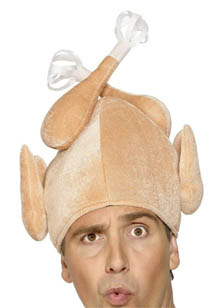 Last month I spent hours trawling Amazon to choose his birthday and Christmas gifts which included a fun activity book, a board game and this silly hat. Because a silly turkey hat is surely what every 11-year-old wants for Christmas. Apart from cash of course so he could buy whatever he wanted.
But I couldn't send him cash because I don't happen to have any crispy UK bank notes lying around my home in Australia and I couldn't think of any way to get cash to him until this week.
Because Western Union bank have just announced zero fees to transfer money direct to a UK bank account from now and indefinitely.
So if you want to send cash to the UK I recommend the Western Union. I've tried their serviced myself and they offer:
– No fees – Western Union fees are currently zero compared to at least $20 in other big Australian banks.
– Better exchange rate than other banks.
– No receiver fees for whoever you send a cash gift to.
–  The money will be in the UK the bank account within 1-3 business days.
– A confirmation email once the money has been deposited.
To send money to the UK with Western Union here's what you need:
A debit or credit card to send the funds with.
Your friend's address, bank account number and sort code.
A form of ID (I used my driving licence) to verify your identity when you register at the Western Union site. If you have any problems getting your ID verified online email me and I'll send you a code which you can use to transfer money using Western Union with zero fees at any post office.
I sent money to the UK with Western Union (not to my godson who was already sorted but to someone else who will appreciate it) and it was surprisingly quick and easy.
Best of all I didn't have to agonise about choosing a gift so it was a big time saver and I know the recipient will be very happy because everyone loves cash.
All I had to do was decide how much money to give then the recipient can spend it as they please. Or even save it if  they prefer.
Not that my godson would have done that. He'd have bought himself the silly turkey hat, I'm sure he would.
And probably something that neither me nor his mother would have brought him but which kids love more than anything else – sweets. Which reminds me…
British Sweets Giveaway
Just leave a comment below before 31 December to be in the draw.
Western Union wants to give one Get In the Hot Spot reader a little taste of the UK with a gift hamper of classic British sweets valued at $65.
If you're lucky it might include some of my favourite British sweets like these Flying Saucers and Pear Drops: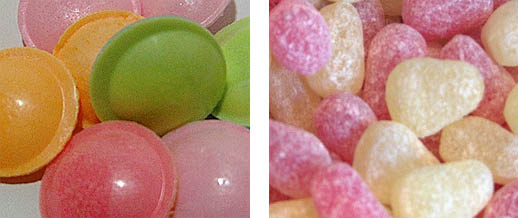 Naughty but nice.
To enter all you have to do is leave a comment below telling us: When or why you would transfer money to the UK from Australia? Follow these easy guidelines:
1. Make sure you live in Australia. Apologies to all you overseas readers but you need to be an Aussie resident to enter this one.
2. Leave a comment below before midnight on 31 December 2012. Do it now before you forget. The comment can be as long or as short as you like.
3. Keep your fingers crossed until the first week in January when the winner will be notified and their gift hamper sent out.
Good luck!
This is a sponsored blog post for Western Union. Now you've heard about Western Union's zero fees, which are running for a limited time only, why not try out their service and make someone in the UK very happy. You'll save yourself time by not having to choose gifts online and you'll save money twice on postage and transfer fees. To find out more about transferring money to the UK from Australia with Western Union click here.
Also, if you have problems getting your ID verified email me for a special code which you can use to transfer money using Western Union and zero fees at any post office.
When or why you would transfer money to the UK from Australia?
Share This Story, Choose Your Platform!