Why Time Management is Dumb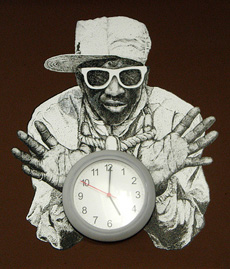 Guest post by Kola Olaosebikan
You probably know lots of people that do their best work when they are sweating bullets under tight deadlines. Under the same conditions, others feel overwhelmed and stressed out. If you fall into the first category, much of this article will not apply to you – in particular, if you like tight deadlines AND you are a chronic procrastinator, you might want to click away from this post.
How Smart are SMART goals for YOUR Time Management?
You see, there is a general understanding that Specific, Measurable, Action-oriented, Realistic, and Time-constrained (SMART) goals are required in order to make progress in life and master time management. I really can't argue with the profit that is to be gained from this method. However, SMART goals are being taken completely out of context these days (kind of like crocs—they belong on store shelves—not on your feet).
Do you really need a specific, measurable, action-oriented, realistic, time-driven modus operandi for your household chores? Or even your daily office work? Do you really need to construct that 5×5 matrix for your weekly schedule? Probably not. There is a better way to sort out your time management challenges.
On a personal note, I happen to work extremely well under pressure; however, I do have moments when I need some stress-free existence. It was during one of those periods of wanting zero stress that I discovered that there is a time and place for setting goals.
Sometimes, you need to forget about goals because setting goals when your mind, body, and soul are kicking against it will only drench you in stress, and consequently reduce your productivity.
The Case for un-SMART Time Management Goals
Heresy! I know, but the bottom line on time management is this: you need to pay attention to your patterns.
Are you much more productive when you don't set goals 60% of the time and get SMART for the remaining 40%? Or do you need to set goals 80% of the time and be un-SMART for the remaining 20%?
It will take some time to find your balance but it's worth it. If your goals are stressing you out, and you spend most of your day beating yourself up for not "finishing your list", you need to decide what is worth creating a goal for and when to create those goals.
Proceed with Caution
For those trying this out for the first time, I strongly recommend that you get into the habit of writing down the main activities that you complete during your un-SMART time. So instead of creating a list of things to do and checking them off as you go along, start with a blank sheet (or Microsoft Word document) and record your main activities as you go along. You will find that you get a lot more done than you would expect.
Icing on the Time Management Cake
The best part is, when you look at your list at the end of the day, you are not forced to focus on all the things that you didn't achieve. Instead, you are rewarded with a list of all the things that you did achieve. Sounds bueno to me.
Does that sound good to you or do you have some other time management tips to share?
Kola Olaosebikan is a blogger, speaker, management consultant, and passionate investor in human capital. Last year, Kola managed to wander through four countries and her passion for travel will likely take her to several others this year (Brazil anyone?) Keep tabs on Kola at Beta Motivation.
Photo credit: Hryck
Share This Story, Choose Your Platform!