Tuk Tuk Thai Noosa: Speedy Takeaway Review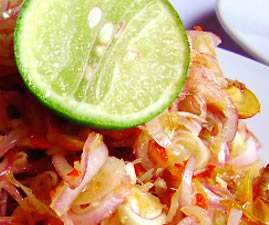 Whether you're on holiday or living in Noosa it's always a treat to have a night off cooking and get a takeaway.
We don't do it that often because, although it's cheaper than eating out, takeaways still cost more than cooking so we look forward to a takeaway all the more we do get one.
When Menulog contacted me to ask if I'd use and review their takeaway ordering site the timing was perfect because I'm writing more about Noosa and keen to cover as many eating options as possible. And bonus! It would mean a night off cooking for me and a night off washing up for Rich.
Lately we've been stuck on a certain fast food pizza chain which the kids love and I'm too ashamed to mention. But they love Thai food too so I thought we'd branch out and get a Thai Takeaway on Tuesday when cooking is made more complicated by my daughter's early evening gymnastics class.
The best thing about Menulog is that it gives you a choice of takeaways in your area so you don't have to rely on having the menus on hand when you order. You just enter your postcode (4567 for Noosa Heads in my case) and get a list of all the Menulog participating restaurants.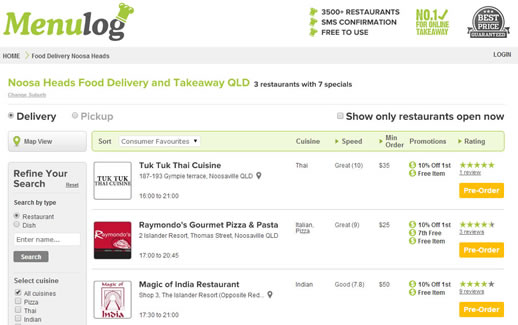 There are only a handful of restaurants listed by Menulog for Noosa right now but the main favorites of Thai, Indian and Italian are covered.
My choice was Thai food because it's popular with the whole family and there are plenty of healthy options so the Tuk Tuk Thai restaurant was selected by default.
I decided to get the Candy family to choose what they wanted the day before. The kids loved browsing over the Tuk Tuk Thai menu at leisure on the iPad and wrote down what they wanted on a bit of scrap paper which made it fast for me to order on the day.
The online ordering system was simple, user-friendly and quick so ordering was super fast and it was all paid for in five minutes. Really.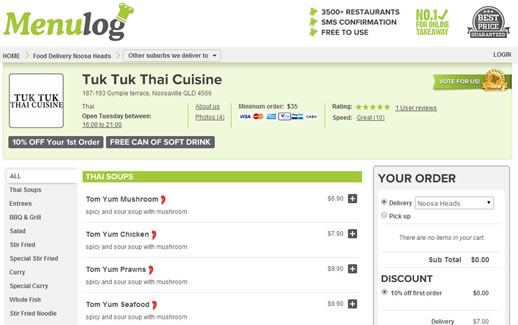 I also liked how I got a confirmation email from Menulog immediately including the restaurant's phone number in case I'd made any mistakes with my order.
So how did the Tuk Tuk Thai meal rate?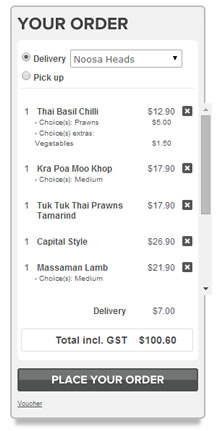 First let's look at what we ordered:
Me – Thai basil chilli prawns with extra vegetables.
Rich – Whole fish capital which is comes with "hot tasty chilli sauce cooked with special Tuk Tuk recipe".
Luke (aged 15) – Massaman lamb – medium hot.
Max (aged 12) – Kra phoa moo krop – crispy pork belly with chilli basil sauce – also medium.
Kiara (aged 9) – Prawns tamarind.
Impulse buy – Som tam green papaya salad made with lemon juice, chilli, green beans, nuts and tomatoes – because I love this in Thailand and I've never found it as tasty since but I won't give up!
I cooked my own rice to save a few dollars and the bill came to $125.90 including a $7 delivery which seemed reasonable. Even better with the 10% first time order bonus which got our meal bill down to $114.10.
Pretty good for a big takeaway for a hungry family of five including a 15 year old boy who's currently 6 foot 4″ and seems to be having a growth spurt!
Here's what we all thought:
"Good value" said Rich.
"Mmmm spicey" said everyone.
"There are lots of vegetables aren't there?" said I.
"They even made courgettes taste good!" commented Max.
"My lamb chops had a yummy peanut sauce on top" said Luke.
"Mine's the best" said Kiara.
"Did you have any veggies Kiara?" I asked.
This is what my Thai basil chilli prawns with extra vegetables looked like with one of Kiara's tamarind prawns on the side. I was super impressed with all the veggies.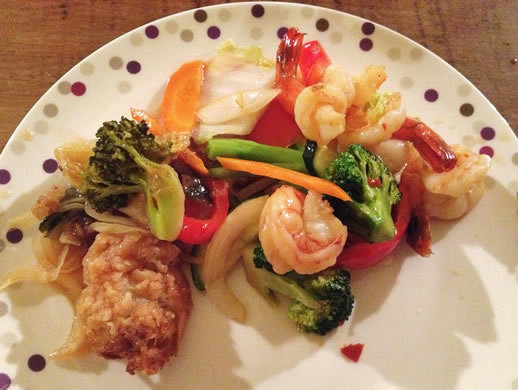 All in all we were very happy with our meal. It arrived promptly, tasted good and was a great deal.  If you're looking for a tasty Thai takeaway Tuk Tuk Thai delivers. Pun intended.
Disclaimer: MenuLog gave me a voucher to cover the costs of our takeaway meal. I chose to try Tuk Tuk Thai restaurant and all opinions are my own.
Does your family like a Thai takeaway?
——————————————————————-
Want to find out what's hot in Noosa?
Get free email updates from Get In the Hot Spot – it's a weekly injection of tips to help you be more adventurous, have more fun and feel fabulous along with Noosa travel and food tips too. Sounds good? Click here now to get our weekly emails.
——————————————————————-
Share This Story, Choose Your Platform!