I Got on TV During My Travels in Puglia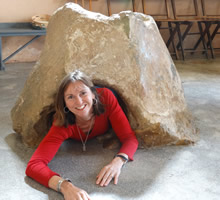 Puglia smells of rosemary, oranges and red earth. Of coffee, freshly baked bread and tomato sauce left bubbling for hours.
The landscape is thick with olive groves and dotted with grape vines and citrus trees, heavy with fruit. The olive oil is peppery and fresh, the Negroamaro wine, made from black grapes grown in the Salento area where my tour was focused, tastes like cherries.
Green trees, red earth, blue skies and sea are the colors of Puglia, or Apuglia, as it's called in English. There was only one day of blue skies during my 10 night stay in February but the baroque architecture and scenery of Puglia was still dazzling, even when overcast or drizzling. The sea was still blue.
Puglia is a place where ancient traditions are still passed down through generations, with food made from local, seasonal ingredients, cooked slowly and enjoyed over three hour sit down meals.
You can experience Puglia by eating in an old farm house, trattoria or a pizzeria, during a vineyard wine tasting or by walking in the ancient walled cities and towns. You can try, as I did, traditional Pugliese experiences like bread making, papier mâché, a cookery class, traditional dancing and passing through the hole in the rock at the Church of San Vito which is how I came to be on TV. But more on that later.
My tour was organised by an innovative new company called Agrifeudi who specialise in experiential based travel and are organising tours called 'Rooting' in Salento. If you are Australian, don't laugh, these rooting experiences are not what you think.
It's unfortunate that the verb to root has a few different meanings. In Australia 'rooting' is crude slang for sexual intercourse (Brits would use the word shagging) while in the USA it means supporting a sports team. But to the Agrifeudi team and to you when you visit Puglia 'rooting' is about going back to your roots, getting in touch with the earth and ancient traditions to create a deeper connection with the earth and its people.
The tours visit the Salento area which has Greek and Byzantine influences, two distinct dialects and, because the local stone is soft and easy to sculpt, some of the most stunning examples of Baroque architecture found throughout Italy. Which is why the small city of Lecce is called the Florence of the South.
Agrifeudi help you discover and unravel well kept secrets like the rock in the  Church of San Vito which you can see me wriggle through in the TV clip below. As the video begins I'm the one walking in wearing blue jeans and a red top on the right. (Reading in email? You'll need to visit the blog to watch the vide0.)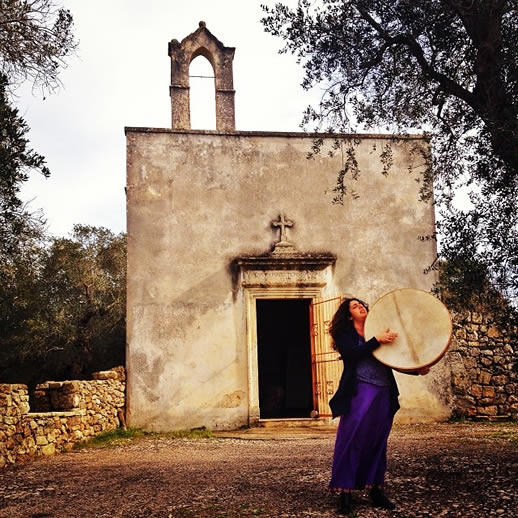 The Church of San Vito in Calimera is normally kept shut except once a year on Easter Monday when it's opened up. Then the whole village gathers to sing, clap and cheer each other on as they squeeze through a hole in the big rock which takes up a lot of floor space this tiny church.
The church was built in the 15th century but the tradition dates back much later, to pagan times when the ritual was performed during the spring festivals around March 21st with the act of going through the hole in the rock a symbol of rebirth and fertility.
Always keen to be reborn, when a woman sung to us and played the tambourine we all joined in and, after a stone penetrating demonstration, I was the visit overseas visitor to squeeze through the rock. Most politely declined saying they had claustrophobia.
The floor smelt earthy and rich and was slick with moisture. The hole in the rock is so narrow the only way through is by going in headfirst with your arms over your head then turning onto your back and slowly wiggling your hips through.
But I made it! I was reborn, fresh and new, ready for more adventures. And I got on TV!
Where is Puglia?
If you look at a map of Europe it's easy to find Italy with its famous boot shape. Puglia is one of the most southern points, a long skinny area in the heel of the boot bordered by the Adriatic Sea, separating it from Albania and Greece, and the Ionian Sea with just a one hour drive between the two coasts.
I was a guest of PromozionePuglia and Agrifeudi during my stay in the Salento area of Puglia. You can find out more about visiting Puglia, experiencing the Salento region and visiting the Church of San Vito for your own rebirthing experience by getting in touch with Agrifeudi.
I've got heaps of stories and photos to share with you about my experiences in Puglia so stay tuned.
Get Free Updates
Get a weekly injection of tips to help you be more adventurous, have more fun and feel fabulous in your forties and beyond in our newsletter.
Click here now for free updates, unique lifestyle tips that you can't find on the blog and links to the best stories.
Share This Story, Choose Your Platform!