Travelling With Teenagers: a 7 Step Survival Guide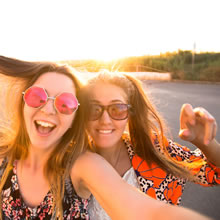 Teenagers present a tricky paradox. As their parents we love them dearly and know these years before they leave home are precious and fleeting. We also know time spent with Mum or Dad is vital for their emotional wellbeing and resilience in a fast-paced world.
Yet most teenagers don't want to spend time with us. Parents are embarrassing. We nag. We're stupid. We treat them like babies. We don't understand. We don't listen. Hopefully I'm not the only Mum who's been accused of these things!
Sometimes, even when we're fully present and bring our best parenting skills to the table, we have to deal with emotional, selfish or just downright rude behaviour from the teens. It's tough for everyone.
So how can we survive the rigours of parenting teenagers while on holiday? Holidays should be a time to hit the reset button for everyone. They should allow us to finally relax with, and even have fun with, our teenagers, without the urgent demands  of work, school and home management creating a pressure cooker situation.
Better yet, how can we not only survive a holiday with teenagers but make it a success which improves our relationship with them and leaves everyone feeling relaxed?
1. Get them on board from the beginning
Get your teenager invested in making the holiday a success by allowing them to help choose, plan and save for your holiday. Even if you don't want them to pick the destination and hotel you could offer them a choice of nearby activities and let them decide what you'll do.
2. Set expectations
While you're having fun planning the holiday together, take a moment to discuss your expectations and ask your teenager what rules they'd like to have in place. You can outline expectations for behaviour, eating out, social media/Internet/phone use, spending money, activities and parent/sibling relationships.
Explain that you want to enjoy the holiday with them and let them know what will help you achieve that. Ask them what you can do to help make sure everyone has a good time and tempers don't flare.
3. Be realistic
Remember that relationships are characterised by conflict. Conflict will occur during your vacation so think about how you'll deal with it. Hint: this might be a good time to let things slide and try to practice unconditional love.
Don't expect to spend 24/7 with your teenaged offspring either. Give each other space and time to do things alone. Things are bound to get tense if you suddenly spend all your time together when usually you barely see each other.
4. Create a shared holiday project
Think of a project you can do together such as sharing a photo of the day on Facebook or writing a quick email to a grandparent or friend. A shared project can be a good focus at the beginning or end of the day or while you wait for meals. You could even give the teen responsibliity for creating a slideshow or video that you can watch later at home.
5. Don't judge – listen
During your time together try to be the best parent you can be. Don't judge your teenager and don't judge other people. Try to focus on the positive and avoid negative comments about anything.
Now you've done that you'll have more time to listen to your teenager and find out what really makes them tick. If you hear a lot of negativity coming from them, consider a shared project around gratitude to help both of you enjoy a more sunny vibe.
6. Build your child up
Listen to yourself too and try to catch yourself reprimanding your child, criticising her or dragging up past grievances. Notice characteristics of your teenager you do like such as the way they take care with their appearance, how much they laugh when they Facetime friends or what a healthy appetite they have. Then mention that to them. They may ignore you or roll their eyes, but they will secretly relish your compliments.
7. Practice self-care and set a good example
Take care of yourself, get a massage, go for a walk alone, read a book or do an activity only you want to do. Avoid drinking too much and anything that may cause you to feel low and revert to naggy Mum or disengaged Dad.
Remember that your child will be looking and learning from your example. You may not have many more opportunities to be a role model for them, so do it now. First and foremost, show them how to take care of themselves by taking care of yourself.
Still feeling overwhelmed by the thought of a holiday with your teenager? Pick one of the above and work on that during your next vacation.
Remember, there will be plenty of holidays without any teenagers in the future. Travelling with a teenager might be financially and emotionally draining but they won't be teens forever. If you can get through this and get them well trained then they will become a travel buddy for life. If not for you at least for someone else.
Want Travel Inspiration?
Stay tuned for more travel stories, ideas and inspiration. Get free email updates from Get In the Hot Spot – a weekly injection of tips to help you be more adventurous and have more fun. Click here now for free updates.
Share This Story, Choose Your Platform!