Travel Secrets of Australia – Shhhh, Don't Tell!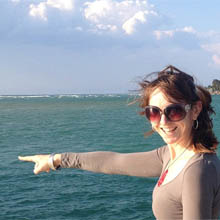 Everyone loves a travel secret don't they? After a misspent youth and decades spent working (ahem) my way round the world I'm privy to some great secret travel spots all over the place but not so many in Australia, even though I've been living here four years.
So I'm keeping my beady eye on this bucket list of the 40 best travel secrets in Australia. It's been complied by the Aussie holiday accommodation booking team at Hooroo but all the secret spots listed were suggested by real Aussies as competition entries.
It's too late to enter the competition now but it's not too late to check out the secret spots so you can visit yourself one day.  You can also vote on your favourite secret spot to help Hooroo find the winners.
Just a quick look at the top 40 secret spots makes me think I need to get out of the house more.
But when I do get out and about, usually to my local beach on my early morning walks, I notice a few secrets about Australia that the Australian Tourism Board won't tell you:
1. Australian life guards aren't all bronzed, hunky young men.
Although surf life saving is a national institution in Australia and you're bound to see life guards if you go to the beach you'll notice that they come in all shapes and sizes but mainly large. Think over-weight and over forty.
If you're a beach regular like me you'll spot some great beach bodies too but you'll need to be a regular beach goer and never stop looking. No matter how old you are yourself.
2. That's probably because the Australian Life Saving Clubs you'll find all along the vast coastline of Australia are a bastion for drinking and gambling. True story.
You can go to the surf life saving club to learn how to become a surf life saver, sign your kids up for nippers so they can learn water safety and even work out (my local club has a gym in the basement). But what keeps the surf life saving clubs in business is the cheap booze and slot machines they call pokies. So a lot of people who frequent the surf life saving clubs are sporting the wrong type of six-pack.
3. Despite this you must go to the surf life saving club when you hit the beach in Australia because they are always situated on the most beautiful beach with stunning views and they have cheap food and drinks too.
Order something simple like fish and chips or calamari and chips, something they can't do wrong. Then grab a beer (XXXX maybe) or a glass of Chardonnay and prop yourself up on the deck for an hour or three.
4. You have to take responsibility for your own safety. Even though many beaches are patrolled with safe swim areas between the flags people and well-trained life guards on hand people still drown every year in Australia. If you're swimming on an unpatrolled beach or outside lifeguard hours then play it safe and keep well in your depth.
Rips are strong and even grown men and locals who are used to the water drown sometimes. Don't let it happen to you, your friends or family members.
5. Australian beaches get crowded in the hot summer months, especially if you want to swim between the flags. But there are still a few secret beaches where you'll find fewer people and more space to spread your towel.
Failing that here's another summer secret spot for your Australian holidays – the rivers, waterfalls and hinterland are often way cooler, less crowded and just as beautiful as the beaches.
Plus, if there aren't any hunky lifesavers on the beach you might as well head to the hills and see if you can spot any duck-billed platypus instead.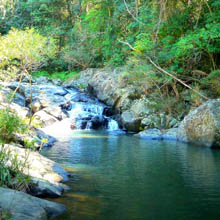 So here's my secret day trip or camping spot on the Sunshine Coast hinterland. On a hot summer day you may well find me paddling or floating right there in Booloumba Creek in the Kennilworth Forest.
Check out the secret beaches, waterfalls and gorges on the Hooroo Secrets Spots Facebook page and take a moment to vote for your favourites.
These are a few places that caught my eye – click here to find out where they are and keep your fingers crossed that we get to visit one day. Preferably before the secret gets out.


You can see all the entries here and voting runs from 4 December to 5pm Monday 17 December 2012 with the three finalists announced in January 2013.
I might be floating around in that creek by then though. Shhh. Don't tell anyone.
This is a sponsored blog post for Hooroo. Check them out for travel inspiration and accommodation bookings throughout Australia.
I've shown you mine, now you show me yours! What are your secret travel spots in Australia – or anywhere else for that matter?
Share This Story, Choose Your Platform!