Capture the Colours – Travel Photos from Japan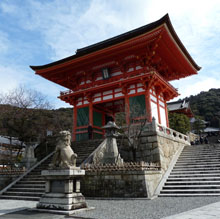 Red and yellow and green and blue, purple and orange and pink….
Sounds familiar? Well fortunately I can't sing you a rainbow but I can show you one with some of my travel photos.
I have so many wonderful travel photos but also get frustrated because I have so few of the trips I took in the pre-digital camera days.
Still, I decided to run with a theme for this one and showcase some of the photos I took from Japan.
It got a bit challenging as it was mid-winter while I was in Japan and there wasn't a lot of blue sky to be seen. But I was spoilt for choice when it comes to red which the Japanese believe to be a lucky color.
I love red too hence my red hot spot logo so that's a good place for us to start.
Red Travel Photo from Japan
Blue Travel Photo from Japan
Yellow Travel Photo from Japan
White Travel Photo from Japan
Green Travel Photo from Japan
Lots of happy and very colorful memories there but the red and green photos are definitely my favourite – and my favourite colors too.
Here's to many more travel adventures and happy snapping in the years to come for all of us.
What's your favourite color? Or colorful travel memory?
Share This Story, Choose Your Platform!