Travel Tease: Take Me to Tairua in New Zealand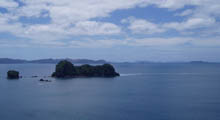 I miss New Zealand.
I miss my friends and I miss the fresh produce, especially the seafood and quirky Kiwi fruit and veggies like feijoa (a type of guava) and kumera (sweet potato).
But I can speak to my friends on the phone and I can find Kiwi produce here in Australia sometimes.
What I miss most about New Zealand is the stunning scenery.
Here's a lovely little Kiwi holiday spot called Tairua. It's at the base of the Coromandel Peninsular so if you fly into Auckland and pick up a hire car you could be there in about three hours.
There's a lovely scenic walkway in Tairua with views forever and dolphins splashing in the sea below.
When the sun shines in New Zealand you never want to leave and when I look at these photos I want to hurry back there now.
Don't go changing Tairua, I'll be coming back to see you again one fine day.
If you could teleport yourself anywhere right now where would you go?
Share This Story, Choose Your Platform!