Travel Packing Essentials: a Pretty Dress by Adrift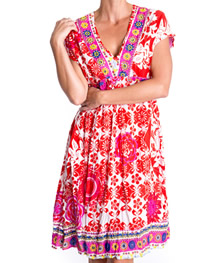 Every year for Christmas I buy myself a pretty dress then give it to my husband to give to me. It works a treat because I always get a new dress that suits me, fits and that I love.
My husband likes not having to shop or worry about what to get me too.
Unfortunately there's been a slight problem this year; the dress I chose was so pretty I couldn't wait to unwrap and wear it on Christmas Day.
I like to wear dresses as much as possible over our long, hot Queensland summers because they're the coolest, most flattering thing to live in.
I know the exact style dress that suits me best with my pear-shaped body. I favour empire line dresses that are tight across my bust and free flowing from there. So the dress is lose, floaty and airy, but still gives me a good shape as it hugs my small bust. Hello A cups!
This year I discovered a new online shop via Styling You called Adrift. A quick look through their website had me hooked because Adrift has heaps of bright, loose cotton clothes that are perfect for every day wear but good enough to wear out in the evenings too. Here I am modelling my new dress: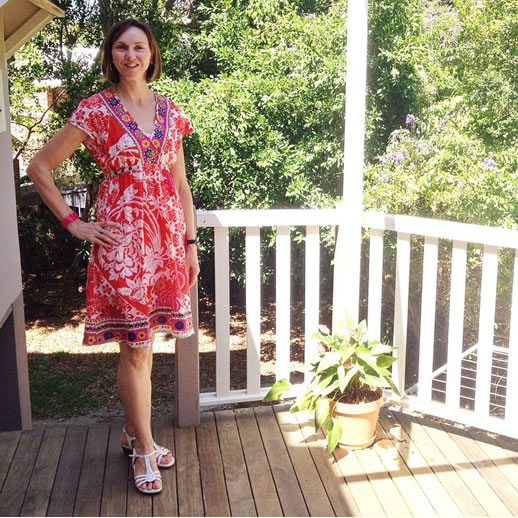 I chose the Caracus dress because it's the right shape for me and 100% cotton. It's a very light, summery dress with an embellished V neckline and short sleeves.
Around the neckline and under the bust it's decorated with a few sequins and tiny yellow beads – enough to make the dress look interesting but not overly flashy. It fits the bill for my pretty dress of the season and has a lovely romantic feminine shape and feel. Plus the tightness under the bust is created by hidden elastic so it's ultra comfy.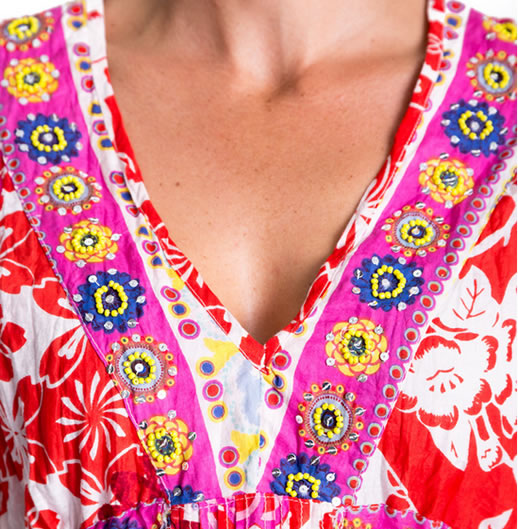 The dress is great for travelling because it can be hand-washed and drip dried plus it's designed to look fine creased so no need to iron it – not that I ever would. It's also extremely light and packs down to nothing. In fact Adrift sent it to me bundled up in a tiny package about the size of an orange.
The downside is that this dress is completely see-through. And when I say completely see-through I mean it!
Most dresses tend to be see-through around the legs in bright light. This dress is see through everywhere in any light, by which I mean you can see your bra right through it so I feel the need to wear it with a slip since most of my bras are not chosen for public viewing but for comfort.
Adrift does sell slips but I didn't buy one from them as I didn't know the dress was see-through until too late. But I found a white dress at a cheap shop for teens called Supre for $10.50 (reduced from $15) which works perfectly under the dress.
My 'slip' is basically a long, stretch cotton camisole top which also give a nice crisp white accent to the dress because it peeps out at the neckline and hides my non-existent cleavage. It's something I can wear under many other of my pretty dresses and doesn't make the dress too hot.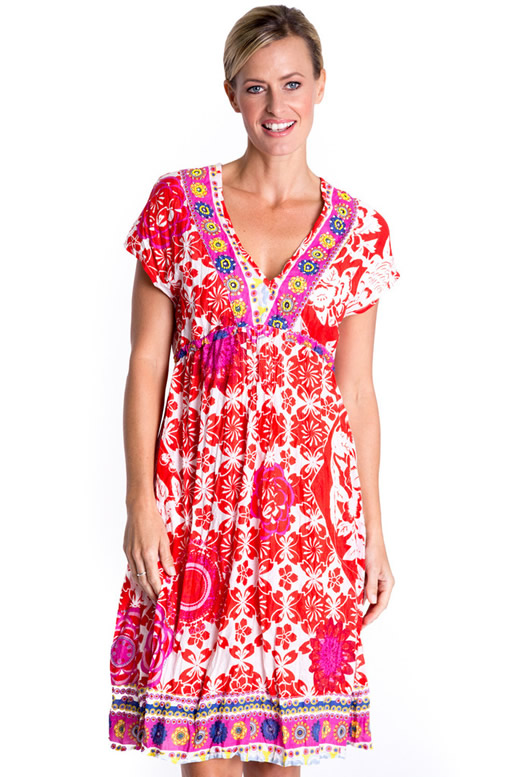 I love the vibrant, happy pattern of this dress and always find patterns are great for hiding food stains or other dirty marks you can pick up when cooking, eating or just living. Patterned clothes are very forgiving to messy people like me who like to look clean, even after they've had a little spill!
The Caracus dress (modelled above on the Adrift website) costs $94.95 and I got 15% off when I bought it by joining the Adrift rewards program. I'll be wearing this dress a lot this summer so I know I'll be getting my money's worth and, more importantly, feeling pretty every time I wear it too.
The only problem is I'm still not sure what I'm getting for Christmas this year… I just can't think of anything I need now I already have my pretty dress!
Do you like to wear a pretty dress in summer? What do you look for when you're buying or wearing a pretty summer frock?
Share This Story, Choose Your Platform!