The Irresistable Allure of Travel to New Places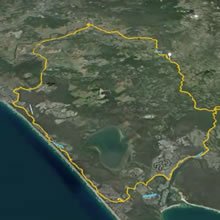 Even the thought of visiting somewhere new gives me a thrill. It doesn't even need to be an exotic travel destination. The idea of trying a new bar or restaurant can be enough to spark my interest. But visiting somewhere new is even better.
That's not the case for everyone though. It's easy to get stuck in our ways, especially as we age. So many older people visit the same places every year on holiday, eat at the same restaurant and even order the same dish every time.
But trying new things is not only alluring to curious people, it's irresistible.
One psychologist believes there are mental benefits to vacationing somewhere new. His position is that we should force ourselves to go to new places because doing so it will increase our emotional agility, empathy and creativity and problem-solving abilities.
You wouldn't have to force me to go anywhere new though. In fact, I find that not visiting new places is soul destroying. My craving for new experiences is like a drug.
Going somewhere new makes me feel more alive. It forces me to see the world with new eyes. It allows me to step outside of my routines and review myself. Reconsider who I am, what I do and why I do it.
Striving to keep that feeling of excitement alive in between vacations to new places is the greatest challenge in life.
It can be easily addressed without buying an overseas plane ticket or creating any need to spend money at all.
Just walking somewhere local instead of driving can give you a new spin on life. That time to slow down and look at things from an alternative perspective can help you see life in a different light.
One year I tapped into my desire for new experiences with the 52 exercises challenge which encouraged me to try a new sport, exercise class or physical activity each week and write about it.
Some people get their new fix through taking on a style challenge with their favourite Instagram style icon. The Frocktober concept is always popular where women are challenged to wear a different dress every day in October. Others take on a photography challenge, taking and sharing a new photo each day. Some people decide to cook a dish from a different country every day for a month.
The point is that we all crave doing new things. That we all need to escape the tyranny of sameness and routine. And that even if you can't drop everything to go trekking to see the gorillas, to climb Mount Kilimanjaro or to fly to the pyrenees you can still try something new.
Does the idea of travelling somewhere new excite you?
Share This Story, Choose Your Platform!