5 Countries to Travel to on a Mediterranean Cruise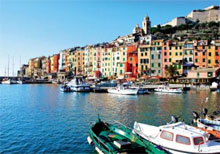 Have you thought about taking a cruise for your next vacation?
I love being out on the water. I love the fresh ocean breeze, being surrounded by sparkly sea and the sense of old style travel you get from going anywhere by boat.
A trip at sea is exhilarating, exciting and refreshing but although I've been sailing, enjoying day trips and overnight trips in private sail boats, I've never actually been on a full blown cruise.
Still, I can see the appeal.
The Advantages of Traveling the Mediterranean on a Cruise
You can travel to several different countries without having to keep unpacking and repacking your bags;
All the travel details are taken care of and you know what to expect;
You'll travel in comfort at night and wake up each day in a new place;
You'll be pampered and looked after in a safe environment with familiar food and friendly staff;
Many cruises are all-inclusive with food and drinks included in the price as well as a huge range of tours and activities so there will be no nasty surprises when it comes to budgeting;
If you're time poor a cruise will allow you to visit as many places as possible in a short time;
You can get a taste of several different countries in one short trip.
If you've never been to Europe or the Mediterranean before that final reason is probably the ultimate excuse for taking a cruise.
While you won't be totally immersed in a different culture or place during a cruise you will get a taste of several different countries so you can see which are your favourites and make a note to revisit them another time.
Top 5 Countries to Travel to on a Mediterranean Cruise
There are so many different Mediterranean cruises covering everywhere from Croatia to Egypt but I've picked five countries I'm familiar with and love to get you started. Even if you only get to spend a day in each of these countries during your cruise you'll get a taste for the Mediterranean which is bound to leave you wanting more.
1. Italy
Romantic Italy is on everyone's travel bucket list and there are plenty of options when you visit on a cruise.
From idyllic islands like Sicily and Sardinia which are packed with character to picturesque seaside towns like Cinque Terra (pictured at the top) on the Italian Riviera, Italy has it all.
City lovers can choose from Naples, Venice or Florence each with their own unique architecture, history and cuisine.
2. Spain
One day in Spain will never be enough. The people, food and culture will all make you want to go back for longer. There are plenty of options for visiting Spain on a cruise including checking into the Spanish islands of Majorca or Ibiza.
The historic city of Barcelona is a popular stopover for cruise liners with a massive choice of restaurants, museums and architectural delights to keep any traveler happy.
3. Turkey
I spent three weeks traveling round Turkey many moons ago and I'd love to revisit.
On a cruise you can see Istanbul including the gorgeous Hagia Sofia, famed for its massive dome, the Blue Mosque, with its stunning mosaics and the fabulous Istanbul market, the Grand Bazaar.
Archeology fans must travel to Kusadasi where you can visit the extensive ruins at Ephesus which make the Greek ruins look small by comparison. Ephesus had a population of more than 250,000 in the 1st century BC  making it one of the largest cities in the Mediterranean world and you can still feel that rich sense of history when you visit today.
4. Greece
There's nothing like the Greek Islands with their combination of azure seas, pristine white buildings and classic Greek architecture.
Many cruises stop in Athens to take in the Acropolis and the shopping and dining precincts but the highlight of Greece will still be Greek islands like Santorini, Corfu, Rhodes or Mykonos.
5. France
I spent many summers in France as a child and have lived in Paris, Bordeaux and in Provence just outside Marseille. The french island of Corsica is a popular cruise port of call with its stunning rugged rocky coast. Meanwhile Marseille is a gritty port town where you can get a taste for the Mediterranean. Make sure you try the famous bouillabaise, a rich seafood stew made with rascasse (scorpion fish), a fish and flavour you can find only in the Mediterranean.
Taking a cruise is all about getting a taste of a place so you can come back there again.
If you're not sure where to go first in the Mediterranean consider taking a cruise. Then next time you travel you'll know exactly where you want to come back to.
This is a sponsored blog post by Thompson who've been organising holidays, including Mediterranean cruises, for over 45 years and are still going strong.
Which is your favourite Mediterranean Country or which one would you most like to travel to next?
Photo credit: All images taken from the Thomson website.
Share This Story, Choose Your Platform!