Travel Confession: I Wasn't Allowed on the Plane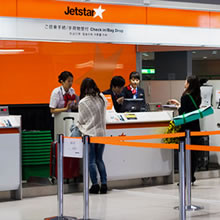 Our bags were packed, the sun was shining and the roads were clear. Luke and I arrived at Brisbane Airport in plenty of time for our flights to Ho Chi Minh City in Vietnam via Sydney.
We hugged our friends goodbye and breezed up to a queueless check in desk. We handed over our passports and booking number, relaxed and happy, already in holiday mode until the airline rep asked:
'Have you got your visas?"
My chest tightened, my hearts started pounding and a cold sweat prickled in my armpits.
"No," I replied. Then, deciding it was best to bluff I added, "You don't need a visa for Vietnam."
"I think you do," she said. 'I'll check."
While she concentrated on striking computer keys and staring angrily at the screen I turned to Luke and tried to smile. We'd been looking forward to this holiday for months.
It was a special trip for the two of us, and I was looking forward to an overseas adventure with my 19-year-old son. This could be our last holiday together. I'd booked our flights using precious air miles which I'd been saving for years.
I'd spent hours planning our itinerary and booking flights, shuttles, hotels, tours and travel insurance.
Travel research is always fun so while our itinerary was laid out in terms of where we'd go, we hadn't planned exactly what we'd do but we had a good idea.
Now, standing here at the airport I couldn't believe visas were the one thing I hadn't even considered. Having planned to show my son how to travel like a pro (I'm a travel writer for goodness sake!) I now risked looking like the dumbest traveller in town.
Finally, the woman glanced at us.
"It turns out New Zealanders don't need a visa for Vietnam but Aussies do," she said.
The rushing in my ears abated and my heart beat calmed down. Now I turned to Luke and gave a genuine smile that said: "see, Mummy has it all under control!" If only I had…
In Sydney, we rushed to change terminals and check in for the flight to Ho Chi Minh City. Time was short and the queue was long so the stress levels rose again.
We nipped to the service desk and explained that our flight was leaving in less than an hour.
"No problem, I'll check you in," the rep said.
Again we handed over our passports and booking number then waited.
'Have you got a visa?" she asked.
"No," I said, "we were told when we checked in in Brisbane that we didn't need one.
She frowned in what was becoming a familiar way.
"Wait a moment," she said, pushing back her stool before consulting with another rep.
He frowned too. They whispered dramatically. He glanced up at us and they whispered some more. Then he hurried over.
"Do you have a letter of introduction to get into Vietnam?"
"No," I repeated, "I was told in Brisbane I didn't need one."
Although it had been my foolish mistake not to look into visas I was keen to pass the blame on the Qantas book in staff in Brisbane.
"You do," he said, "and if you don't have a visa or letter of introduction I can't let you on the plane."
My stomach dropped but I stayed calm.
"This flight is closing now. You need to get a visa and we'll put you on tomorrow's flight.
"But our  bags have been checked." I was grasping at straws.
He picked up the phone.
"I'll get them off."
The Jetstar staff were calm, kind and efficient. I felt like an idiot and looked like one in front of my son. Far from looking like a cool travel pro I now looked like the type of silly old fool I most hoped to prove I wasn't.
I feared our holiday wouldn't happen at all but it did.
It turns out that FlightCenter in Sydney Airport can organise emergency letters of introduction for $300 per person.
We got passport photos taken at the airport post office and, having seen the letter of introduction which took about 30 minutes to organise, Jetstar rebooked us on the next flight 24 hour later. Qantas kindly paid for our hotel and food that evening since if they'd told us in Brisbane we'd have had time to organise the visas and get before the flight.
So our holiday got off to a bumpy start but the letter of introduction worked a treat. Although it took a while, we were issued with a visa at Ho Chi Minh City Airport and admitted to the country where our holiday could finally begin.
Now all I had to do was apologise to Luke and admit that sometimes I am a silly old fool!
Want more travel stories?
For a weekly injection of travel stories, lifestyle and wellbeing tips click here for free updates now.
Share This Story, Choose Your Platform!