How Can You Miss Your Own Birthday?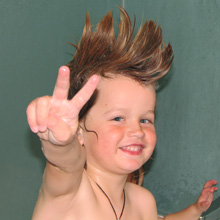 Have you ever been so busy you missed a special birthday? Well that's what happened to me.
August was the big birthday month for Get In the Hot Spot so now we are two years old.
Happy Belated Bloggy Birthday to US
I can't believe we're two already.
Yes, now we can walk AND talk. Now we're into the terrible twos we can really go on the rampage. I can't wait.
I wanted to have a big party with balloons, cake and a red carpet so all you readers could strut your stuff and I could take photos of your lovely smiley faces. But somehow time slipped by.
I'm so sorry. Let's have a big bash next year.
I know it won't be as good as a party but I just want to take a moment to say how much this blogging birthday means to me and how BIG it really is.
Thank You Darling Reader
As one of my blog readers you've literally taken me from writing wallflower to self-published pole dancer.
Thank you so much for your involvement, the comments and most of all for being here.
It's given me huge pleasure to connect with interesting, inspiring and diverse people from all around the world on this blog.
Thank you so much for your support, for spreading the word about Get In the Hot Spot and for your beautiful feedback.
What's Next on Get In the Hot Spot?
Like all social media Get In the Hot Spot is still evolving and growing but the developments are thrilling.
We bloggers are no longer on the fringes of society. We're in the newspapers, we're on telly and we're being courted by brands.
It feels like a great place to be and I'm excited to be sharing this adventure with you.
Get In the Hot Spot will be mainly about travel from now on. That's my first love and I think it's yours too.
As usual we'll keep it fun, positive and uplifting. As always the focus will be on:
entertaining you;
giving you hot travel tips;
inspiring you to set off on your own adventures and share them with us here or on your own blog.
What's Next at Get In the Hot Spot?
Since I set up Successful Blogging I haven't been earning much here because the main source of my blogging income is through book sales of Successful Blogging in 12 Simple Steps.
In the past I've shied away from advertising because it can look ugly and tacky.
But recently a professional online entrepreneur and someone I trust told me I could be earning as much as $1,000 a month from advertising here.
Quite frankly if I don't advertise I'd be stark staring mad.
Me and the Mucho Man want to save up for more travel adventures and they don't come cheap when you've got the three Candy kids along for the ride.
So in the future you'll probably see some advertising and sponsored blog posts here.
I'll make sure our site never looks ugly or tacky but having an income will also help make Get In the Hot Spot bigger, better and brighter than ever.
I hope you'll stick around to watch how we grow and evolve over the next two years because I think exciting things are going to happen.
I also hope you'll welcome any advertisers and sponsors who are joining our community by checking out what they do.
I know many people worry about losing credibility by using advertising and sponsored blog posts but I see it as a sign that we have a fabulous community that other people naturally want to be part of.
This has to be a good thing for all of us: for you, for me and for our sponsors.
Of course I'll only work with people, companies and brands who share our values of fun, integrity and passion and who appreciate us for what we are.
What's the Best Gift For a Blogging Birthday?
I hope you enjoy my blog and that it helps you. I try hard to write useful and motivating posts that will help you stay positive and fired up.
If you like Get In the Hot Spot the very best thing you can do for me it to spread the word about it.
If a post is particularly fun, interesting or helpful I'd love it if you do some or all of these things:
Include Get In the Hot Spot on your blog roll;
Post a link to it on your Facebook wall;
Mention it at your favorite hangouts like Twitter, Google+ or LinkedIn;
Promote it using your preferred bookmarking service like Stumble, Digg or Delicious;
Mention it on your blog.
What Can I Help You?
We're in this together.
When you hang out here you're part of our winning team with me as your personal cheer leader in your quest to achieve your travel dreams.
I promise to keep writing posts that are:
Fun and fast to read;
Uplifting and inspirational;
Full of hot tips.
I'm excited about what the future holds and look forward to sharing it with you.
What would you like to see more (or less) of on Get In the Hot Spot?
Share This Story, Choose Your Platform!