Get Your Island Time on at Martha's Vineyard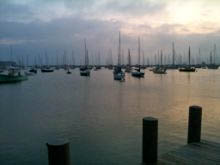 Looking for travel tips and things to see and do in Martha's Vineyard, in the good old US of A?
I hit the chichi island of Martha's Vineyard in 1987 and very nice it was too. But my memories are a bit hazy and my travel tips somewhat (ahem!) dated so I asked lovely Laura Byrne, who's practically a local, to be our Martha's Vineyard guide as part of our World's Best Travel Destinations series.
Here Laura answers all your questions and spills the beans on the very best things to see and do in Martha's Vineyard, including where to shop, what to eat and how to get the most of your trip.
So Laura, what's the big deal about Martha's Vineyard? I know it's famous all over the USA but why so? And how come you've spent so much time hanging out on Martha's Vineyard anyway?
When I mention that my family spends summers on Martha's Vineyard, a typical reaction is, "Do you know the Kennedys?"
No, sorry. Other side of the island. But hey, we'd have them over for lobster any time, if they're up for it.
I'm the child of schoolteachers, both of whom were keen to escape the brutal New York humidity as soon as school let out. We'd pack the car up to the gills, a la The Grapes of Wrath, and head on up through New England to the car ferry on Cape Cod. 45 minutes later, we'd drive off the ship…and onto our little piece of paradise.
"The Vineyard" is an island, just 33km long, off the coast of Massachusetts, with a handful of little towns. Best known for its famous-folk summer visitors, from a little shark named Jaws to Presidents Clinton and Obama, it's actually an affordable, accessible escape.
And for around 40 years, it's been my summer home. Yes, even though I live in Australia now, I manage to make it back there to join the family – wouldn't miss it.
So what makes you love Martha's Vineyard so much?
For a kid growing up in the suburbs just outside New York City, the Vineyard was another world – one of dirt roads, bare feet and complete freedom. When the car pulled up in the driveway of our rental cottage, we'd be off to the races.
We'd unpack our bikes, grab a few bucks from our parents and ride off…for hours. There was a circuit: through the gingerbread cottages, over to the beach, stop for ice cream, down to the lagoon, steer clear of the cemetery…
Today's Island is not that much different – in fact, the road our rental cottage is on remains unpaved. And I've been known to sneak into a shop barefooted, rules or no rules. As for ice cream? Yes, please.
More reasons to love the Island: there are no stoplights. Practically no chain restaurants, or franchise shops. No go-kart tracks, beachfront water parks, boardwalk shills or the other trappings of northeastern U.S. summer destinations.
Instead, there are landmarks that have been there since I was born – and newer spots that have won our hearts, through their charm.
Here are a few tips learned over four wonderful decades of visiting the Vineyard.
How do you get to Martha's Vineyard?
While it's an easy flight from north eastern cities to the tiny island airport, and passenger ferries abound from New York City through the New England coast, it's always a thrill to take The Ferry.
The Ferry – actually a fleet of very large car- and truck-bearing vessels run by the Steamship Authority for as long as I can remember – departs from Woods Hole, Massachusetts. You'll drive into the guts of your ferry, and often find your wee car packed in tightly with hulking tractor-trailers making Island deliveries, but it's all good: pop upstairs, grab a seat on the deck and feed the [very smart] seagulls trailing the ship for a free meal.
You don't need a car, either: the Woods Hole terminal is accessible by bus from Boston's Logan Airport and major cities like New York and Providence.
How do you get around Martha's Vineyard?
Seeing the whole island is easy. The ferry terminals have free maps and guidebooks galore. Sightseeing buses are ubiquitous. But it's just as easy to strike out on your own. After all, it's not a very big place.
Best bet: rent a pushbike [of which there are many reputable choices, near the ferry terminals] and hit the numerous paved, safe trails that crisscross the island. Or, hop one of the frequent, cheap-o and far-reaching public transport shuttles.
So what is there to see and do on Martha's Vineyard?
The great outdoors:
State Beach: sure, it's an island, and there are beaches everywhere, but some are better than others. Folks will tell you to go to South Beach, also known as Katama. But State Beach, between Oak Bluffs and Edgartown, is our family's favorite all these years, with reason.
It's not glamorous: it's a long strip of kelp-, rock- and seashell-strewn sand. But State Beach is right on the bike trail, rarely crowded, offers great "beach treasure" hunting, and features clear water with teensy, gentle waves – perfect for a swim, and perfect for kiddies. My Aussie boyfriend will tell you the water is cold – but that never stops him from a prolonged swim he'll rave about afterwards. And yes, it's his favorite Vineyard beach, too.
Kayaking at sunset: even if you have no kayaking skills, you'll figure the paddling bit out quickly, trust me. Sign up for a sunset kayak on Sengekontacket Pond, run through the folks at Felix Neck Wildlife Sanctuary. Bring your bug spray and a camera – you'll see the sun go down in a rage of colours, then the moon come up over the
beach, larger than life.
The Sharks: The great American game of baseball is played in summer months at Martha's Vineyard Regional High School by the Island's collegiate-level team, The Sharks. Grab a seat on the bleachers, take a photo with team mascot Sharky and cheer on the team. [If you're so inclined] you can even sign up for the hot dog eating contest. Just watch your head: popped-up foul balls have a
habit of landing right in the crowd, behind home plate.
What are your favourite eating spots on Martha's Vineyard?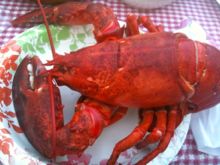 Tony's Market: from a tiny shop years ago where you could grab milk and bread basics, Tony's has grown up and become a full-on market, including wine & beer, fresh fruit and veg – and their deli counter. There's no better stop on the way to the beach than Tony's deli counter. My pick: egg salad in a sundried tomato wrap. Cheap, massive sandwiches – two can share. The Aussie boyfriend would like to chime in, "We like Tony's Market. You'll get what you want at a reasonable price." There you go.
Mocha Mott's coffee: a grungy little spot [with all due respect] down a flight of stairs on Oak Bluffs' main drag [other branches too]. There's a reason people line up here for their coffee.
The Bite: touristy Menemsha, a teensy fishing village famous for its beachfront sunsets, is still worth a visit because of The Bite, a shack serving up clam chowder like you've never had before. Chunks of lovely clam in a thick creamy base, served with salty oyster crackers. It just goes so well with the salty air.
Lobster: this is a must-have on the Island. Got a place with a kitchen? Skip ordering lobster in a restaurant, where you'll pay top dollar. Instead, pick up a few of the big red fellas at the Net Result seafood market and cook them up at home, with corn on the cob and roast potatoes. Don't forget your lobster bibs!
If you're missing a kitchen, try the Grace Church's lobster rolls, served up once weekly. Stuffed with "lobstah" and not much else [no filler here!], this $15 roll is great value.
Have you got any hot Martha's Vineyard shopping tips?
Bunch of Grapes: this beloved bookstore is in new digs now, since the old spot fell victim to fire a few years back, but retains its adoring fan base. As kids, we loved it because mom let us buy new summer books here. As adults, Kindle or no Kindle, we still succumb to the charms of its carefully edited assortment – especially their summer novels, laid out lovingly on the front tables and often featuring local authors.
The Bunch of Grapes also gets in phenomenal authors for readings each summer, so check their website in advance. In my younger days, I met youth-lit queen Judy Blume and musician-slash–author Carly Simon at their book signings here, truly a dream.
What's the Internet like over there and are there any good local rags?
Need an email fix? The Island's public libraries range from shiny and new, to gorgeously historic, with fast and free WiFi, armchairs, worktables and the all-important air conditioning.
Our favorite spot: the outside patio at the Vineyard Haven library, where you can sit in the sunshine at a picnic table and still tap into blazingly fast high speed Internet.
News: There's something really special about reading a local paper when you're on vacation. The twice-weekly Vineyard Gazette is a treasure – and has been, since first published in 1846. It's a broadsheet, and not exactly chockablock with news – more like, sprinkled with essays and contemplative reflections on life. For "breaking news", try the Martha's Vineyard Times.
When's the best time to visit Martha's Vineyard?
I'll be honest – I've never been to the island outside of the summer months of June, July and August. I'd expect it to be a bit…well, brisk then. After all, even the hottest summer days on the Island can still quickly descend into sweaters-and-jeans nights.
But my sister loves the shoulder season – May, September and October. The crowds have dissipated [the Island's population soars from 15,000 off-season to over 100,000 in summer], you can get a table at a restaurant with ease — and the shops have delectable sales.
When's the best place to stay on Martha's Vineyard?
Our family loves the cottage we've rented for nearly 40 years – yes, the same one. It's always brilliant to live like a local and book your own house, with full kitchen, back porch and lots of sofa space for guests who turn up. Best of all, we enjoy the same neighbors year after year – our summer family.
I can't recommend any better way to see the island than renting a house. A great place to start looking for holiday house rentals is the Chamber of Commerce's site, with links to listings, from budget to extravagant.
So what's the final word on why Martha's Vineyard is one of the world's best travel destinations?
Because it's affordable. Posh? Pshaw. With a rental cottage and kitchen, meals are manageable. Pushbike rentals are mere dollars a day. And the best parts of the Island are free: harbours, beaches, hikes, bike trails, sunsets.
Because it's photogenic. The Vineyard has that storybook New England charm. Grey-shingled cottages, harbours, lobsters, stone walls lining the country roads…it's like candy for your Canon.
Because it's accessible. If you're touring the northeastern US, it's very easy to get to the island from NYC or Boston.
Because it's an escape. Lots of wide-open space here. Enough beaches, back roads, scenic hikes and cosy cafes for everyone. No need to get crowded. Grab that thick novel and take off on your own.
Guest post by Laura Byrne
Laura Byrne is a communications consultant who works for one reason: to fund her travel addiction. A New York City transplant, she now calls the glorious Sunshine Coast of Australia home [and still can't believe her luck]. When she's not in her sunny home office working for clients like travelmob.com [a site for Asia Pacific social stays, like this gem], she's planning her next adventure. Find her online at @penguinprose or www.penguinprose.com.
Share This Story, Choose Your Platform!