A Million Things to See and Do in Seoul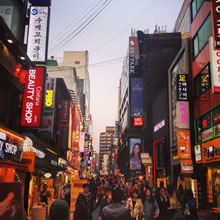 Looking for things to see and do in Seoul? I've heard from several other travel writers that Seoul's one of their favorite travel destinations so when Drew from The Hungry Partier offered to cover Seoul I was thrilled. I'd love to visit  Seoul and he's got inside information on what to see and do when you go to Seoul because he lives there.
So today we're visiting the capital of South Korea as part of our World's Best Travel Destinations series with Drew as our guide.
Here he answers all my questions and spills the beans on the very best things to see and do in Seoul, including where to shop, what to eat and how to get the most of your trip to Seoul.
Thank you so much for joining us on Get In the Hot Spot Drew.  Why did you go to Seoul and how long did you spend there?
I moved to Seoul in August of 2013 to teach English. I had recently graduated from University in Wisconsin, and I realized that it was a great opportunity to travel the world. I heard great things about Seoul, so without thinking twice, I signed the contract. As of right now, I've been living here for 10 months and life gets better everyday.
Why do you rate Seoul as one of the world's best travel destinations?
The people and culture in Seoul are unique. I've been to over 45 countries, and there is nothing that compares to the generosity and kindness of Korean people. I always feel very welcomed into their society, and there are a million-and-one things to do around Seoul!
Also, Korean food is incredible! It's healthy and filling with quality, home-grown ingredients. If you've never had Korean BBQ before, then I highly recommend trying it out. You definitely won't regret it.
What are the Best Things to Do in Seoul?
1. Eat Korean BBQ – Classic Korean BBQ restaurants are found on nearly every street in Korea. You'll walk inside, take your shoes off (it's customary) and sit down on the floor at a table with a large grill in the middle. Then, you will be served delicious meat (beef or pork) and you'll cook it yourself at the table! It's a great experience and the food is amazing.
2. Hang out in the Han River Park – The Han River is the giant river that runs through Seoul. Along the side, there is a large park called the "Han River Park," where people hang out, drink beers and have a picnic when the weather is nice. It has a great atmosphere.
3. Go shopping at the local markets – Seoul is like heaven for shoppers. The best place to buy local goods is called Namdaemun Market and the Insadong District. Make sure that you use your bargaining skills, because they will try to open with a high price.
4. Go to a Korean spa – Korean is world-famous for its spas. They are very cheap ($10 for 24 hours), and you can go to relax in the sauna, take a shower and sleep. If you want to pay extra, then you can get a massage or a facial. It's totally worth it.
5. Enjoy the crazy drinking and nightlife scene – I claim Seoul to have the best nightlife of any city in the world. The energy among the people here is insane! On any given night of the week, people are out drinking until sunrise. My favorite areas to party are Hongdae (the college-area with cheap drinks) and Gangnam (the district with all the mainstream clubs). You've gotta check it out!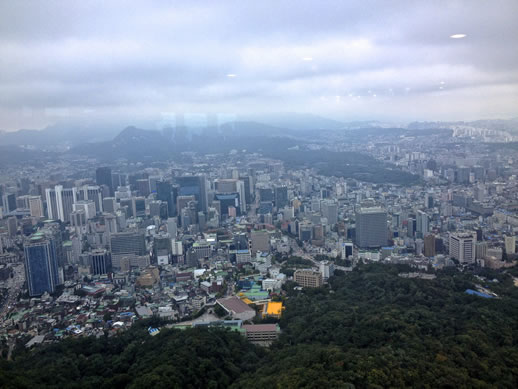 What are the Best Places to See in Seoul?
1. Spend an afternoon at the Gyeongbeok Palace (pictured below) – This is probably the main tourist attraction, and the biggest palace around Seoul. It's located right in the heart of the city. Spend a few hours walking around this mammoth palace, and be amazed by the detail and architecture.
2. See the view from the Seoul Tower – The Seoul Tower (also called Namsan Tower) is the tallest building in Seoul. It sits on the top of a mountain in the Northern part of the city. From the top, you can get a breathtaking view of Seoul!
3. Walk the streets of Gangnam – Gangnam is sometimes referred to as "the Beverly Hills of Seoul," because of all the expensive restaurants, posh nightlife, and sexy people. It's a really cool area to hang out and people watch, because you'll get a real taste of Korean culture! Go here at nighttime if you want to party at the best clubs in Seoul.
4. Explore the Bukchon Hanok Village – This is one of the oldest neighborhoods in Seoul, and is considered by many to be one of the most beautiful neighborhoods in the world. It's located very close to the Gyeongbeok Palace, so you can do both of these things in one afternoon. You won't want to miss out on this!
5. Walk along the Cheonggyecheon Stream – This man-made stream was recently finished in 2005, and it is over 8 kilometers long. It costed a whopping $1billion USD to complete, but this modern public recreations space is worth a visit. If the weather is nice, then go here with friends and stroll down the stream. It's a great way to embrace Korean culture.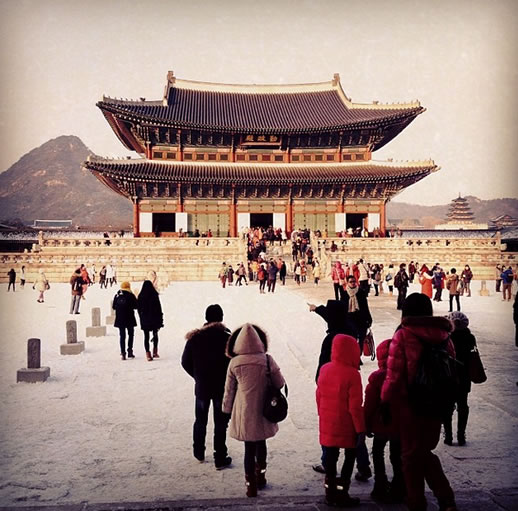 Where should I stay in Seoul?
In Seoul, there are loads of affordable hostels scattered around the city. However, there are three main areas that I recommend staying at:
If you want to experience the insane nightlife here, then I recommend staying in an area called Hongdae which is located amidst several colleges and there are more bars and clubs than I can count. It's also one of the cheapest areas of Seoul!
If you want something a little nicer, then I recommend staying in Gangnam. This district is the vibrant and "posh" district that is lively on any night of the week. There are lots of amazing restaurants, shops, cafes, clubs and bars in Gangnam.
If you are looking to meet some people from all over the world, then you've got to stay in the Itaewon District. Itaewon is considered the "foreigner" district of Seoul, but there are also lots of Koreans who reside in the area. It's always crowded with people, and offers a fun nightlife scene along with high quality ethnic restaurants.
What and where should I eat in Seoul?
I don't even know where to begin with this, beacuse Korean food is THAT good! Everything is pretty cheap that you can find on the streets or in local restaurants (as long as you avoid the super touristy places). Also, Korean food is mostly spicy, so I hope that you can handle spicy dishes!
Here is a list of my favorite local dishes that you must try. You can enjoy all of them for just $5-10 USD.
1. Korean BBQ – I've already mentioned this, but it's the best! My favorite is marinated beef (called so-galbi) or the pork strips (called sam-geop-sal). They will bring you loads of kimchi, side dishes and soups that are unlimited, so you can keep ordering more!
2. Bibimbap – This is probably the most classic Korean dish. It is served in a warm bowl of rice that is topped with sauteed vegetables, a raw or fried egg, and chili pepper paste called gochujang sauce. It's delicious.
3. Kimchi Jiggae – This is a stew that is made with kimchi and other ingredients such as tofu, seafood or pork, and onions. It's the most common stew in Korea and it perfect on a cold winter day. Oh, and it's really spicy!
4. Chicken Galbi – Called dak-galbi in Korean, this dish is a mix of chicken and vegetables that you stir-fry in a delicious red chili pepper sauce. You cook this yourself at the grill in the middle of the table! Some common vegetables served with it are cabbage, sweet potatoes, scallions and onions.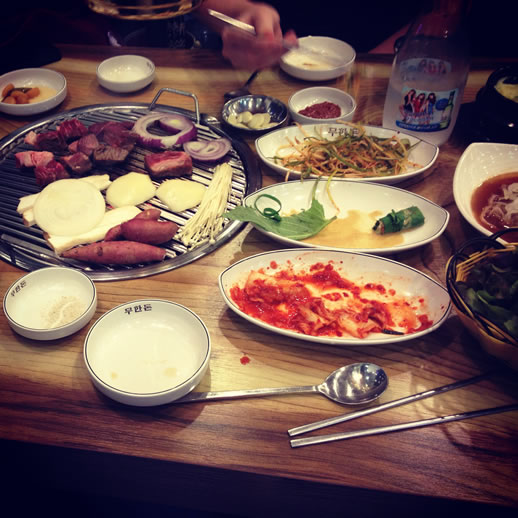 Are there any good shopping opportunities in Seoul for souvenirs and where can I buy them?
The best souveniers are in either Itaewon (the foreigner district) or Insadong (the culture shopping area). I would check out Insadong first before Itaewon, because there is a much larger selection there. Any Korean made good and souvenir that you can think of is located there. Make sure to bargain!

Does Seoul have any special events I should know about?
There are lots of music festivals held throughout the year, so I would look them up before your trip! Also, I frequently see cultural gatherings in main areas like Gwanghwamun and near the Han River Park.

What's the Best Way to Get Around Seoul?
The Seoul metro is cheap and efficient. It's actually the most extensive metro system in the world meaning it covers the most ground. It costs about $1USD to anywhere in the city. However, the metro can get a little too crowded and uncomfortable, so I usually take a taxi. Taxis are really affordable here! A 20 minute ride is about $10USD.

Is Seoul off the grid or WiFi friendly?
Korea is the most connected country in the world via internet. There is literally WiFi everywhere! I even get signals in the middle of a park, or on a busy street. You can walk into any coffee shop, restaurant, mall, plaza or building and find WiFi for free. It's the best!

When should I go? Are there any times of year to avoid?
It get's pretty cold in Seoul in the winter (below freezing) and pretty hot in the summer months (above 35°C or 95°F). I would recommend coming in the springtime because the weather is always nice!
How did you get to Seoul? Are there any other options?
I flew here from the USA. The flight was about $600 one-way from Chicago. Korean Air is the best airlines that I've ever flown in my life! If you are coming from other cities in Asia, then there are dozens of cheap airlines that you can take. Look into Air Asia, Jeju Air, Air China and Peach Airlines for the cheapest flights!
Can you share a secret Seoul travel tip?
Check out the cat and dog cafe!! Yes, there are literally cafes where there are dozens of cats/dogs that walk around and you can pet them while you enjoy your coffee. I have also heard of a goat cafe around town… but I haven't checked it out yet.
That's hilarious! Complete this sentence – my best memory of Seoul is…?
Going to Ultra Music Festival with my friends! It is an all night party of electronic dance music, where many of the best DJ's in the world come to play for over 50,000 people! Also, all of Seoul's biggest clubs are free entrance all night long if you showed them your ticket, so we partied until sunrise both nights. It was so much fun!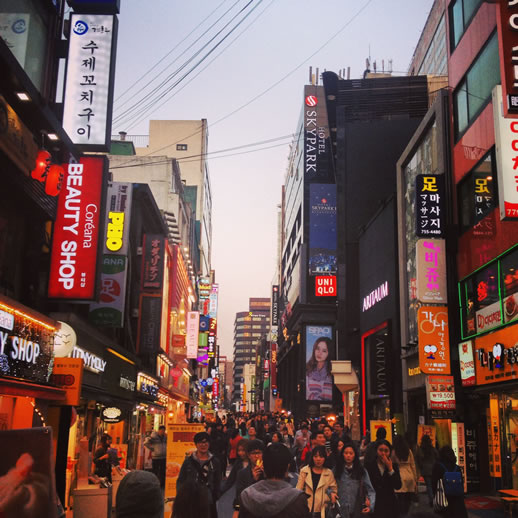 Thank you Drew for sharing your Seoul travel tips. It sounds amazing so I hope I get to visit soon. Of course I want to stay in Gangnam when I do visit even though  my night clubbing days are over!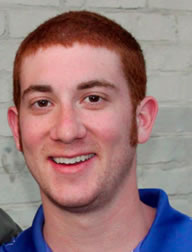 Drew is a recent college graduate who has visited 43 countries since the beginning of 2012. His favorite things about traveling are eating the local foods, meeting awesome people and experiencing the nightlife scene around the world.
Drew is currently teaching English in South Korea. Visit his blog at The Hungry Partier where you can get advice on culture, food and nightlife around the world. Follow his journey on Twitter and Facebook!
Share This Story, Choose Your Platform!