Things to See and Do in Christchurch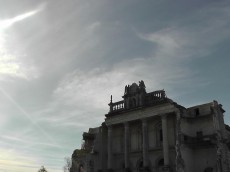 Looking for travel tips and things to see and do in Christchurch, New Zealand?
The city of Christchurch has been in the news for all the wrong reasons lately after being devastated by an earthquake in 2011. But despite that trauma it's still attracting visitors and getting great press, so today we're visiting Christchurch as part of our World's Best Travel Destinations series with travel lover, blogger and Christchurch resident Bethaney Davies as our guide.
Here Bethaney answers all your questions and spills the beans on the very best things to see and do in Christchurch, including where to shop, what to eat and how to get the most of your trip.
So tell me Bethaney, what's the low down on Christchurch?
Christchurch is the main international gateway for tourists coming to explore the majestic scenery and indulge in the adrenaline sports of New Zealand's South Island.
So, what happens when a major tourism hub like Christchurch gets hit by a massive earthquake?
It's business as usual, and sometimes a little unusual, for Christchurch. After being crippled by a magnitude 6.3 earthquake on February 22 2011, tragically killing 185 people, the city centre remains largely out of action with one-third of buildings already demolished.
The city has bounced back and, in true Kiwi spirit, we're making the best of a bad situation. There's no reason for international visitors to avoid Christchurch. In fact, Lonely Planet just names Christchurch one of their top ten cities to visit in 2013. As always, it serves as the best jumping off point for a road trip around the South Island. Given that there's no real city centre any more  a little advance planning will go along way. I'm here to help give you the skinny on what there is left in post-quake Christchurch.
Eating
Christchurch is a great place to eat. It has a fantastic food scene and killer coffee. Caffeine connoisseurs should check out Addington Coffee Co-Op, Black Betty and Joe's Garage for their daily dose. Free Wifi is hard to find in New Zealand but all these cafes allow you to surf the web with a purchase. They're all great brunch options too.
If you're after a fast and easy dinner, take a drive out to Sumner beach and grab fish & chips from one of the two pop-up containers.
For a casual bite and a few drinks, head to The Brewery. Despite its industrial location, you'll find gourmet wood-fired pizzas and craft beers on tap. It's the kind of place where a few drinks on a sunny afternoon, turns into dinner and then grooving to some live tunes.
Fancy posh nosh? Christchurch's premier dining option is Pescatore at the boutique George Hotel on the outskirts of the city. Serving inventive avant-garde cuisine, nothing is ever as it seems but every item on the menu is amazing. You won't get away with spending less than $100 per person.
Christchurch Hangouts
With much of the city centre in rubble or off-limits, locals have turned to the suburbs for their entertainment, drinking and dining options. While there are a few restaurants and bars around the city centre, the suburbs of Addington, Sydenham and Ferrymead are where it's at for evening entertainment.
If you like swanky cocktails and a loungey atmosphere, try the Monday Room just on the outskirts of the city. For live music, the iconic Dux de Lux has moved from its city centre location to Addington.
Christchrch Shopping Scene
If you need to stock up on supplies before your outdoor adventures around the South Island RE:Start, the container mall on the city centre, has two outdoor stores – Kathmandu and Bivouac. There are also some great boutiques selling local designer wear and intentionally kitsch Kiwi souvenirs.
Day Trips from Christchurch
If you want to get out of the city, check out Hanmer Springs just 90 minutes north of Christchurch. It's doable as a day trip but there are lots of accommodation options for an overnight stay. Plan on spending the day soaking in the thermal hot pools or, if you're feeling adventurous, take a hike or explore the mountain biking trails.
Akaroa is another sweet spot to visit while in the Canterbury area. Over on the Banks Peninsula, Akaroa was the only spot in New Zealand that was settled by the French and it still retains a distinct French flair. It's a lovely little town to walk around, eat lunch and admire the picturesque harbour. Take a catamaran cruise around the bay or swim with the friendly local dolphins.
Practical Information for Visiting Christchurch
Don't rely on public transportation. New Zealand is a very car-centric society and Christchurch is no different. If you're hiring a car or camper to tour the country, get it as soon as you arrive at the airport.
There are buses from the suburbs into the city but with no central bus exchange and plenty of cordoned off roads it can be tricky to navigate and isn't worth the hassle for a few days.
Plan your accommodation well in advance. Many of the larger, chain hotels in the city centre were badly hit during the quake and are no longer open. Think outside the box. Rent a room in a local home through AirBnb or have a go at couchsurfing. You'll get a much better experience staying with a local and get to hear their earthquake story. If you are booking a hostel, motel, B&B or hotel, be sure to book ahead as they're often busy.
You can visit Christchurch anytime of the year but come prepared. Layered clothes are essential as weather can change on a dime. Expect four seasons in one day.
Thank you so much Bethaney. I know the Mayor of Christchurch just launched an initiative urging travelers to visit and support Christchurch. As a fellow Kiwi I'm all for that and really appreciate you sharing your Christchurch travel tips.
Guest post by Bethaney Davies
Bethaney Davies is one-third of Flashpacker Family – a semi-nomadic, globe-trotting family from Christchurch, New Zealand. Bethaney, Lee and their toddler Reuben spend half the year at home and the rest exploring and enjoying the world. Flashpacker Family has great tales from the road, tips on travelling on a budget and travelling with a toddler and information on living a location independent lifestyle. You can follow Bethaney on Twitter and Facebook.
Share This Story, Choose Your Platform!