Things to See and Do in Bucharest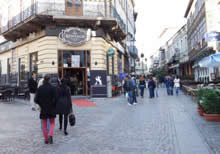 Looking for things to see and do in Bucharest, the capital of Romania?
I haven't visited Bucharest or anywhere in Romania so I asked Eduard Ezeanu who's a local, to be our Bucharest travel guide.
Here Eduard answers all your questions and spills the beans on the very best things to see and do in Bucharest, including where to shop, what to eat and how to get the most of your trip to Romania.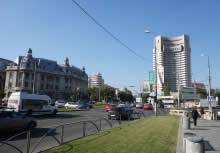 So tell me Eduard, what's the low down on Bucharest?
I've been living in Bucharest, the capital of Romania, for over a decade now. I moved to this city when I started University and moved here permanently. These days I spend several months every year travelling, and I've stayed in many countries and cities, but Bucharest is the home base that I always return to.
So what do you like about Bucharest?
If you're looking for fresh and exciting travel experiences, Bucharest is definitely a city to visit. Before you do, I'd like to take you on a virtual tour of the city, so you get an idea of what you can do here, what you can see and what you're likely to experience.
Things to See and Do in Bucharest
Since you'll probably be coming by plane, you'll arrive at the Otopeni International Airport. From there you can take a regular city bus heading for the downtown area of Bucharest. In less than an hour, you'll be in the very heart of the city. The most interesting areas of Bucharest are in the central area of the city, so I recommend that you take some time to just stroll around and see it.
In the interwar period, Bucharest was considered by many the most cosmopolitan capital in Eastern Europe. Many of the buildings and monuments built during are still present today, coexisting with more stern structures build between 1945 and 1989 in the communist era, and modern glass and steel buildings built in the last couple of decades. These three styles of structures from different periods blend together and give Bucharest a unique look.
In the downtown area, some important landmarks to see are the University of Bucharest, the Bucharest National Theater, and the soaring Intercontinental Hotel (all across the street from each other), as well as the Romanian National Bank, the Romanian Athenaeum and the Revolution Square.
Slightly south-west of the downtown area you'll find the famous Palace of the Parliament, which used to be called the People's House in the communist era when it was built. With 3,700,000 sq ft of floor space, it is the world's largest administrative building and the world's second largest structure after the Pentagon. It stands at one end of the Unirii Boulevard, which is longer than the French Champs Elysees Boulevard. This is an amazing building to visit.
On the north side of Bucharest, you can see the Arch of Triumph and the House of the Free Press, to other memorable structures. In this area you'll also find the Museum of the Romanian Peasant, which I recommend that you visit for a piece of the traditional Romanian rural life.
Getting back to the downtown area, there are many coffee-shops, restaurants and stores here. So if you like eating, drinking and shopping you'll find plenty to do here. But by far the most interesting area to visit in my view, and possibly the main tourist attraction is the Old Town, which you'll also find in the downtown area.
The Old Town consists of a small web of narrow streets with many buildings from the interwar period and earlier, many of which are currently being renovated. It's packed with quaint little coffee-shops, bars and eateries, and it's filled with music, people and good vibes.
The Old Town is like a bohemian piece of the 1930s Bucharest. Especially during the summer, when all the coffee-shops and pubs have tables outside, this is a very alluring area to see and spend some time in.
Travel Tips
Bucharest has an entire range of hotels and hostels, from luxurious to budget. You have household names such as the Hilton, Marriot, Ibis and Novotel, as well as places with more of a local touch. Most of them are on the big travel websites, so finding a place to stay online, no matter what your budget is, won't be hard.
One of the great things about Bucharest is that it's a pretty cheap city, even in comparison to most other East European capitals, which are generally known to be cheaper than their West European counterparts. Food and drinks, accommodation and tours are all very reasonably priced.
To get around Bucharest you can use buses, trams, taxis and the subway. Since the traffic can get really bad, especially around rush-hour, try to use the subway whenever you can. It covers all of the central area and extends beyond it to some degree as well.
Above all, in order to really enjoy Bucharest, you need to get to know the people. You can do the major sightseeing in just a couple of days, but my recommendation is that you take your time to meet new people, and get acquainted with the culture and the lifestyle.
I believe you'll find most Romanians to be very friendly and welcoming, and most people speak good English, especially young people.
What to do during a day in Bucharest
Take it slow. Enjoy some traditional Romanian food and drinks at Hanul lui Manuc (a popular inn built way back in 1808) or at Caru cu Bere (a traditional restaurant), both of which are in the central area of the city.
Sit down for a coffee somewhere during the day, and experience some of the nightlife as well. Most people I know who've visited Bucharest say the nightlife here is intense and that Romanians know how to party.
When's the best time to visit Bucharest?
Bucharest is great to visit during the summer, as well as late spring and early autumn for milder weather but the rest of the year isn't bad either.
Wherever you're coming from, I'm pretty certain that you'll enjoy the time spent in Bucharest. Most travelers who come to Bucharest do and some of them enjoy it so much that they settle here.
Sp when you visit Bucharest just drop me a line. If I'm around, I'd love to meet you.
Thank you Eduard, it sounds like an amazing place and I do hope to see you in Bucharest one day.
What things would you like to see and do in Bucharest? 
Guest Post by Eduard Ezeanu
Eduard Ezeanu is a Romanian confidence coach. He works with shy or socially awkward people and helps them gain confidence and master interpersonal relationships. He travels extensively and seeks to experience all the richness the world has to offer. He also writes on his blog, People Skills Decoded, and you can find him on Facebook and Twitter at @eduardezeanu.
Share This Story, Choose Your Platform!