5 Reasons to Choose Thailand for a Luxury Vacation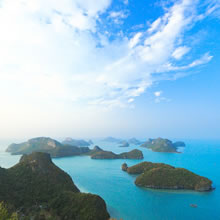 It's no secret that I love Thailand. But it does have a reputation> for being a mecca for backpackers and budget travellers so often gets overlooked by families and more experienced travellers with a bigger budget who are guided more by experiences rather than price
If that sounds like you, and your main focus for holidays is luxury travel, don't cross Thailand off your wish list. With a vast choice of luxury hotels and Thai homes for rent, it can definitely deliver the luxurious experience you're after. And then some.
Here's are five reasons why you should consider Thailand for your next luxury vacation.
1. Destination
As a country, Thailand is a first-class destination in its own right and there are numerous destinations within Thailand itself that will appeal to luxury travellers.
Let's talk about the capital first. While it is hot and hectic, Bangkok is also an amazingly cosmopolitan city, boasting exceptional shopping and dining experiences. While Thailand may still be considered a developing country by some, there are huge numbers are wealthy Thais who love to shop. You'll find plenty of high-end malls with designer labels like Louis Vuitton, Stella McCartney or Versace.
There's no need to worry about the heat and humidity either because as a luxury traveller you'll be travelling straight from your air-conditioned accommodation to your air-conditioned transport to the air-conditioned shop or restaurant of your choice.
For foodies, the dining is unsurpassed with fantastic Asian and European food available at many of the finest restaurants in Bangkok. If it's nightlife you're after or you've got a taste for exotic cocktails there are exclusive rooftop bars dotted around the city centre. This is where the beautiful people come to hang out and it's a fun, lively scene.
Outside Bangkok, you can choose between mystic hills or white sand beaches. The islands of Thailand are tropical havens with clear blue waters and excellent options for boat trips and watersports.
While many of the lesser known islands are still fairly rustic, some of the bigger and more touristy islands have an excellent infrastructure, with plenty of luxury hotels and rental houses discreetly tucked away from the main tourist areas.
If you're dreaming about a relaxing beach holiday on a stunning island, Thailand delivers.
2. Service
Thai people have an innate respect, charm and gentleness. They're naturally hospitable and you can't fake the warmth and welcome you're likely to find when you visit Thailand. No amount of training can replicate it.
While customer service often falls apart in developing countries, you can expect to find the kind of high-level service here that will make you feel comfortable, at ease and well-cared for.
Generally, you'll find that not only do people go out of their way to fulfil your requests, they will also go out of their way to proactively action or suggest things that will make your stay even better.
There's an artistry in the way interiors, food and clothing are styled in Thailand that elevates the mundane to something special. Small touches like an orchid on your pillow, or a choice of hot, cold, alcoholic or alcohol-free drinks on arrival are an example of the level of consideration you can look forward to.
3. Value for Money
Despite the availability of luxury items and the excellent service, Thailand still represents excellent value for money. So if you'd like to experience a luxury holiday without breaking the bank it's a good choice.
For groups of friends who are travelling together, or for special occasions such as a wedding or birthday celebration, hiring a vacation rental is another way to cut costs.
You can find luxury beachfront houses on the island of Koh Samui for a fraction of the price you'd pay in Australia, the USA or the UK.
If you do decide to hire a private villa you'll be able to get even better value by hiring a personal chef to cater for you. A concierge can also be booked to take care of all your needs, including everything from shopping to booking trips and transport.
You could even organise someone dedicated to your health and wellbeing to give you massages and beauty treatments in your own private rental villa.
4. Infrastructure
In some developing countries, it's very hard, almost impossible or prohibitively expensive to get hold of many of the products you might be used to. However, you can find almost anything in Thailand and a concierge will be happy to spend the time sourcing anything you need so you can relax by the pool and wait for it to be delivered.
Things tend to be well organised and run on time including events, transport and tours. This minimises stress and time spent waiting and maximises your luxury holiday experience.
Quite often you'll find that, if you're prepared to pay for it, almost anything can be organised on your behalf at any time.
So if you'd rather spend the day in the spa than in the shops a personal shopper can be dispatched to do your shopping and bring a selection of clothes to your hotel or villa for you to try on and choose from at your leisure.
5. Pampering
Almost every health, wellbeing and beauty service you can think of is available in Thailand. Many people even visit for plastic surgery because the level of health care and aftercare is high while the cost is far lower.
Even if you're not considering plastic surgery, services like teeth whitening, laser hair removals and surgery-free body sculpting are all widely available.
If you just want to be pampered blow drys, manicures, facials and massages will all be delivered to the high standards you'd expect and in hygienic conditions.
For those who want to visit a world-class destination, be waited on 24 hours a day, enjoy all the products or services they'd find at home and be fully pampered Thailand, ticks all the boxes.
Of course, there are plenty of other destination you could visit to enjoy an amazing luxury vacation, but if you're yearning for a luxury holiday and want to get exceptional value for money, Thailand's the place.
This is a sponsored blog post for Luxury Retreats, a villa rental company dedicated to creating unforgettable travel experiences. Luxury Retreats rent holiday properties all over the world. Their blog is packed with travel tips and inspiration if you're looking for destination ideas.
Photo credit: Tourism Authority of Thailand
Share This Story, Choose Your Platform!