Great Reads! Summer House With Swimming Pool Review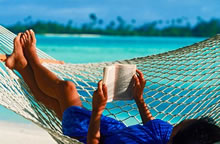 In case you missed it we started a new series last week. Great Reads! will keep you up to date with great books for a long journey, your next holiday or just to chill out at home.
I started the series with a non-fiction book The Power of Now but there is nothing like a great novel for true escape and relaxation.
Over our long summer holidays I had lots more time for reading and one of the best reads was Summer House With Swimming Pool by Herman Koch.
It's a murder mystery with a sinister storyline and a black comedy rolled into one. I started off hating the main character but grew to understand his motives better as the novel went on although he's still a fairly repulsive character.
Marc Schlosser, the despicable narrator, is a Dutch GP who specializes in treating people in the arts but doesn't seem to like his patients much. Married to Caroline with two daughters he has an easy life but seems dissatisfied with it. Let's just say he's a bit bitter and twisted.
Ralph Meier, a famous actor, becomes one of Marc's patients and acts lewdly towards Caroline. Never-the-less Marc and his family end up staying with Ralph and his family in their holiday house, a summer house with pool (funnily enough!) in France.
The summer holiday progresses with lots of drinking, eating, trips to the beach, sexual play and intrigue. Even Marc's daughters are caught up in their involvement with Ralph's two sons, Alex and Thomas, who are close to them in age but no one is prepared for the tragic events ahead of them.
This is a book about desire and repulsion with great writing and compelling characters that held me captive. I'm looking forward to reading Herman Koch's other novel The Dinner next.
Summer House With Swimming Pool would make a great read on a long journey, on your beach holiday or just to as a mini escape from the daily grind.
Have you read Summer House With Swimming Pool? What did you think? Have you read any great books lately?!
Travel Well and Feel Fabulous with Get In the Hot Spot!
Great Reads is a new series to help you discover the best books to read on the plane, on your travels or in between trips.
Stay tuned to Get In the Hot Spot with our free newsletter, a weekly injection of tips to help you travel well, feel fabulous and live your dream. Hit this link to join us now.
Share This Story, Choose Your Platform!