How to Stop Running Away From Problems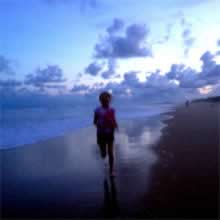 One of the things that pissed me off about going to therapy was that every time I went to see my therapist a new problem was revealed. But no matter how hard it was, I finally stopped running away from my problems and focused on learning to live with them.
I started seeing a therapist to address issues with depression. Then it transpired that I had anxiety and probably some form of social anxiety too.
Next I had issues around trust. Then addiction problems. Well, actually I knew about those. I think almost everyone's addicted to something.
Soon I discovered I was an emotional retard who was totally out of touch with my emotions. Okay, I'm exaggerating but you get the idea. Then I noticed I was also out of touch with my body. Duh! And so it went on.
When I stopped running away from my problems I had time to notice exactly what they were.
Understandably I got fed up with therapy and all these unwanted revelations but I persevered because, even though these discoveries made me more depressed, they also make me more desperate to heal myself. So I worked hard on self awareness at home as well as on the couch.
I wrote heaps, digging down into my inner psyche and learning about myself that way. I read psychology, mindfulness and mediation books galore. I meditated and practiced mindfulness daily. And those four things are what helped me finally stop running away from my problems and accepting them as just another part of me.
But what pissed me off most was that the therapist sat there and did nothing in our sessions then, after I'd done all the hard work, he took all the credit. So annoying.
This year I have a new therapist. Well, new but not new, because I saw her in group therapy for a year So I got to interview my new therapist for a year during the group sessions and overcome my trust issues (it takes time!) before I started seeing her alone.
Group sessions are hard but private therapy sessions seem easier. I feel better now but I surprise myself by crying each time I talk with her about why I'm still going to see a therapist, how I feel and what's making me anxious.
In my first solo session the therapist mentioned that I've used fantasy to cope with the bad things that life's thrown at me. I realize she's politely raising another psychological problem I have and calling me a fantasist. I realize that it's kind of true.
I've been creating stories my whole life, weaving detailed myths about my past that are so far from the truth I actually believed them for many, many years.
I bury myself in books. I run away from my problems either by self-medicating or by actually getting on a plane and physically removing myself from them. But the problems have been following me because you can't run away from yourself and now those problems have multiplied, ganged up on me and pulled me down.
My homework was to take note of the times I want to run away and see if it happens because I want to move towards my values of adventure, learning and new discoveries, or because I want to avoid the pain of arguments, adult decisions or standing up for myself against others.
It's hard for me to untangle the web. There are so many threads woven into the tapestry of my life, threads that have created a pattern I know so well. Now I have to untangle them and break that pattern, start afresh with the same thread and create a brighter picture. A picture that I've envisioned and worked on, not one that's just slowly built up haphazardly over time.
When you tidy your house or a cupboard there comes a stage where everything is even worse than before, where all the mess is piled up haphazardly and the muddle has multiplied. That's where I'm at right now with my therapy, my self-awareness and my life. There's still a lot of work to be done but it's time for me to throw out what I don't need, tidy up the things I do want to hold onto and enjoy having a clean house.
Travel is my favorite fantasy, my favorite escape but it's also my favorite adventure. And I want to keep running towards adventure, I just need to make sure that I stop running away from problems or anything else.
The real world is hard and the fantasy world is so appealing. We feel safe and loved in our fantasies, we feel fulfilled and challenged. We all need to feel those four things in the real world and we can, it's just hard to balance them all.
So I'll probably always be a bit of a fantasist and that's okay. Just as long as I keep my feet on the ground and stop running away, no matter what problems crop up or how pissed off I feel.
How to stop running away from problems cheatsheet:
Keep a journal, write daily to gain self awareness.
Read constantly online, blogs, books and magazines. Leave no stone unturned and learn as much as you can about how our brains work. You might want to start with some of the books that changed my life.
Meditate every day. Ten minutes is enough to make a difference. No excuses. Start learning how to meditate right now.
Mindfulness is a miracle cure for all your personal problems. Start by learning about mindfulness for beginners and reading books about mindfulness, but most of all practice mindfulness every single day.
If you enjoyed this post, please share it with any friends it would help.
Have you got any tips on how to stop running away from problems?
Share This Story, Choose Your Platform!