How to Stop Masking Your Emotions – and Unmask Yourself!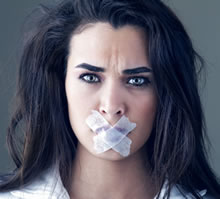 How did you travel over the holiday season? If you found all that enforced time in the company of family stressful, you're not alone. Or maybe you had the opposite problem and felt anxious about being alone, you're not alone either. And if you found the holidays so stressful that you turned to alcohol/cake/exercise (or whatever's your favored way to mask stress and other difficult or unwanted emotions) you're also in good company.
A press release that arrived in my inbox just before Christmas from Jean Hailes highlighted how many women use alcohol to mask emotions:
"With the festive season in full swing, women are urged not to use alcohol as a coping strategy when dealing with extra demands of these holidays. Psychologist, Dr Mandy Deeks from Jean Hailes for Women's Health, says that mental health can be at risk over the festive period and can trigger excessive drinking, particularly for women in middle age.
"We often assume that excessive drinking is a problem for young women but data from the Australian Bureau of Statistics tells us that women aged 55-64 are the most likely to consume alcohol at risky levels.""
The press release offered six tips for surviving the silly season: Be prepared, Drink responsibly, Sleep, Exercise, Acknowledge feelings and Connect.
But acknowledging feelings is buried in that list even though feelings or emotions (or denial of them) are at the root cause of so much of our unwanted behaviours – like drinking too much. So instead of burying those emotions we should talk about them and prioritize them as the first and most powerful solution to living the life we want.
Why the commotion about emotions?
Emotions are part of being human. They're perfectly normal and nothing to be ashamed of so why do we struggle with them? Why do we try to hide our shame, deny our guilt or avoid feeling fear?
It's common for us to first start seeing emotions as unwanted, undesirable and unhelpful as children. We may have been sent to our room for displaying any type of strong emotion, from anger to sorrow. Naturally as children it didn't take long did us to work out that emotions were best hidden away. And from there we looked for ways to dull emotions, of which (for adults) alcohol is one of the most socially acceptable, although as ineffective as any other method.
We can't suppress our emotions. Joy, sadness, desire, revulsion, relief or frustration are just a few of the many emotions which pop up as we go about our lives. But we need to address those feelings and look at what's causing the emotion.
Maybe we feel sad because we miss a certain friend or family member. Maybe we feel jealous because we'd really like to be spending Christmas in Curacao instead of under canvas. Whatever the emotion that presents itself, a self check into the cause of it can be used to bring greater self-awareness.
But if we chose not to acknowledge the emotion and seek to cover it up that can eventually lead to much greater problems like depression. As well as a lost opportunity for growth and learning.
So how do we stop masking our emotions and learn to deal with them?
It takes courage, awareness, patience and lots of practice. Especially for those of us who may have over 40 years practice at denying those emotions. Even being asked to be aware of your emotions instead of suppressing them can make you feel fearful. But remember that's okay. It's just a feeling and one that you can use to learn more about yourself.
To learn to deal with your emotions in a more healthy way start by noticing your emotions and the tell tale signs your body gives about them. For example, a tightening of the jaw could be a sigh of anger or frustration, an upset tummy a sign of fear or anxiety, restless feet or hands a sigh of boredom.
Our nervous system runs all the way from our brainstem down through our chest and heart cavity to our stomach and bowels. Becoming more aware of your body and internal landscape is a great way to start becoming more aware of your emotions.
The next step is to work out what the root cause of the emotion is. More often than not it's something that's happening in our head that's causing the emotion rather than something that's actually taking place.
When you experience an emotion, take time to stop and fully recognise it. Let that feeling grow, evolve and, watch with curiosity how it dissipates by itself over time.
Daily meditation can help us stop masking our emotions as well as slow down and live more consciously.
Above all expect to make mistakes. If you did hit the grog/chocolates/insert your poison here over the holidays, forgive yourself. This small moment of awareness about why you did so is a huge step forward.
You're on the verge of stopping masking your emotions and unmasking the real you. Notice exactly how it makes you feel. You might feel nervous, scared or unsure. But hopefully you also feel excited about getting in touch with your emotions and starting to unmask yourself.
Don't Miss Out!
Stay tuned for more travel, health and positive ageing articles because we need to stay healthy so we're mentally and physically ready for adventure at any time.
Sounds good? Subscribe to Get In the Hot Spot (it's free!) – a travel and lifestyle blog for women aged 40+ who want to enjoy new adventures, have more fun and feel fabulous.
Share This Story, Choose Your Platform!