Simplicity, Happiness and Parkinson's Law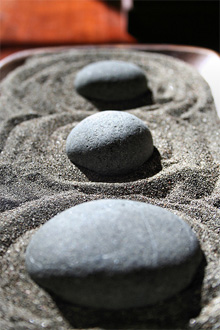 Guest post by Cameron Plommer
A dude named Parkinson came up with the following law:
Work expands so as to fill the time available for its completion.
Parkinson's Law can also be put in the context of time:
The amount of time in which one has to perform a task is the amount of time it will take to complete that said task.
You with me so far? Good. Put another way, if you give yourself a month to do a project it will take a month. If you give yourself a week, it will take a week.
Essentially Parkinson's Law is about constraints. When you are constrained by a time limit to finish something, you will finish within the limit. It's strange, but this really does work, when you are held to that limit. This is usually best achieved by being accountable to someone else for finishing your task.
The guys at 37 Signals are fellow preachers of the benefits of constraints, which is evident from their blog and book. They preach building a bootstrapped company as opposed to venture funded. Bootstrapped companies are forced to make money, or they die. These companies have to sell product, make money and keep costs low. Just like nature, only the strong survive.
In terms of Parkinson's law a bootstrapped company will be more likely to effectively utilize revenue because they are constrained by how much they sell and how frugal they can be.
David Heinemeier Hansson Embracing Constraints
David Heinemeier Hansson on Venture Captial
Parkinson's Law and Minimalism
The reason I like the idea of minimalism is because:
Less stuff you buy => Less money you need => Less you have to work => More free time
I want to avoid the rat race at all costs: creating a lifestyle that requires constant funds to support the buying of more stuff and maintaining the stuff I have.
I'm not talking about not going out to eat, not owning a car, never buying real estate and foregoing material things I enjoy. I'm talking about creating a sustainable lifestyle based on happiness and not stuff. The happiness I'm talking about comes from simplifying life so it's manageable and beautiful, not an overwhelming mess.
Keeping Parkinson's Law and the importance of constraints in mind, there is one thing you can do to create a simpler life:
Live in a small home
This statement is different for everybody and depends on your family's size. But there are a few principles that can be applied to any sized family.
You will be happy with the space you have. No matter how big.
You will be happy with a smaller space because it simplifies life.
Small spaces restrains how much stuff you can store and buy.
You will save money because small spaces are cheaper and you can't buy as much stuff.
I firmly believe that a small home will create a simpler and a happier life. I concede that there is a point where a space is so small that it significantly affects happiness. What I'm pushing for is having enough space to live comfortably with the things you need. For most middle and upper class people it's more likely that they will buy too much space, thus forcing them to buy more stuff, and continue working for a long, long time.
Let me leave you with this story from Don Miller's tremendous book "A Million Miles In A Thousand Years."
I saw a documentary once about a group of families who transplanted from their suburban lives into rural Montana, where they lived on the open prairie for a solid year. Each family had to build their own cabin and live off the land. The family I remembered most had come from the coast of California where they had a multimillion-dollar mansion on a cliff overlooking the ocean. The father had signed the family up for the adventure because his marriage wasn't doing well, and the conflict was affecting the kids. And so, they went from a thirty-room mansion to a single room in a field, without electricity, without running water. There was a father and mother with two teenagers, a son and a daughter. The men had to work the field, even though neither father nor son had any experience in farming. And the girls spend what seemed like all day preparing food for three simple meals. But the interesting this is that they bonded. Without all the trappings of modern life, and without the gadgets we use to make life simple, the family cam together.

I was saddened at the end of the documentary when, after a year, the filmmakers went back to visit each family. They interviewed the young girl who was sitting in the hot tub behind the mansion, looking down over the beach. The interviewer asked if she was glad to be home. And the girl sat and thought for a moment and then said no. She said her mother and father were fighting again, and she never saw her brother. There was a tear coming down her cheek as she said this. She said she wished they could go back to Montana where everything was easier.
Makes you rethink things, huh?
Cameron Plommer is passionate about organization, productivity and most of all growing better everyday. As a new graduate he is developing a few entrepreneurial pursuits and figuring out how the real world operates. He writes at How to Be Extraordinary and is always reachable via Twitter.
Share This Story, Choose Your Platform!