Shape Your Destiny in 6 Powerful Steps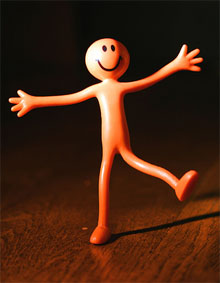 Guest post by Mars Dorian
Character is destiny. Your future is based on the decisions you make today, and the decisions you make are based on your character.
In order to lead a kick-ass life, you need a kick-ass character. Fact is you are kick-ass already, but you may have forgotten it. What happened?
Society, parents and friends all molded you the way they wanted you to be. You became a commodity: trying to please everyone, ending up pleasing no one.
It's time to return the creative control to the true artist – YOU. Consider your life an artwork in progress, and make it an epic one. You are the only person you have to please.
How to shape your destiny in 6 powerful steps:
Become delusional

That word has such a negative flavor. It shouldn't. Being delusional is the requirement for future greatness. You have to believe that you can recreate your character, no matter what. The whole world may declare war on you, but you don't care. You are busy with your delusions about becoming great.

Focus is everything

The quality of your focus determines the quality of your life. If your focus is an uncontrolled beast that jumps from place to place, you will endure a chaotic life. Meh! Successful people have great focus, maybe that's what makes them great. Promise yourself to focus only on the things you want to experience. If you want to be more funny and outgoing, then  focus excessively on these traits and ignore everything that compromises that vision. Focus. Focus. Focus.

Take epic little steps

Instead of changing everything at once (it never works), concentrate on taking only tiny steps and practice them like a Jedi everyday for at least three weeks. That's it. Only thing at a time, and making it as epic as possible. And then you tackle the next one. And then the next. By the end of the year, you will have established at least 11 powerful character habits.

Reward yourself

I call that going into candy mode: for every great character habit you have established, you should reward yourself with something nice. That can be a dinner, a concert or a material product. Whatever makes you feel sunny in your tummy works wonders. Positive reward strengthens your habits, and "burns" them deeper into your brain.

Create and increase momentum

Changing your character seems impossible, especially in the beginning. But once you establish two habits within the first months, you ride the momentum wave. Everything becomes easier now, as long as you sustain the energy. Don't take a break, do something for your development every single day, even if it's just 10 minutes. M-O-M-E-N-T-U-M should be your daily mantra.

Raise your standards

Never be satisfied with your current status. Have a voracious appetite for more and more growth. Even if you come to a point where you obsessively love your character, keep raising the bar. Happiness only exists in forward motion. Make each year better than the last. The journey of your character recreation will end the day the grim reaper comes knocking on your door.
That's it. Recreating your character may take a while, but who wants to miss the glory of shaping your destiny?
It's your birthright. Happy creating.
Mars Dorian helps people spread their influence and build passionate online communities. If you want to build a strong digital presence, dive into his world at marsdorian.com or follow him on Twitter.
Thanks for sharing your passion with us Mars. It's infectious. I'll be carrying on with the Blog Writing Magic series on Thursday or Friday (depending on what time zone you're in) so look forward to seeing you again then.
Thank you for reading and here's to our continued success! Annabel
Photo credit: Niffty
Share This Story, Choose Your Platform!