Do You Need Travel Insurance for Seniors?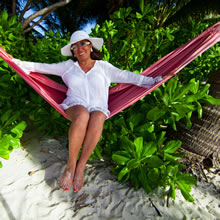 While there's no doubt everyone who travels abroad should take out insurance, once you hit a certain age you'll need to consider specialised travel insurance for seniors.
Although I'm not quite in the senior category yet it's something I think about for my 84-year-old mum who visits me in Australia every year. She lives in the UK so it's a long journey and we both want to know that she'll get here and back safely and be fully covered for any medical problems or falls during her stay.
We've been fortunate so far, with no major health concerns arising during her holidays, but I still wouldn't forgo the travel insurance. It brings peace of mind so you can enjoy your holiday and is particularly important for seniors.
Whether you're already in the senior category yourself or are travelling with someone who's over 60, here's what you need to know.
Age
Seniors travel insurance generally covers those from aged 60 to 100. Every policy will differ so you'll need to check the age restrictions with indivil insurers.
If you're travelling with an intrepid centurion, it's best to contact the insurance company directly as they may be able to work out special insurance for you.
Existing Health Conditions
Any pre-existing medical conditions need to be fully disclosed before the policy is purchased. In some cases, the insurer may request a doctor's report declaring the insuree fit for travel.
Most importantly, seniors and their travel companions need to understand which medical conditions are NOT covered by the policy. Carefully reading the full Product Disclosure Statement attached to the policy is essential to check the insuree is properly covered.
Destination
While it would be foolhardy not to take out travel insurance for an international trip, it can also be useful for long-distance domestic travel.
Although health concerns will be covered by Medicare and private health insurance if you're an Australian citizen or resident travelling within Australia, there are other costs associated with ill health during travel. For example, accommodation, transport and personal belongings.
If you have to cancel part of your trip because of poor health then travel insurance will cover you for these expenses where private health insurance may not.
Travel Frequency
Most policies cover one trip to a specific and named destination or destinations.
However, if you're planning on making several trips each year or if your trip is long and complicated, annual travel insurance or a multi-trip policy may be more cost-effective and convenient.
What to check before buying
Benefits
Every insurance policy outlines the set benefits and a maximum dollar figure for each of those benefits.  Check the limit for each separate benefit is enough to provide for your needs.
Conditions and Exclusions
Check also that there aren't too many prohibitive conditions or exclusions attached to the benefits. If anything should happen you want to know your claim will be valid.
Cruises
Most policies don't cover cruises so if you're planning a cruise make sure it will be covered.
Cost

Because there are more risks associated with senior travel, the cost of their travel insurance is generally higher. Avoid cheap insurance products which may leave you regretting it and be prepared to pay a higher premium for comprehensive cover.
Use online comparison sites to compare different policies. They should offer you a choice of multiple quotes with the policy details for each option.
If you're over 60 or travelling with someone who is, there's a greater chance you or your senior companion will fall sick during the trip. And the longer and more sophisticated the trip is the more likely it is that something will go wrong.
Consider these things before you travel, talk about them with your travel companions and work out the best solution to give you peace of mind while you're away.
This is a sponsored blog post for Travelinsurance.com.au, which has been helping Australians with travel insurance for over 20 years. Visit their website to get a travel insurance quote for your next overseas vacation.
Share This Story, Choose Your Platform!