5 Best Places in San Francisco for Views of Golden Gate Bridge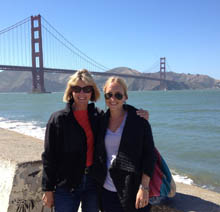 Have you always dreamed of visiting San Francisco?
I've seen a lot of the USA but I've haven't made it to San Francisco yet. It sounds like a fun, creative and romantic city so it's right up there on my bucket list.
When I was in Japan I traveled with San Francisco local Marybeth Bond from The Gutsy Traveler. She's fun, creative and gutsy by name and by nature. I've been mining Marybeth for San Francisco travel tips and wanted to share a few of her local San Francisco secrets with you here.
The Golden Gate Bridge is easily San Francisco's most famous landmark so here are some insider tips on how to see it.
Over to you Marybeth. Tell us please what's so special about the Golden Gate Bridge and how can we get off the tourist track and view it away from the crowds?
I drive across Golden Gate Bridge several times a week and never tire of its moods, magnificence and changing faces.
Here are some of the best viewing spots. Those listed below are all free and open to the public.
Note for out-of-towners: San Francisco can be very windy, particularly in the summer. Remember to wear layers, sunglasses and sunscreen.
1. Crissy Field
Crissy Field, a former military airfield located south of the Golden Gate Bridge in the Presidio, was restored in 2001 and offers wide, fully accessible walking and cycling trails between the Marina Green and Fort Point.
Offering stunning views of the bridge, Crissy Field offers picnic areas and a small beachfront popular among families. Along Crissy Field, visitors can stop for lunch at the Warming Hut near Fort Point, the Beach Hut Cafe near the Marina Green, or check out the House of Air, a trampoline center in one of the repurposed buildings.
Distance from Golden Gate Bridge: 2.4 miles from the Marina Green.
2. Fort Point
For an up-close view of the bridge, visit Fort Point, a Civil War-era brick fort accessible via the Marine Drive lot at Crissy Field.
Although Fort Point never had any military action, the Golden Gate Bridge's chief engineer Joseph Strauss redesigned the bridge to preserve the fortress as a "fine example of the mason's art."
Distance from Golden Gate Bridge: 1.2 miles.
3. Baker Beach
Stretching a half mile below the rugged cliffs along the Presidio's western shoreline, Baker Beach offers spectacular views of the Golden Gate Bridge.
Accessible by public transportation (Muni 29-line), the beach offers a picnic area with tables and grills, lots of parking and restroom facilities.
Note: the northernmost end of Baker Beach is frequented by clothing-optional sunbathers.
Distance from Golden Gate Bridge: 1.2 miles.
4. China Beach
Located in the Seacliff neighborhood, China Beach is a tiny, sheltered pocket of sand with a picnic area, a sunbathing deck, restrooms, cold showers and unobstructed views of the Golden Gate Bridge.
Note: the beach is only accessible by a steep, paved drive or natural stairway of approximately 100 steps.
Distance from Golden Gate Bridge: 2.0 miles.
5. Lands End
The Eagle's Point trailhead of Lands End near Lincoln Park offers jaw-dropping views of the Golden Gate Bridge.
Near the popular hiking trail, which is also a short walking distance to the Legion of Honor, visitors can walk along a paved sidewalk near the 17th hole of the Lincoln Park Municipal Golf Course. Here, there are several benches and photo opportunities to reflect and capture the beauty of the bridge.
Distance from Golden Gate Bridge: 3.0 miles.
Have you traveled around San Fransisco? Would you like to? Or what are your favourite spots?
Guest post by Marybeth Bond
Marybeth Bond has explored more than 90 countries and written 12 travel books including many for National Geographic. Check out The Gutsy Traveler for her latest travel inspiration, advice, stories or to see her being interviewed by Oprah.
Share This Story, Choose Your Platform!