52 Exercises: #27 Rock Climbing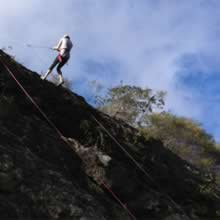 I feel as if I've been rock climbing my whole life even though I've never actually done it before. I've seen photos of my famous rock climbing cousin Jerry Moffatt in action, read his autobiography and tried indoor wall climbing so in my mind I'm already a rock climbing expert. It doesn't bode well.
We set off from Mount Barney Lodge Country Retreat with guides Innes and Steph and six families who are all up for some rock climbing for beginners. We're a big group but not everyone is climbing. Some are too young, others too wimpy, others just happier sitting on a rock than climbing one.
It's only a short walk to the cliffs of the Gillies where we'll be climbing but we stop to grab helmets and harnesses on the way. Mount Barney and Mount Maroon flank the fields we walk through.
The grass is long, the is air cool and I feel at home, at rest. I want to stay here forever, outside in nature.
I take photos with my iPhone but at the same time I want to fling it into a muddy puddle and leave it there. Spending so much time inside on a computer is difficult. I love writing and helping people with their web marketing but I also want to spend more time outside walking, sitting and thinking. Just being. I am fed up of doing. Even though I love what technology can do for us sometimes I am fed up with it.
Rock climbing takes time in such a big group. We listen to the safety instructions, don our helmets and harnesses and take turns climbing, belaying and cheering each other on.
Indoor wall climbing was fun but rock climbing's the real deal. We're cold, our fingers get scraped and sore from hanging on so tight and bare knees get scraped and bloodied.
Climbing up the rocky cliff is hard work and there's no time for fear. But to get back down you have to lean back with your feet on the rock and your entire body suspended perpendicular to the ground by a rope, waiting patiently for your partner to lower you slowly back to the ground. That's when the fear sets in.
Some people cry and shout at their partners and on any other day that could be me but today I'm almost fearless. I trust our guides, I trust my 11 year old son and the grandpa I've never met before who are holding my life in their hands. I trust that today is a new beginning, not an end.
We wait and wait for our turns but that's okay because I want to stay outside forever. My shoulders, bum and legs still ache from body building but I scramble up the rocky cliffs fast.
Rock climbing is hard work but this is a perfect place and today, even though the sky above us is cloudy, I am in a perfect space.
Have you ever been rock climbing?
—————————————————————————————————–
Rock Climbing Exercise Review
Cost: $50 for a morning session with Mount Barney Lodge Country Retreat in the Scenic Rim in Queensland near Brisbane. We managed to fit in three climbs but that depends how able your group is. Our group was very mixed ability and we were in the beginners class so some people took half an hour to scale the cliff and others only five minutes. We're definitely ready for intermediate and advanced rock climbing next time.
Time Exercising: From 8am until 12.30pm including tea and cake.
Calories Burned: No idea but probably very little and what was burned was cancelled out by the homemade fruit cake.
Average Heart Rate: Not sure as I didn't wear my heart rate monitor but rock climbing is  not an aerobic workout, it's about strength and cunning as you work out the easiest way up the cliff.
Peak Heart Rate: Not relevant.
Fun Factor: 8/10
Fear Factor: 7/10 But only because nothing could phase me that day.
Post-exercise Glow: 8/10.
—————————————————————————————————–
Thank You for Reading
If you're enjoying Get In the Hot Spot and the 52 Exercises series check out more from the 52 Exercise quest here and take a moment to share this post on Facebook, Twitter, by email or wherever you please. Thank you.
Get the weekly newsletter – If you'd like email updates from Get In the Hot Spot click here to subscribe now. I'll email you weekly with the best stories.
Share This Story, Choose Your Platform!