Why Reverse Culture Shock is Squat On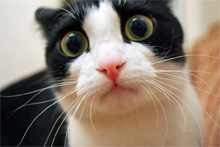 When I got back from spending a year teaching at a rural school in Zimbabwe, Africa I was excited to be back to England and hit the supermarket.
I'd been away for 16 months by then, after traveling in Malawi and Kenya too, and I thought my days of culture shock were safely behind me.
I'd never even heard of reverse reverse culture shock, so when it hit me I was shocked.
In Zimbabwe the food choices at the only shop near the bush school where I worked was limited to two things: tiny dried fish called kapenta or powdered milk. Neither of them tasted good but they did both supply some invaluable and hard to find protein.
Maybe I'd find some fresh tomatoes or eggs on a good day, but that was rare. That was something to write home about.
Mostly I ate sadza or mealie meal, the traditional staple of Zimbabwe made of ground maize cooked with water into a thick paste. It was served with fried leafy greens and eaten with your hands.
I ate a lot of stale, doughy white bread with peanut butter too. I am sorry to say that in a country where many people were going hungry I gained weight thanks to this unhealthy diet and the lack of fresh fruit and veggies.
There was nothing healthy or tasty to eat and what I did eat I'd usually carted back to school hundreds of kilometers from the capital city Harare. I literally had to carry it for the last seven kilometers.
So of course when I got back to the UK I was excited about going to the supermarket where the shelves groaned with produce and I'd be able to stock up on all my favorite treats.
But when I got to the supermarket the choice was overwhelming and, even though my mum and I were in the supermarket for an hour, I couldn't choose anything. Nothing.
I just wandered round the supermarket aimlessly with an empty basket banging against my knees while my mother sped round confidently loading her trolley high with enough food to feed an African village.
When me and mum got to the check out to pay for all the food mum had chosen there was a queue.
So I did what you do in Africa when waiting.
I lowered my haunches to the ground and settled into a comfy squat.
After all, you never knew how long you'd be waiting in Africa – half an hour, a few hours, maybe a few days even.
"What on earth are you doing?"
My mother barked.
"Get up now!"
Startled by her reaction I rose quickly to my feet.
So I learned that squatting in the supermarket check out queue just isn't on in England. In fact, for some reason, squatting doesn't go down well anywhere in England or other developed countries where we've been trained to either sit on chairs or stand.
Today, some 20 years later and in yet another continent, I often feel the same sense of being overwhelmed by choice at the supermarket.
Let's say you want something simple like some fruit juice. How do you ever choose between all the possible choices, the blends and the packaging options? If it takes me too long to decide I give up.
I protect myself from overload and time-wasting by buying the same brands every time, or by buying whatever's on special that day.
But, no matter how overwhelmed I am, how long the queue is at the supermarket check out, or how tired my feet are, I never, ever squat.
Which is sad really because the art of squatting is one of the most useful skills I learned while teaching in rural Zimbabwe.
Have you ever experienced reverse culture shock? How did you cope?
Share This Story, Choose Your Platform!