Revealing the Naked Travel Stories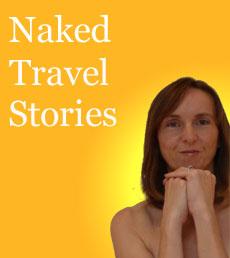 Are you here because you like writing, travel or stories? If so I can help.
You like all three? Then it's a match made in heaven.
But in the unlikely event you really want to see me naked you're in for a disappointment.
While I never can resist an innuendo-laden blog headline, my aims are innocent. I just want to help us improve our writing and storytelling skills.
Writer Bares All to Make You Smile

To lead by example I'm going to share my travel writing and personal stories in a new series called Naked Travel Stories.
It's slightly nerve-racking because I set up this blog to overcome a fear of having my writing read and being judged. An irrational fear because back then no one was even visiting my blog, let alone reading it.
But my blog has evolved and the changes aren't just cosmetic. This month over 23,000 people visited my blog and many of you do read every word.
Get In the Hot Spot has grown from one woman facing her fears and insecurities into a thriving community of creative, adventurous writers, travellers and bloggers. For that I'm very grateful because together we make a seriously hot team.
If I Show You Mine Will You Show Me Yours?
Naked Travel Stories will continue our evolution from hesitant writers to confident storytellers. It's modelled on that old childhood game – but without any rude bits.
I hope my Personal Writing Series will give you tips on the nuts and bolts of writing and that the Naked Travel Stories will inspire you to put pen to paper (or fingers to keyboard) and share your own stories with us, either on your own blog or here.
I'm up for guest posts and I'd also love to host some travel writing and personal writing competitions to get us fired up because creativity and courage should be rewarded. A generous travel-minded sponsor would be great.
To get things started I'm going to share the story that inspired the name for my series. My inner critic is saying it's not perfect, I should spend another 20 years editing and polishing it before I hit publish.
But together we're learning to silence that little voice and ship our creative products so here goes.
Many thanks for joining me and reading my travel stories. I hope you enjoy them.
The Most Embarrassing Travel Story Ever
I'll start with my most embarrassing travel story ever in which I accidentally bare all while travelling in Greece.
It's coming here VERY soon so please stay tuned by email or RSS.
Share This Story, Choose Your Platform!