Remote Fraser Island Tour (for People Who Don't Do Tours)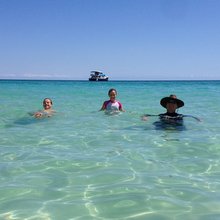 The ocean is turquoise and crystal clear, lapping gently on fine, white sand. "Like it's been put in a really powerful blender," says Kiara.
There are a couple of tents tucked away in the shade but apart from that, no one else is here. It's a setting worthy of a tourist brochure cover, yet it feels like a local's secret spot. We can't believe our luck.
This is just the first stop on our Remote Fraser Island tour with Tasman Venture and it's hard to believe we're just a 60 minute boat ride from the malls and fast food joints of Hervey Bay.
Our skipper Lloyd has been running tours to Fraser Island for 25 years. His huge motorised catamaran carries up to 40 guests in total comfort on the only commercial tour that visits the remote West coast of Fraser Island.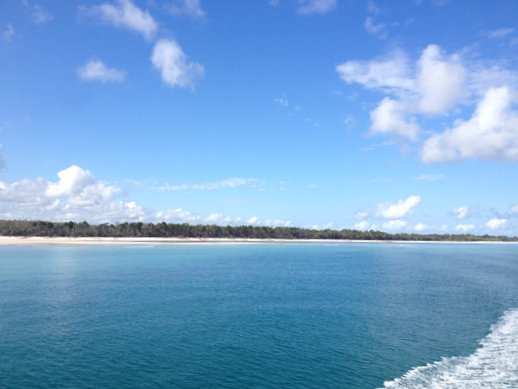 World heritage listed Fraser Island is a world class destination. The world's biggest sand island attracts thousands of day trippers, fisherfolk, four wheel drivers and campers. We love it and have visited several times but the more popular east side of the island is busy. The west side is harder to get to and gives you a glimpse of what the island could have been like when only the kangaroos, dingos and native Wurtalla people lived here.
Apart from the unique chance to visit Fraser Island's remote west coast and all the water sports, the tour includes morning tea with cake and biscuits, a delicious barbecue lunch with heaps of salads and a tropical fruit platter for afternoon tea. There are three loos, an air-conditioned dining room and licensed bar if you need to escape the heat and hot showers to wash away the sand.
Lloyd has all the water toys on board including an amphibious boat that ferries us from the main vessel to the beach without getting us wet.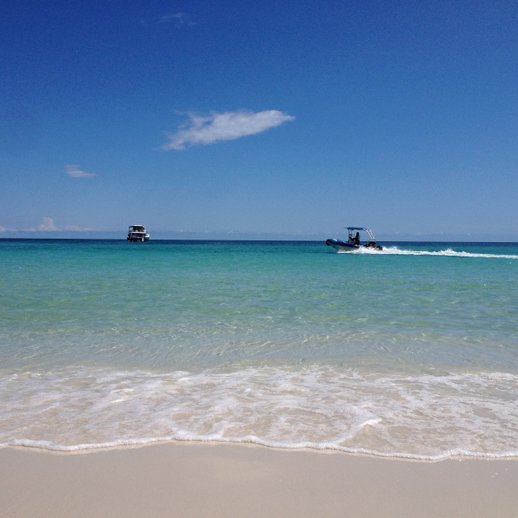 We climb the sand dune at Bowarrady Creek. The sun is already beating down on us but the sand is dune is surprisingly cool underfoot. Still it's hard, hot work walking up.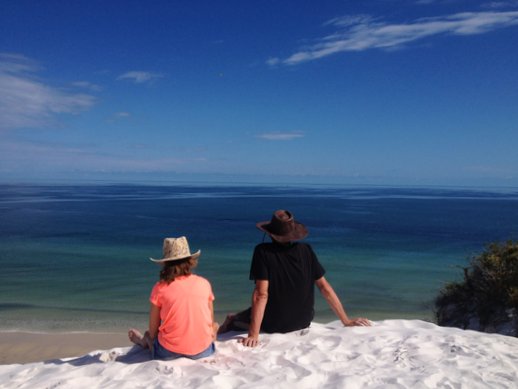 At the top of the sand dune we look down over a thin strip of white sand gives way to the blue sea. Behind us a patchwork of green bush meets the blue sky. It's not called the remote Fraser Island tour for nothing and although we came here in luxury we're immersed in arrestingly beautiful nature.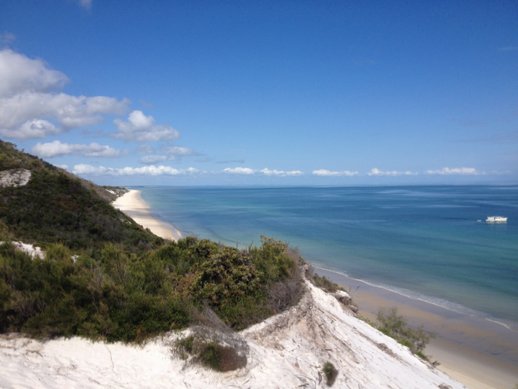 Walking back down the dune is easy. Then we wander back along the beach and a short way up Bowarrady Creek which is icy cold and super clear.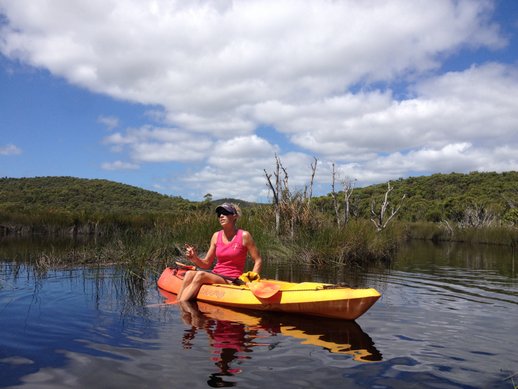 The next stop is Awinya Creek where Lloyd tows kayaks down to the beach and Carolina, our knowledgeable guide, leads us along the creek. It's peaceful and calm floating on the cool water among the mangrove trees.
Meanwhile down on the beach Lloyd has another water toy ready. The Super Bubba is like a cushioned sofa that he ties behind the boat dragging his guests up and down over the wake. We settle in and hold on tight, riding behind the amphibious boat and laughing like madfolk. Who needs a water park when you can have a thrill like this far away from the madding crowds?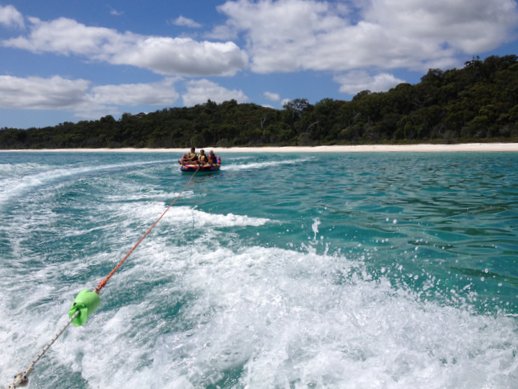 After a big barbecue lunch back on board the catamaran our final stop is Wathumba Creek. We kayak up the creek again and find it very different from Bowarrady Creek. Here the mangrove trees have died and their bare branches form elaborate sculptures, bleached silver by the sun.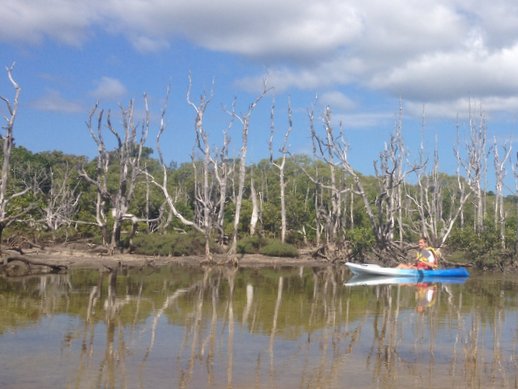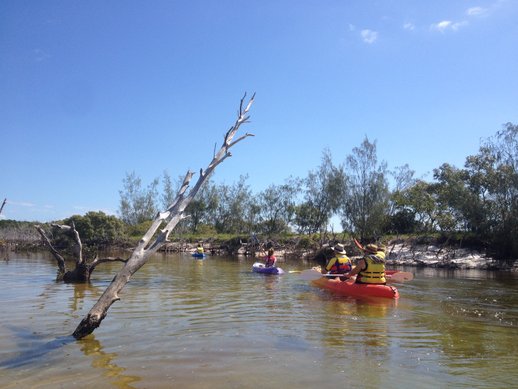 We see a whistling kite, kingfishers and lots of fish swimming upstream.
There's still time for snorkelling in the inland lagoon and we see two huge turtles paddling through the still waters. The tress and branches around the water's edge are home to a myriad of little fish and big sting rays.
Finally we walk through the bush to the beach where there's plenty of time for a final swim in the ocean before Lloyd and Caorlina pick us up and ferry us back to the boat where hot showers, tea and fruit await.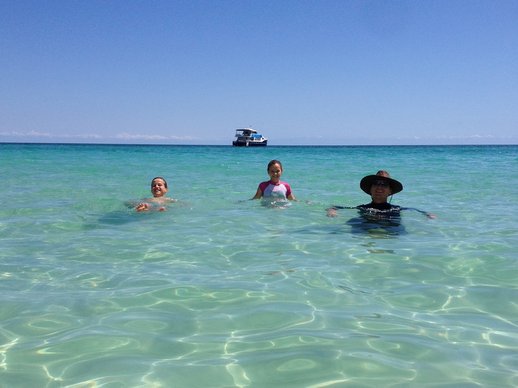 The remote Fraser Island tour is a family day out we'll treasure and a place we'll dream of coming back to.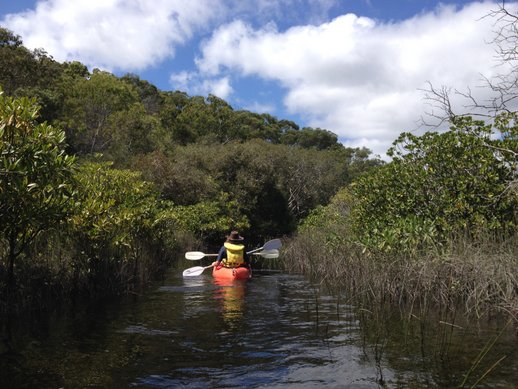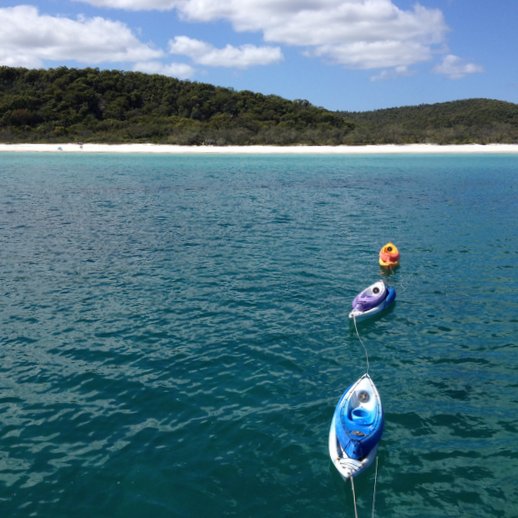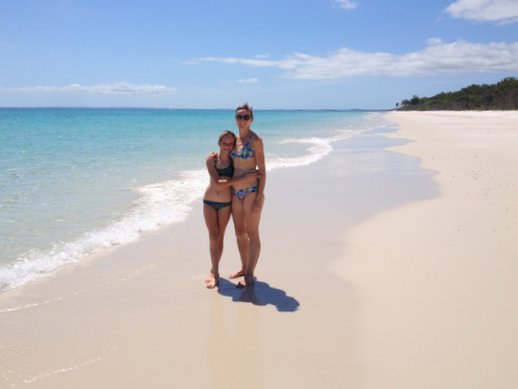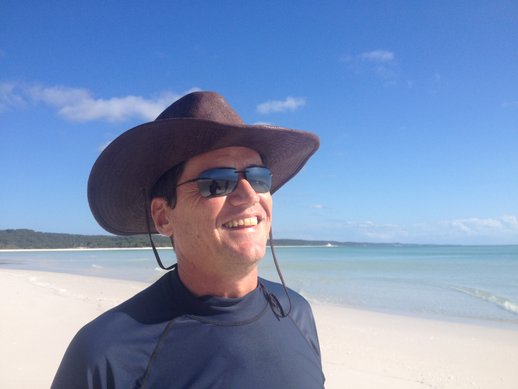 Have you visited Fraser Island yet?
Join Thousands of Happy Readers: Free Weekly Newsletter
Are you a travel lover who'd like to stay healthy and make sure your life is full of adventure, fun and curiosity? Click here to subscribe now for a free weekly email updates from Get In the Hot Spot.
Share This Story, Choose Your Platform!