5 Reasons I Always Get Travel Insurance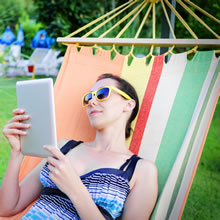 Despite a lifelong reputation for being clumsy, I've been pretty lucky on my travels. I've never seriously injured myself or fallen seriously ill.
My husband Rich has though; he's an even bigger fan of travel insurance than me as he once needed it for repatriation after a motorbike accident.
It's that kind of story that makes me get travel insurance every time I travel. I'm just not prepared to risk not having it.
Here are five huge reasons why I always get travel insurance.
1. In case of cancellation
If the airline or tour company cancelled a trip they'd probably refund the airfares or reschedule the holiday for another time.
But depending on the level of cover, travel insurance can cover you in case you get sick or break a leg just before departure day and can't take the trip.
So as soon as I've booked my tickets and accommodation I like to book my travel insurance too ensuring that I have cover if I can't take the trip.
2. To insure valuables
When I was younger I rarely travelled with anything more expensive than my camera. Nowadays I'll pack my phone, computer and a camera.
All together these things add up to several thousand dollars worth of goods so it's good to know that they're insured in case they get lost or stolen.
Remember: If you travel with a high-value item over a certain dollar value you usually have to name it on your insurance policy. It doesn't make the policy any more expensive but it's important you read the policy details before you travel and let the insurance company know before you leave if you're taking something which exceeds the usual personal item value.
3. Just in case the worst thing happens
I'm a worry wart. My anxiety extends to me considering all the things that could possibly go wrong and how to deal with them if they did happen. Knowing there's a safety plan eases my anxiety.
For me, one of the worst things that could happen would be if I had a terrible accident, had to spend time in an overseas hospital and wanted, or needed, to be repatriated so I could be cared for at home where friends and family could easily visit.
The other horrible thing I worry about because I regularly travel alone is if Rich or one of the kids had an accident and I needed to fly home urgently to be with them.
Before choosing my travel insurance I always check that it covers me for either of these eventualities.
4. Small cost, priceless benefits
When you factor in how much you spend on a typical trip or holiday, the cost of travel insurance is usually small in comparison.
However, the benefits outlined above are priceless. Most travel insurance policies state the total amount you're insured for in the event of accident or injury and it's generally a significant amount, sometimes in the millions of dollars.
Even if you don't end up needing millions of dollars worth of medical treatment (and hopefully you won't), just knowing that someone is there to support you if something goes wrong and help get you home as soon as possible is invaluable.
5. So I can relax and enjoy a stress-free holiday
Vacations are all about relaxing and having fun. Knowing that I've got travel insurance with a reputable company makes that possible for me.
I honestly can't imagine ever travelling without travel insurance. For me, knowing everything will work out okay, no matter what, is a key element to ensuring my holiday is relaxed and stress-free.
This is a sponsored blog post for Worldcare Travel Insurance, which has been helping Australians with travel insurance for over 20 years. Visit their website to get a travel insurance quote for your next overseas vacation.
Get up to 10% off Travel Insurance Now
Travelling soon? Get In the Hot Spot readers can now get up to 10% off Worldcare comprehensive policies*. Just use the code 'GETINTHEHOTSPOT' online at  Worldcare Travel Insurance or over the phone by calling 1800 008 614.
*Discount based on standard premium rates and applies to International Comprehensive policies only. No discount will be applied to other premium components such as pre-existing medical condition cover.
 Worldcare Travel Insurance is issued and managed by AWP Australia Pty Ltd ABN 52 097 227 177 AFS Licence No. 245631, trading as Allianz Global Assistance, on behalf of the insurer Allianz Australia Insurance Limited ABN 15 000 122 850 AFS Licence No. 234708. Any information or advice here does not take into account your objectives, financial situation or needs. You should consider the Product Disclosure Statement available at worldcare.com.au before buying this product.
Terms, conditions, limits, and exclusions apply. Please see the Product Disclosure Statement for more information. Any information or advice here does not take into account your objectives, financial situation or needs. If you purchase a policy, Allianz Global Assistance receives a commission which is a percentage of your premium – ask them for more details before they provide you with any services on this product.  
Share This Story, Choose Your Platform!