Are You Shipping Your Ideas Successfully?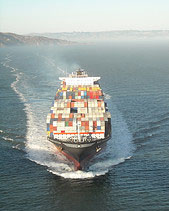 Guest post by Glen Stansberry
If you're going to be successful in this life, you have to try a lot of ideas. Success doesn't usually come with one great idea, but rather a string of ideas (and failures) with a gem or two nestled inside the list.
Seth Godin calls pumping out ideas "shipping", or finishing lots of tasks and ideas. When we ship often, we start to build momentum. We quiet our doubts, and learn what doesn't work.
When you ship frequently, you know that a few of your ideas will fail. But you can't let that stop you! You won't know which ideas will pan out, and which ideas will totally suck.
[tweetmeme]The simple truth is this: you'll never know unless you try. You'll certainly fail a few times. You might fail a
lot
. But failure is really just a big learning experience, nothing more. It's only when we start to see failure as a screwup that we start to get into trouble.
Teddy Roosevelt, a prolific shipper, had this to say about failure:
It is not the critic who counts; not the man who points out how the strong man stumbles, or where the doer of deeds could have done them better. The credit belongs to the man who is actually in the arena, whose face is marred by dust and sweat and blood; who strives valiantly; who errs, who comes short again and again, because there is no effort without error and shortcoming; but who does actually strive to do the deeds; who knows great enthusiasms, the great devotions; who spends himself in a worthy cause; who at the best knows in the end the triumph of high achievement, and who at the worst, if he fails, at least fails while daring greatly, so that his place shall never be with those cold and timid souls who neither know victory nor defeat.
There is no effort without error and shortcoming. You're going to fail. This is why you have to try lots of ideas. This is why you need to become a prolific shipper.
Becoming an Idea Factory
If you're like me, the sheer number of ideas isn't the problem, it's the hours in the day. After all, time is our most valuable resource. So here's a few guidelines to go by when planning and executing ideas.
Loose the inner perfectionist. At least for now. Your goal isn't to be perfect right away, but consistent. Learn how to pare down the idea to the smallest elements, and iterate on them over time. Sure, you should be creating detailed, mind-blowing things. But oftentimes we get into our heads that "more" means better. Not true. And most mediums (like the Web) allow you to easily reiterate on your projects. Ship first, improve later. The whole goal of shipping is to build momentum. Many times the inner perfectionist awakes only as an excuse to not ship.
Set timelines…. and STICK TO THEM. Unfortunately, it's just the way this works. Creative people often eschew deadlines, as they don't allow for "flexibility" and total creative control. But deadlines and timelines are important for shipping, and they often free up your mind for more creativity too. If you think adhering to deadlines means you're going to skimp on quality, than revisit the previous point.
Celebrate small milestones. Celebrating small victories is crucial. You can only stay excited about a project for only a finite amount of time. Small celebrations for hitting milestones keeps the fire alive.
Do a yearly review. I cribbed this from Chris Guillebeau. Essentially, you create a roadmap of your goals in every aspect of your life, and check your progress every week and month throughout the year. The annual review allows you to stay focused on the big picture, and gives you a chance to look back on your successes throughout the year. Instant motivation.
Set a routine. We need to get this through our creative little heads: Routines are good for us. It's one of the many creative myths that routines and timelines "kill creativity". The funny thing about having a structured day is that it frees up our mind to create potent stuff. By getting your brain and body in the mindset to create at a certain time each day means that you'll create better things, more often. Routines are essential to being a shipper.
Tell your doubts to shove it. Seriously. Push that self-doubt deep down, and power through the insecurities. Everyone has them. Everyone. And those who don't appear to have any insecurities have just learned how to ignore them.
Really, the biggest hurdle most of us have with shipping isn't skill or knowledge. It's usually a matter of listening to the doubt in our own minds and letting it delay our work. You'll notice all of the above points don't have anything to do with outside factors. They're all mindsets that we need to change within our own heads.
Shipping is really just the process of creating a plan and sticking to it. Rinse, repeat.
Becoming a prolific shipper and getting used to creating and finishing projects means that you'll learn what works and what doesn't really fast. You'll fail some, and you'll learn from it. But most importantly, you'll learn how to stop listening to your own doubts and fears and push things out the door.
And that's when things get really exciting.
Glen Stansberry writes about creativity and shipping ideas at LifeDev. You can also follow Glen on Twitter.
But wait, there's more!
Great post isn't it and Glen has plenty more nuggets of wisdom for creative types on his blog. Plus, Glen and I have done a guest post swap so please read my post on LifeDev, it's called Keep the Dream Alive While Staying Debt Free – one of the secrets of my success and well-being.
Thank You for Reading
Please come again:) Or subscribe for free updates by email or RSS now so you don't miss out.
Photo credit: Jdnx
[tweetmeme]
Share This Story, Choose Your Platform!