Odd Ways to Travel, Eat and Sleep Free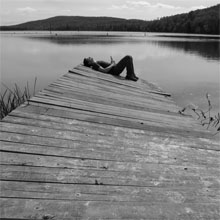 I got the most amazing gift last week from my old friend Mishi Moo Cow (not her real name) in New Zealand.
Mishi sent me a lovely 29 year old German woman called Handy Hilde (not her real name either) who's staying with us for a few weeks while she looks for work in Australia.
Hilde has been traveling round New Zealand for 10 months doing what's called WWOOFing. If you think I've either missed my worst typo ever, or finally gone barking mad, think again. WWOOFing has been a real sanity saver for me.
What is WWOOFing?
WWOOF stand for Willing Workers On Organic Farms. According to the WWOOF NZ website it's:
"a world wide community that promotes awareness of ecological farming practices by providing volunteers with the opportunity to live and learn on organic properties."
That's a bit of a mouthful for what basically means travelers work on farms in exchange for free food and accommodation.
Hilde escaped from fruit picking, which sounds idyllic but is actually hard yakka (an Aussie term for back-breaking labor), by working for Mishi Moo who needed someone to help her clean, paint and prepare her house before selling it.
Then, when Hilde was about to hop on the plane for the Australian part of her trip, Mishi asked if I'd like to have her to stay.
Why invite a strange traveler to stay with you?
I didn't have any particular work for Hilde to do and we live in a suburban house, not an organic farm, but I liked the idea of a cultural exchange and helping a young traveler.
I've done more than my fair share of traveling so I know what it's like to live in hostels eating bad food when you just want to have your own room and eat fresh, healthy food.
I've also done plenty of odd jobs to finance my travels, from one of the best jobs I've ever had to one of the worst.
The best job I had to finance my travels was being the English nanny to the loveliest family ever in Connecticut.
The worst was lychee picking at a kibbutz in Israel where I had to get up at 3am and endure many long hours out in the field with poorly paid Lebanese workers who threw lychees at me which bounced painfully off my rather wide forehead. They were only trying to be friendly but it wasn't fun for any of us.
So now it was my turn to be the hostess.
I hoped I could help Hilde get settled into Australia, get the Candy family on best behavior for our house guest and who knows, maybe share the load of feeding, caring for and cleaning up after the three Candy kids.
Hilde turned out to be a gift from the gods.
She's cheerful, independent and keen to repay us for having her to stay by doing just about anything. It's like having two mums in the house, one of whom is blessed with youthful enthusiasm and endless patience.
Why go to stay with a strange family?
So far Hilde has sanded and painted some tables to be used as writing or coloring desks in the kids' bedrooms, helped around the house and cooked us some yummy German dishes including salmon lasagna and pumpkin, coconut and prawn soup.
Her meals make a tasty change from the family favorites I rotate on a regular basis ever since I liberated myself from drudgery.
Best of all Hilde is happy too because apparently staying with us is much better than some of the hard work she had to endure on some New Zealand farms.
Plus we live near the beach, the weather is gorgeous right now and we're happy to help her get settled in.
Hilde speaks great English but I'm helping her improve her pronunciation and grow her vocabulary because I used to be an english teacher so I can't help myself.
The Mucho Man (my hubby) and I don't have any relatives in Australia so having Hilde staying with us even gave us the opportunity to have a night off and a night out in Brisbane.
Yes, we hopped off to the big city leaving the three Candy kids in her more than capable hands. You'll be able to read more about that soon.
Sadly Hilde won't be with us long as she's already found a proper job but if it all goes to pot she can come back here anytime.
How can you travel free or host a traveler?
I'm sure you could find travelers who were interested in doing an exchange of work for food and accommodation in online forums or websites like the Gum Tree (in Australia) or Craig's List (in the USA), but I can't imagine doing it without a personal recommendation.
I should though, it's been a great experience for all of us.
It's incredible how just having an extra pair of hands and a smiley face round the house really lightened my load.
What I really love is how we all took a risk that turned out to be a win win situation.
Mishi couldn't have sent me a better gift if she'd tried.
Would you open your home to a strange traveler? What would you do for the love of travel?
Share This Story, Choose Your Platform!