5 Reasons to Visit Noosa Botanic Gardens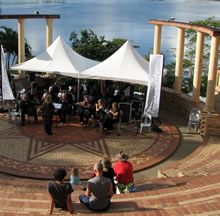 While tourists flock to Noosa they don't tend to visit to the Noosa Botanic Gardens. Even half the Noosa locals don't seem to know where they are so I thought I'd let you in on a little secret.
I'm a nature, park and plant lover so I always head to botanic gardens when I'm in the city. Noosa Botanic Gardens can't beat the grandeur, history or established trees found in many big city botanic gardens I've visited but it does have one unique element.
It's set right on Lake MacDonald, a serene 260 hectares or water which was created in 1965 when the Six Mile Creek Dam was built.
Here are five reasons to visit Lake MacDonald and the Noosa Botanic Gardens.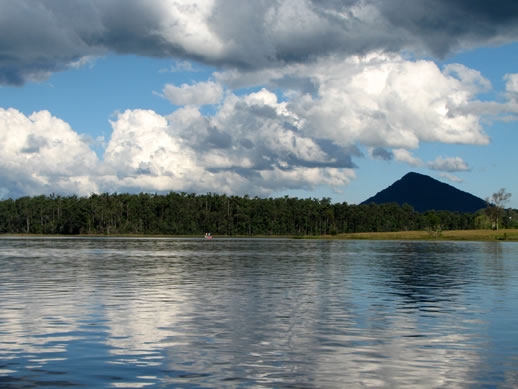 1. Birding and Nature
Over 150 species of birds have been spotted around the lake and there it's full of turtles in the summertime. Apart from that Noosa Botanic Gardens are just a lovely peaceful setting far away from the madding crowds of Noosa when it's holiday season.
Even if you're not a true twitcher you can't help but fall in love with the ducks gliding across the lake, the cormorants drying their wings on a dock and the brilliant white egrets holding perfectly still at the lakeside.
2. Crowd free
There are a few events held at the Noosa Botanic Gardens from time to time like the excellent Festival of Water in July but apart from then it's usually quiet with plenty of parking space and acres of grass for you to spread your picnic blanket.
Lake MacDonald is about half way between Noosa and Cooroy and well sign-posted off the main road. It's only a ten minute drive from Noosa but has a totally different vibe and far fewer people. Here's the amphitheater during a crowded day for the Festival of Water!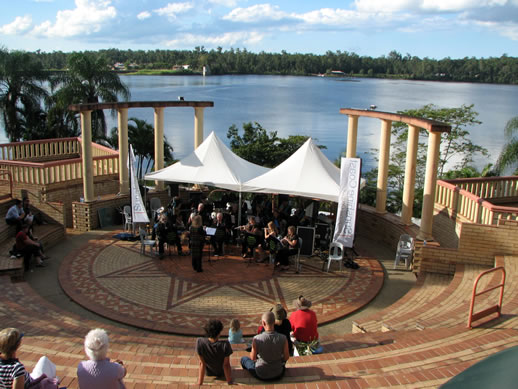 3. Perfect for all the family
There's lots of room for the kids to run around and place at Noosa Botanic Gardens. There's a fenced playground for the little ones and the older kids can run around the walkways, skateboard along the paths or enjoy watching the turtles and ducks. Grannies and grandpas enjoy it too because it's easy to walk on the paths.
There are no shops, cafes or restaurants near the Noosa Botanic Gardens or Lake MacDonald so make sure you bring drinks and snacks or better still pack a picnic.
4. Boating and fishing
You can't swim in the lake but you can canoe, kayak, stand up paddle board, sail or even bring an electric boat if you have one. From what I hear there's good fishing too.
5. Photo opportunities
For budding photographers who want a change from shooting beach scenes Noosa Botanic Gardens has lots to offer with reflections on the lake, great sunrises and sunsets plus lots of bird photography opportunities.
It's the perfect spot for wedding photographs offering a beautiful alternative to Noosa beach scenery.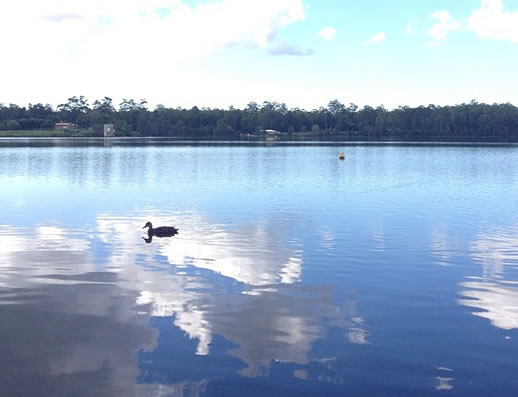 ——————————————————————-
Interested in my new Noosa Local's Guide?
Get free email updates from Get In the Hot Spot – it's a weekly injection of tips to help you be more adventurous and have more fun that includes the Noosa Local's Guide with Noosa travel and food tips. Sounds good? Click here now to get free weekly email updates.
——————————————————————
Share This Story, Choose Your Platform!