On Memories, New York and Change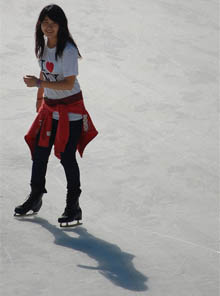 I love New York. Not so much that I've got the T-shirt but I really do love New York, so many memories were made there.
I worked in Connecticut for six-months when I was 18 and during that time I visited New York often. Sometimes for day trips, other times for sleepovers with friends who lived in tiny, shabby rented apartments which they shared with anyone who needed floor space.
Occasionally we'd spend the night in New York without sleeping, staying up all night in bars and nightclubs before catching the train back to Connecticut in the morning. Oh the things you do when you're young!
The highlight of my days or nights in New York was joining a monster queue to get into the trendiest nightclub in town and being plucked out from the crowd by a doorman and ushered inside like a VIP. I have no idea why he chose me and my friends were equally bemused but we didn't ask any questions and in we went.
I suppose we danced the night away at the Tunnel Club that night, a New York night club so cool back in the eighties that it has its own Wikipedia entry even though it shut in 2001. But I don't remember much about being inside the club, all I can remember is my joy at being one off the chosen few to be allowed in.
Being young and short on cash I walked everywhere in New York although I've since heard that's the best way to see New York anyway. I'd arrive at the iconic Grand Central Station and walk the day away, often schlepping all the way down to Greenwich Village which was my favourite hangout.
New York Memories from the Eighties
I shopped regularly from the second-hand rails at Canal Street Jeans Company. These days such clothes are called vintage but in the eighties it wasn't fashionable to wear vintage clothes, just the mark of a misfit. But I loved second hand clothes and the selection was brilliant but sadly the Canal Street Jeans Company doesn't exist any more. Times change, places close, people move on.
I loved hanging out in Washington Square. In summertime New York can get hot, steamy and smelly but in Washington Square I could always find a shady spot to sit down, relax and watch life passing by.
New York  is unparalleled for people watching.
I once sat in Washington Square for two hours, pretending to read or write my diary while secretly observing humanity. Nearby an "artist" was doing the same thing. In his art book he painstakingly drew a grid in black ink on white paper then spent the next 90 minutes filling every white square in with the same black pen until the whole page was black.
If you like shopping and people watching New York holidays are the best. I bought a fantastic peacock blue metallic T-shirt at a street stall in New York 25 years ago for $5 which I still wear today and every time I do I always wish I bought one in every colour.
I did the touristy thing in New York City too, catching the ferry to Staten Island, taking too many photos of the Statue of Liberty and going up the Empire State building. I visited all the big museums, Central Park and the Plaza hotel.
I have a photo of myself taken on top of one of the Twin Towers, wearing baggy three-quarter length trousers and a loud orange Benneton shirt, my permed hair blowing in the wind. When that kind of get up went out of fashion the photo embarrassed me but then the Twin Towers fell and the world changed.
I started to treasure that photo, to treasure those memories of the girl who explored all of New York and to understand how short and transient life is, how every moment, no matter how seemingly trivial may one day become a treasured memory.
When I was living in Costa Rica six years ago I went back to Connecticut but I didn't visit New York. I couldn't face the crowds or the culture shock of transferring myself from the jungle to the city. But most of all I couldn't face cherished memories being changed.
I wanted to keep my old memories alive, I didn't want to risk tarnishing them with new memories, I wanted to keep my love the New York pure, innocent and fresh.
The world changes and we change too, the city of New York and its people have undergone a huge transformation since I last visited 25 years ago and I have too.
But I'm learning to love all the different versions of myself, fashion disasters included and I'll always love you too New York.
This is a sponsored post for Travelbag, a UK travel agency and online booking engine who specialise in creating tailor-made holidays to a range of worldwide destinations. Travelbag can handle anything from round the world trips to city breaks and beach holidays to escorted tours as well as hotel bookings and cheap flights to most long haul holiday destinations from the UK.
Have you ever avoided returning somewhere which holds treasured memories because you don't want to tarnish them?
Share This Story, Choose Your Platform!