Mystical, Magical Myotsu-ji Temple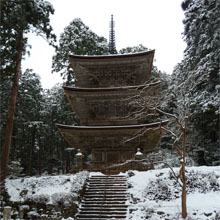 It's not just the cold that will take your breath away when you visit Myotsu-ji Temple in rural Japan.
The grand red entrance way leading over a bridge crossing the Matsunaga River heralds something special.
Myotsu-ji Temple  once had 25 buildings but now only a main building and a stately pagoda remain.
Hidden in the mountains and set deep in an ancient forest of Japanese cedar trees, magic lingers in the air where the splendid strength and symmetry of the temple buildings is matched by the giant cypress trees.
This is a spiritual place, even without the snow-capped mini replicas of Buddha people have left in the gardens to make their wishes come true or the four giant statues of Buddha inside the temple that are designated of national cultural importance.

A Buddhist Temple was first established here in 806 and the three storey tower is a national treasure, the only one in Fukui.
Inside the temple photography is banned but mystical Japan awaits.
The black cypress altar is detailed with gold. Gods stand guard on either side and in front red cushions and altar cloths are richly embroidered with gold and festooned with golden hangings adorned with bells and gigantic golden lotus flowers.
Sit down, relax and soak up the magic all around you.
Just don't forget to breathe.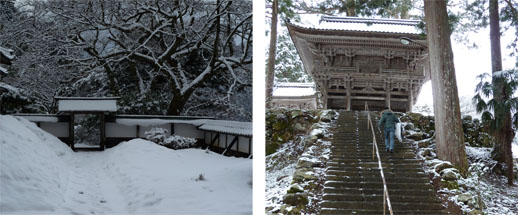 Travel Tips
Myotsu-ji Temple is in Fukui prefecture on the west coast of Japan, a ten minutes drive from Obama station and an hour from Tsuruga.
For more information about Fukui, including Myotsu-ji Temple along with other cultural or historical sites and accommodation visit Fukui Tourism.
I was honored to be a guest of the Hokuriku-Shinetsu District Transport Bureau. To find out more about Fukui Prefecture or to plan your trip visit the Fukui Tourism Guide website.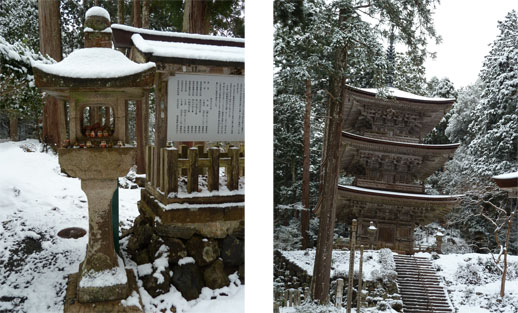 Share This Story, Choose Your Platform!