Great Movies! What We Did on Our Holiday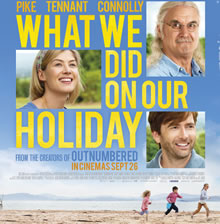 Looking for good books or movies? Great Reads and Great Movies is a new series sharing only the best reads and films to keep you entertained in between trips or during your travels.
This movie recommendation is fun movie that all the family will enjoy.
From the creators of the hit BBC comedy series Outnumbered What We Did on Our Holiday is a heart-warming, uplifting comedy, drama that explores the meaning of life and suggests how best to live and love.
Doug (David Tennant) and Abi (Rosamund Pike) and their three children travel to the Scottish Highlands for Doug's father Gordie's (Billy Connolly) birthday party.
With Gordie old and dying the couple decide not to tell him that they have split up and swear the children to secrecy. But it soon becomes clear that when it comes to keeping a secret their children are their biggest liability.
Despite dealing with the heavy topics like death or divorce this movie injects humour into every situation.
The movie portrays the best and worst of family holidays. On the long drive to get to Scotland the parents bickering in the front while the three kids fuss in the back. But when they get there there are new people to meet, new situations to experience and new places to explore. It's a chance for the family to bond across the generations with lots of laughs.
There's the inevitable friction caused by family being thrown together on holiday and an unexpected turn of events that sees the police getting involved.
With some lovely Scottish scenery, a great cast and a fun script What We Did on Our Holiday is a great movie to watch with your extended family.
Here's the trailer to give you a taste of the movie – and hopefully a wee laugh too.
Have you seen any great movies recently?
Travel Well and Feel with Get In the Hot Spot!
Great Movie and Great Reads is a new series to help you discover the best books or movies to read on the plane, on your travels or in between trips.
Stay tuned to Get In the Hot Spot with our free newsletter, a weekly injection of tips to help you travel well, feel fabulous and live your dream. Hit this link to join us now.
Share This Story, Choose Your Platform!