Nice Idea?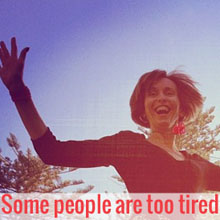 There's an Eminem quote being circulated widely at the moment which you may have seen:
"I don't care if you're black, white, straight, bisexual, gay, lesbian, short, tall, fat, skinny, rich or poor. If you're nice to me, I'll be nice to you. Simple as that."
– Eminem.
It's particularly popular on Facebook. You may have seen it as a graphic like this: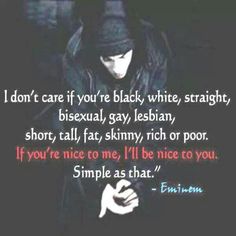 For some reason that quote really got my goat because it seems such a bad attitude to only be nice to people if they're nice to you first
I was disappointed too because I'm an Eminem fan, but it appears that the quote is not only uninspiring but, according to The Damien Zone, a fake because Eminem never said it.
So I wanted to highlight a different way of thinking where we're nice to each other because we're nice people, and we always strive to be nice even if someone's not nice to us.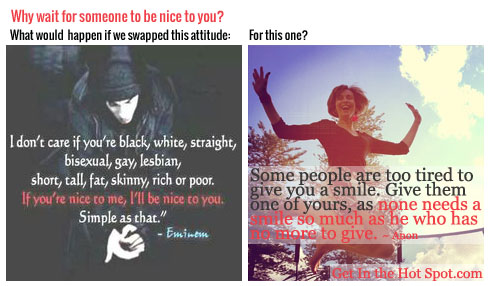 In other words we don't wait to see if people are nice to us before deciding how to treat them, we aim to be nice to everyone no matter what. It's not something we can always achieve but a good goal to aim for.
I started scouting around for a Buddhist quote about being kind to others because they have the whole loving kindness thing down pat. But I couldn't find the perfect quote about how we should be kind to everyone even if they're not kind to us.
There were a few quotes I loved. You can't beat this one by everyone's favourite loving kindness hero:
"My religion is very simple. My religion is kindness."
Dalai Lama
I've never heard of this guy before but he seems to have a good outlook towards other people and relationships too:
Too often we underestimate the power of a touch, a smile, a kind word, a listening ear, an honest compliment, or the smallest act of caring, all of which have the potential to turn a life around.
Leo Buscaglia
But in the end I decided that the quote I liked best was by an unknown author:
"Some people are too tired to give you a smile. Give them one of yours, as none needs a smile so much as he who has no more to give."
Anon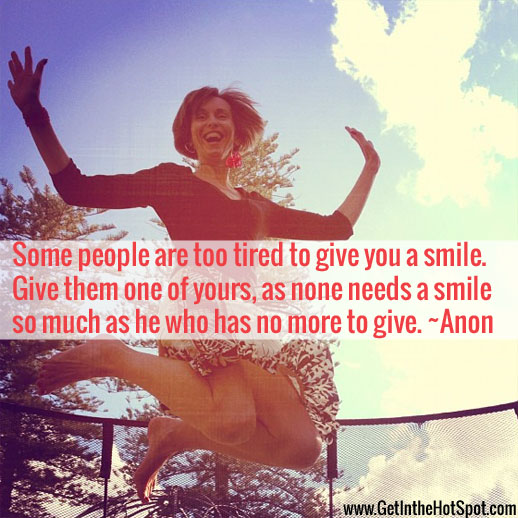 What do you think? Maybe if we can get these images circulating on Facebook we won't all stand around waiting for someone to be nice to us but we'll all strive to be the first one to be nice.
If you like the idea please share one of the images above on Facebook, Twitter or wherever you like to hang out. Thank you for helping to spread the niceness revolution!
Share This Story, Choose Your Platform!