Penthouse Living at Mantra Sun City on the Gold Coast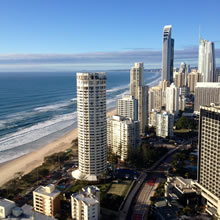 When I checked into the Mantra Sun City in Surfer's Paradise as soon as the receptionist mentioned the spa and swimming pools I realized I'd forgotten my bikini. But all was not lost because when I walked into the sub-penthouse suite on the 36th floor I knew I'd never want to leave my apartment anyway.
In the car on the way to the Gold Coast with a fellow travel blogger we discussed great hotels and amazing places we've stayed over the years. I've been a very lucky girl but the truth is most hotels are quite similar, the rooms tend to be small and only the decor or service really differentiates them.
So I wasn't expecting to be blown away when I walked into the Mantra sun city sub-penthouse but I was. At the Mantra Sun City hotel every hotel room is a self-contained apartment but as soon as I opened the front door of ours I could see an enormous living room surrounded by huge windows and massive ocean views.

In fact the whole apartment seemed to be perched right over the ocean with wide views along the Surfer's Paradise strip and beach to north and south as well as straight out to sea.
It was a windy day with choppy seas and I could feel a stiff breeze buffeting the building. There was such a sense of space and wild openness that I felt as if I was actually out at sea, totally surrounded by the ocean not perched high above the hubbub of Surfer's Paradise.
I left my bags inside the front door and went straight to open the curtains which took a while because the whole living area is encased in glass to maximize the views. With all the curtains out of the way the view was mind blowing. I seemed to have stepped into a world without people, just aqua seas stained with midnight blue shadows and white caps rising and falling everywhere. A water world topped by blue skies and fluffy white clouds.
I felt totally secluded among the elements, as if I was standing on top of a lighthouse surrounded by the sea although the Mantra Sun City is in the heart of all the Gold Coast fun and action.
Inside the apartment the open plan kitchen, dining and living occupy one big space with french doors opening out onto two separate balconies. The kitchen is fully equipped with full size appliances so you can load the fridge up and do all your own catering and cooking.
There are three big bedrooms each with their own bathroom, including a spa bath in the main bedroom ensuite with a window so you could admire the view while soaking in the tub. No bikini required.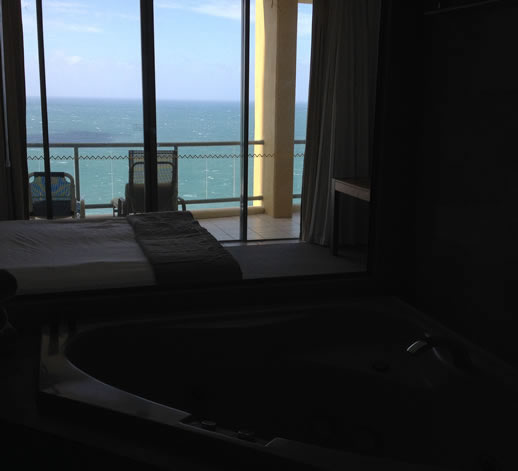 Although the sub-penthouse sounds flash I liked that the furnishings were basic and minimal because if you're staying somewhere with kids the less there is for them to break the more relaxing your stay will be.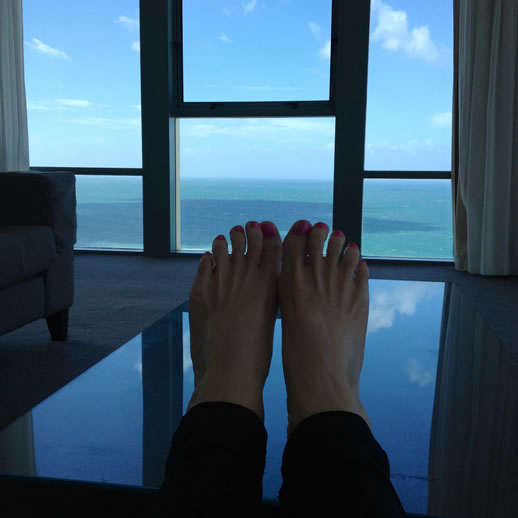 The Mantra Sun City has been recently refurbished with an Aztec theme and it's a great place for families. As well as swimming pools, tennis courts and a spa pool there are two big water slides which are sure to keep the kids happy while mum and dad relax by the pool.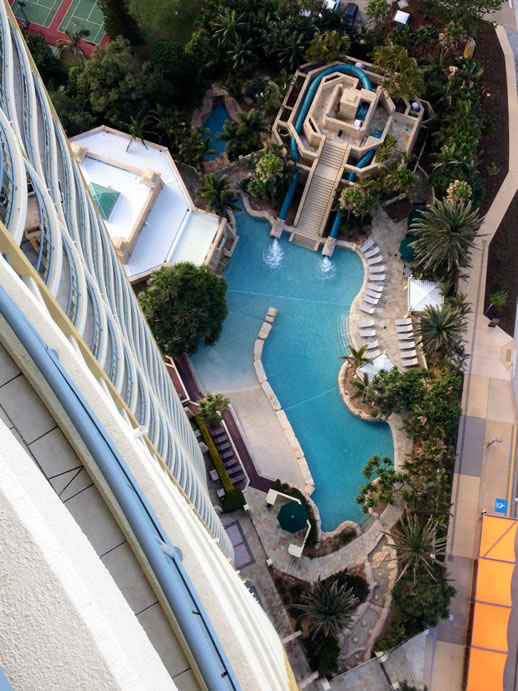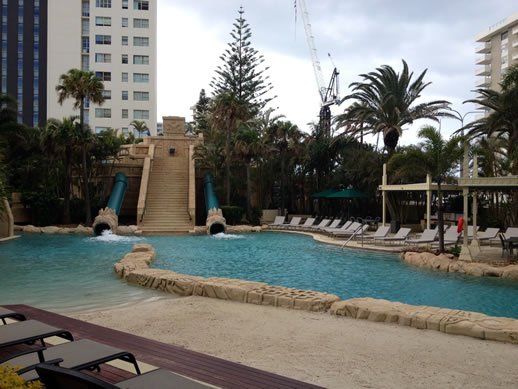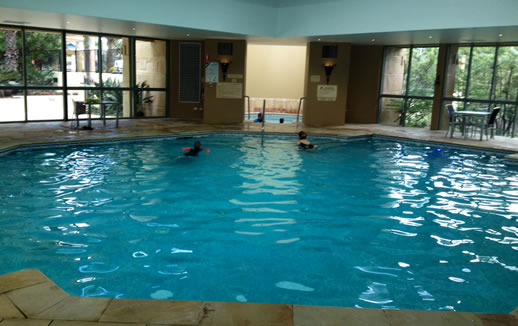 In fact there's no need to go anywhere because Mantra Sun City also has its own restaurant, Koastal Kitchen with buffet breakfast, lunch and evening  meals including ridiculously cheap weekday specials. Or just order room service if you can't bear to take your eyes off the view.
If you do want to explore the beach is right on your doorstep along with extensive walkways. The brand new Gold Coast trams are up and running and there's a tram stop right outside the hotel if you want to go further afield. Personally I love to walk and the Cavill Mall plus a myriad of restaurants to suit every taste and budget are just a short walk away.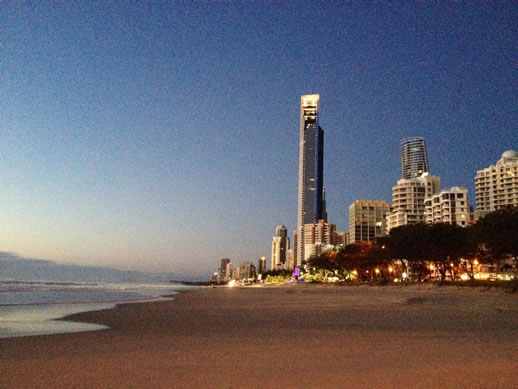 Mantra Sun City made a fabulous home away from home during my three night stay on the Gold Coast and it's perfect for couples, groups and families. But I should warn you, checking in to Mantra Sun City is easy but checking out is harder to do. I didn't miss my bikini while I was there I'm still missing those views.
Mantra Sun City, Surfer's Paradise Hotel Overview
Accommodation
One, two and three bedroom apartments and penthouses, most featuring private balconies with breathtaking Surfer's Paradise skyline and ocean or hinterland views.
Facilities
Lagoon style outdoor pool with water-slides plus an indoor pool and spa;
Tennis courts;
Sauna;
Koastal Kitchen restaurant;
Onsite Calmer Therapies day spa.
All the Mantra Sub City Surfer's Paraside apartments have a full laundry, safe, cable TV, pay per view movies and most have private balconies where you can lounge around and admire the views.
Check out the website here.
The Aztec themed lobby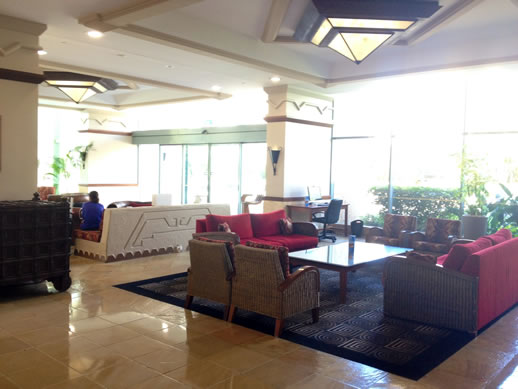 A surfer checking in!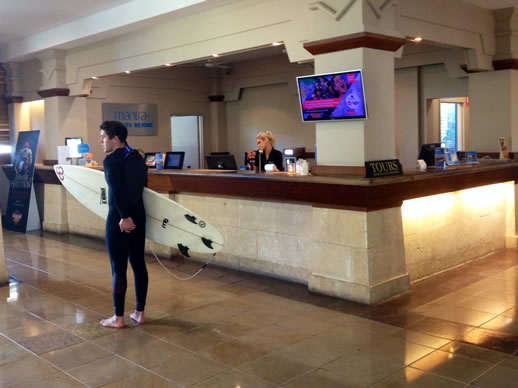 View from the Mantra Sun City Penthouse on the 36th floor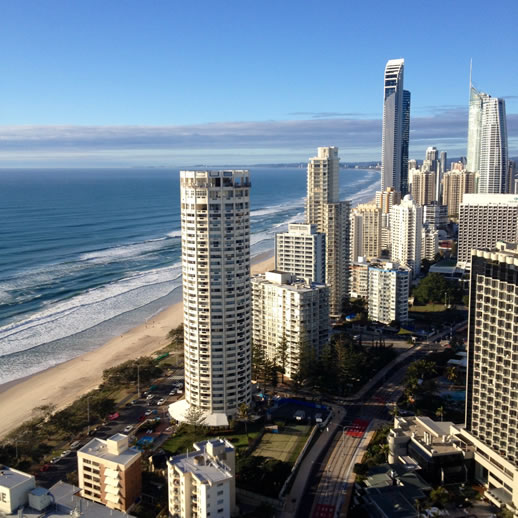 Does the Mantra Sun City look like your cup of tea?!
Share This Story, Choose Your Platform!