Majorca Travel Secrets From a Local – Don't Tell!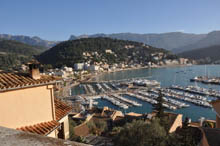 Germans, Brits and Scandinavians love Majorca and it has a reputation for being party central but there's a lot more to Majorca than cheap beer and non-stop parties.
Majorca's Secret Sunbathing Spots
When you think about holidays in Majorca you think about beaches but most of our beaches are so popular in summertime that the car parks are full and the beach feels crowded. But there are still a couple of secret beaches only the locals and a handful of foreigners know about.
I've written a list of hidden beaches in Mallorca but these are my two favourites Majorca beaches:
Cala de Boquer is a beauty. Located about four kilometres from Puero de Pollença it's only a short hike and the beach is hidden in a little rocky bay with incredibly clear water. Even on the most perfect days you can relax there without seeing a soul apart from maybe a few locals stopping by on their boats for a swim.
Another beautiful bay in the same area to the north of Majorca is Cala del Castell which means castle bay. Cala del Castell is one of the least visited bays of the island because the visits are restricted to 20 people per day since you have to cross a private property owned by the omnipresent March family.
To get there you need to ask for permission at the municipality in town and they'll give you the exact instructions on how to get there too. I promise you it's worth the paperwork!
Cycling around Majorca
Majorca is the biggest island of the Balearic Islands, located a few hundred kilometres off the coast of the Spanish mainland, and every spring hundreds of cyclists visit to cycle the mountainous stretch of the west part of the island when the almond trees are blooming. This area of Serra de Tramuntana has well maintained streets with fantastic views and many hotels cater specially to the needs of cyclists.
Be sure to visit Soller, a small inland town, for its Gató which are reputed to be the best almond cakes in Majorca. As well as having some yummy cakes Soller is also beautiful old town with cobbled streets, an ancient church and tranquil botanic gardens.
If you follow the path through the mountain to the harbour at the Port de Soller you can enjoy delicious sangria with tapas at the water's edge and watch the yachts and fishing boats return after a day at sea. Later, if you've had a bit too much sangria or don't fancy the walk back to Soller there are regular trains and buses.
Hiking to the old convent of Lluc
Well off the beaten track just outside Pollença, in the northern part of Majorca, there's a fabulous walkway to the old convent of Lluc.  The hike takes between five and seven hours depending on your speed and you'll need to be reasonably fit to complete it.
To find the old path exit Pollença on the old street to Lluc. At the end of Carrer de L'horta follow the paved street for about 500 meters until you get to the Sant Jordi creek then follow the first signs to Lluc.
Sailing around Majorca
If you love the water and have a boating license consider hiring a boat for a week or two and sailing around Majorca. With many little bays and hidden coves, Majorca is wonderful to explore from the water and you'll find some magical spots completely off the beaten track.
During the summer months the sea can get a little hectic with many tourists on boat trips and day tours but in spring and autumn Majorca is less crowded and the weather is still perfect.
Prepare to fall in love with Majorca, even if you're more of a nature lover than a party animal.
Guest post by Sebastian Canaves-Börner
Sebastian is a born adventurer who grew up hiking, sailing and diving in and around the Spanish island of Majorca. He blogs regularly about his adventures on Off-The-Path.com and just moved from Bangkok to Berlin where he's getting ready for a cold winter.
Have you ever visited Spain or Majorca?
Share This Story, Choose Your Platform!