Who Else Wants Luxury Travel on a Budget?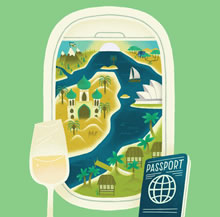 Surely I'm not alone in dreaming of luxury travel and a champagne experience on a beer budget? It seems like a pipe dream but, armed with some insider knowledge, careful planning and lotsof patience it can be yours.
Chris Guillebeau's new book Upgrade Unlocked: The Unconventional Guide to Luxury Travel on a Budget tells you how to get business or first class flights and five star accommodation without paying crazy money. He's got that insider knowledge we all need and, along with the author Stephanie Zito, he's sharing it for the first time in a book format.
I've previously written about Chris's travel hacking membership program the Travel Hacking Cartel which focuses on earning frequent flier miles to get free flights. As well as covering the strategy it provides regular email updates notifying you when new deals come out.
What I like about the new Upgrade Unlocked book is that all the information you need is in one place, it's well laid out and is a great resource which you'll reference again and again.
The book has a slightly different focus from the membership program to help you experience luxury travel rather than just getting free flights:
"Luxury travel hacking isn't just about  getting somewhere for as little as  possible. It's about accessing amazing  experiences on your journey that you  would never have afforded otherwise."
The book covers:
How to earn air miles even without flying anywhere.
How to use your air miles to get free flights or (and this is the true focus) upgrades to business or first class.
How to use your air miles or hotel points to get five star accommodation at budget prices.
So is it really possible to get luxury travel experiences at budget prices?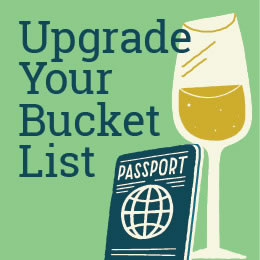 It is absolutely is and that's proven by numerous stories from travellers who've done just that. As well as both Chris Guillebeau and author Stephanie Zito who've also cracked the art of enjoying luxury travel on a budget.
But – and there's always a but – you have to be seriously dedicated to amass the tens of thousands of air miles needed to get your butt in that business class seat without paying a silly price.
"The secret is that you want to turn everything you do, eat, and pay for into points. It's not as hard as you think."
Luxury travel hacking may not be hard but it is time-consuming, with some of the luxury travel hackers earning air miles by doing things like:
testing out headphones at a Bose store;
test-driving a car;
visiting a hair loss clinic for a free 20-minute consultation (even though they're far from balding);
visiting an eye doctor for a Lasik eye exam consultation.
Credit cards are probably the best way to earn serious air miles if you're prepared to do the paperwork and track your spending so you don't rack up interest or jeopardise your credit rating.
Does the advice work outside the USA and Canada?
Yes, but not as fast. You'll just need to hunt down the opportunities in the country you live in, although there are opportunities to earn air miles as long as you have a US address and there's one provided in the book you can use.
I live in Australia and am doing alright with my air miles because of the awareness I've got about earning, saving and using air miles from the membership program which is also covered in this Upgrade Unlocked.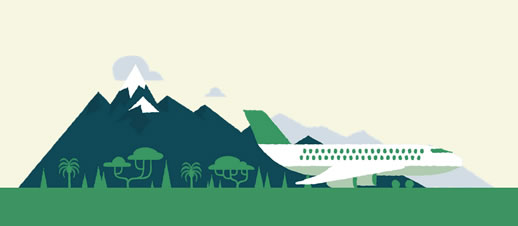 My personal experience with travel hacking
There are five people in my family with four of us on adult airfares (my sons are aged 16 and 13), so saving enough air miles for us all to fly anywhere is hard, let alone flying business class. But I have used some of the tricks I learnt in the book to double my air miles points. Here's a tip that could work for you.
It involves targetting a store where you earn air miles points for every dollar you spend and then buying a gift card for that store so in effect you double your air mile points without spending more.
For example, here in Australia I shop at  my local Woolworths grocery store because I earn Qantas air miles by shopping there. I keep a close eye on special deals they have and always take advantage of it by stocking up on non-perishable grocery items when they run a special like offering 1,000 bonus air miles if you spend over $200.
But I sometimes also buy a $200 gift card (that's about how much I spend on groceries at that store each week) which earns me air mile points. Then I spend the gift card in the store on my usual groceries thus doubling my air mile points. It's a slight fiddle which takes a bit longer but it does work to get your air miles growing faster.
That's just one of the tips and tricks to earning more air miles you'll learn in Upgrade Unlocked.
Getting Started on Your Quest for Luxury Travel on a Budget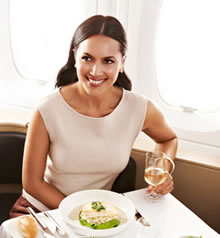 Travel hacking and luxury travel hacking definitely isn't for everyone because you do have to be determined, patient and, most importantly, take action. But if you'd like to give it a go then the rewards are there for the picking and, if you dream of travel, Upgrade Unlocked will get your further faster, and cheaper – or in luxury if that's what you're dreaming of.
Is Upgrade Unlocked right your for?
Upgrade Unlocked is a brilliant starting point that gives you step by step instructions on how to get started with travel hacking and achieve your luxury travel dreams even if you're on a beer budget. If you're into travel just a quick look at the bonus 20 Travel Questions at the end of the book is hugely valuable, whether you're using air miles points or not, especially the answers to questions like:
What are the websites you use to search airline routes and fares?
Are there any tools to track when 

an award becomes available or do I 

have to check every site every day?

If I don't want to stay in luxury or chain hotels, what is the best way I 

can book nice places for less?

If I can't figure all of this out, can I 

pay someone to do it for me?
Three More Reasons to Buy the Book
1. You love to travel but can't afford to travel as much as you like. The tricks and tips you'll learn in the book will help you solve this common problem and even if you don't manage to jet set around the world in first class several times a year Upgrade Unlocked will help you travel more for less.
2. You've heard a bit about travel hacking but you've never tried it properly and you're curious to see if it really works. There's a full money back guarantee on Upgrade Unlocked so this is your chance to find out if it works or not with no risk:
"We'll take care of you and you'll love it. If you don't, let us know and we'll make it right or give you back your money—your choice. But you will love it, and if you take the time to apply the lessons, it will work for you."
3. There's a limited-time introductory price on right now which I doubt will be repeated because the only time Chris discounts his products is for the launch. So if you want to get the special price buy it now because no one knows exactly how long the introductory offer will last.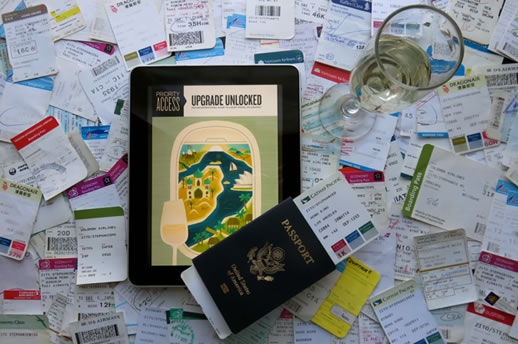 Find out more about Upgrade Unlocked: The Unconventional Guide to Luxury Travel on a Budget here.
Got questions? Fire away and I'll reply in the comments below.
Have you had any success earning and saving air miles to get free or upgraded flights or accommodation? Share your story in the comments, we'd love to hear from you.
Disclosure: I'm an affiliate for Upgrade Unlocked because I love Chris Guillebeau and all his products so I'm happy to recommend them. Any affiliate income helps to cover the costs of blogging and keep me writing more travel tips and inspiration so we all stay motivated to keep adventure first and foremost in our minds. Happy travels! x Annabel
Share This Story, Choose Your Platform!