Secret, Surprising Costa Rica Bird Sanctuary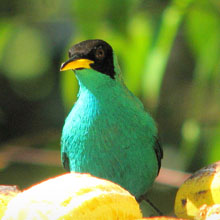 Emerald, ruby and sapphire. Like so many precious gems birds flit around in the gardens, lured out of the undergrowth like this Green Honeycreeper by ripe bananas on bird feeders.
Hidden away near San Isidro city in the southern zone of Costa Rica, Los Cusingos Bird Sanctuary is a haven for birds, bird lovers and conservationists.
Named after the Fiery-billed Aracaris, a small toucan, Los Cusingos Bird Sanctuary and museum were once home to the great ornithologist Dr Alexander Skutch. Author of numerous books including A Guide to the Birds of Costa Rica, Dr Skutch moved to Los Cusingos with his wife in1941 and died there just a week before his 100th birthday in 2004.
Much of his work took place at the 78-hectare reserve which is now owned by the Tropical Science Center and great for watching wildlife, walking the trails and meditating by the river. Not to mention a bit of bird spotting of course and it's best to be an early bird if you want to make the most of that.
Dr. Skutch's home, which he built himself, has been restored and is now a museum dedicated to his life and work. It's a fine example of the plaited cane and wood construction techniques used in Costa Rica at the beginning of the 20th century.
Dr. Skutch's belonging are still here – the shelves groaning with books about conservation and wildlife, the ancient typewriter now gathering dust on his desk and binoculars everywhere. It's a tiny museum that amazed me because it's all so basic and dated yet only a few years ago Dr Skutch was sleeping on that narrow metal frame bed.
Dr. Skutch's life philosophy for simple, eco-friendly living in a natural environment is evident everywhere.
A lifelong vegetarian, Skutch grew corn, yucca and other crops, and, without running water until the 1990s, bathed and drank from the nearby river. He believed "in treading lightly on the mother Earth" and did so although he left behind an amazing legacy.
The simple life clearly suited Skutch who enjoyed good health into his nineties, and wrote his last book at the age of 96.
Only 15 visitors are allowed in Los Cusingos bird sanctuary each day, with two or three cabins you can book for overnight stays, but the Candy family were the only five people staying when we visited. Which was lucky because we can be a bit nosiy and some of the younger  members are simply incapable of being quiet which makes bird spotting challenging.
A highlight of staying at Los Cusingos is sitting (quietly if possible) on the porch watching the hummingbird feeders.
Several trails snake through the forest along the Penas Blancas River and up to some ancient stones carved with pre-Columbian petroglyphs.
Situated south of the high Talamanca Cordillera, Los Cusingos attracts many birds from southern Costa Rica that aren't found to the north such as the Red-crowned Woodpecker, Turquoise Cotinga, Speckled Tanager, and Streaked Saltator.
All bright, beautiful birdy gems that make the world a richer place.
Getting to Los Cusingos bird sanctuary
To get to Los Cusingos, drive 8km north from the city of San Isidro de el General on the road to San Gerardo de Rivas. Turn right at Rivas and continue 5km through General Viejo, then turn east to Quizarrá.
You can find out more and get in touch if you'd like to book a cabin here.
You'll need to take your own food although we did find and eat in a nearby restaurant one evening.
Do you enjoy a bit of bird spotting?
Share This Story, Choose Your Platform!