Is a Location Independent Lifestyle Right For You?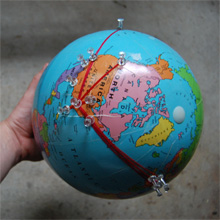 Have you ever fantasized about having a job where you could live anywhere in the world? Being able to travel the globe while still earning a decent income?
I'm excited to have an audio interview with Jen Gresham from Everyday Bright and the No Regrets Career Academy to share with you today.
The interview will give you tips about location independence and help you consider if you really want to make those location independent lifestyle dreams come true or if they're better kept as dreams.
This is an 18 minute audio interview which covers:
Jen's personal experience of the location independent lifestyle.
What exactly is a location independent lifestyle anyway?
The three different independent lifestyle models: Jetsetter, Nomad and Expat.
How to chose which model is right for you.
Tips on to consider when making a change.
Tips on how to overcome your fears and take the plunge.
You can listen to the interview right here or download it here to listen to it later on your favorite mobile device.
[audio: lifestyle-location-independent.mp3 ]
Reading this by email? You need to visit Get In the Hot Spot now to hear the interview. Sorry, I can't embed an MP3 audio file in an interview.
About Jen Gresham
Jen describes herself as "a scientist by training and an optimist at heart".
She's made an amazing career transformation from being in the US Air Force to being self-employed and has also recently moved from the USA to London.
Jen helps people turn their career fantasies into reality so if you're looking to change your life or change your career she should be your go to person. I recommend you check out the No Regrets Career Academy.
Jen is just launching a new career change training program. Sign up ends on September 25th with limited spaces available so if that sounds like something that might interest you this could be the perfect time.
She's also created three free training videos to get you thinking about how to make your career change happen and make it work. You can check them out over here.
Join the Conversation
What do you think about the location independent lifestyle?
If there's anything bothering you about the location independent lifestyle, if you have questions for me or Jen or you just want to share your experiences we'd love to read your comments below.
Me and Jen will be checking in to reply to your comments and keep the conversation going.
Share This Story, Choose Your Platform!