I Love Lions! Zimbabwe Travel Photo Story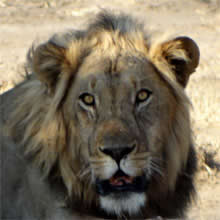 Are you a cat person? Then seeing lions in the wild is probably one of your biggest dreams.
It is for me because I love cats of all kinds and lions are truly divine. But lions are elusive creatures and endangered so I wasn't expecting to see any during my recent trip to Zimbabwe. I secretly hoped I would but it's not something you can count on.
So it was a huge and incredible thrill to encounter lions nearly every day while staying at Kanga Camp in Mana Pools.
Mana Pools National Park is a wildlife conservation area in northern Zimbabwe which borders the lower Zambezi River and Zambia. When the rains come the plains flood forming four small lakes hence the name Mana Pools meaning 'four pools'.
Mana Pools is a Unesco Heritage site and the least developed of all the national parks in Southern Africa. It's a wilderness where wildlife runs wild, in particular elephant, hippopotamus and the more common African wildlife  like impala and baboon.
But there are lions too, I saw them with my own eyes. All these lions were spotted on the Kanga Camp concession and are from the same pride of lions.
The lions I saw are very aware that they are being watched and strangely blase about it. They watch you back. They dare you to approach, they invited you to walk up and stroke them. But that would not be a good idea, not a good idea at all.
Those golden eyes, that dappled fur, those fluffy ears are deceptive. These lions are not a giant cuddly toy but finely tuned killers. I still love them though. I hope you do too.
Day One – Sunset game drive
Day Two – Sunset game drive
Day Two – Night time at Kanga Camp
Day Three – No lions spotted. I guess that was so I didn't get blase about the whole thing. 
Day Four – Early morning drive to the airstrip. 
Do you love lions? What animals would you most like to see in the wild? Lions or something else? 
I was a guest of Zimbabwe Tourism Authority during my stay in Zimbabwe and of African Bush Camps during my stay at Kanga Camp in Mana Pools with thanks also to Zimbabwe Bookers. 
Share This Story, Choose Your Platform!