Like to Star on my Blog AND in my Book?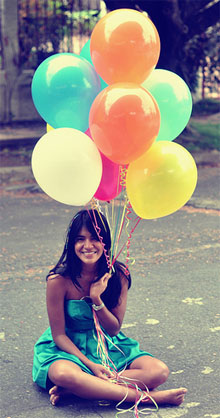 Coming here from Copyblogger? Welcome! It's a bit crazy here right now so you may want to start slow. Otherwise, here's the story so far. My last post was about how I'm seeking funding to go to BlogWorld for the amazing career development experience, and to meet other bloggers. Maybe I made a mistake with that post because many people told me asking for donations was a waste of time. But I'm a dreamer and an optimist and I want to prove the naysayers wrong.
Do People Donate to Bloggers?
Yes. Nancy Burcham from California sent me this email telling me why she made a donation:
"In addition to just wanting to support you and your dreams, what resonated with me was making a donation based on the value I've already received, and for all the work you put in week after week to uplift other people's lives.  In a "law of attraction" sense, I believe that if I find value in other people's work and am willing to pay/support/donate (instead of just always being a taker), then I will receive the same when I ask for support for something I want to do.  I know most people don't think like that – hey, if they can get it for free, why pay?  But I trust that it is all part of the "cycle of abundance" and I want to exchange my energy in it both directions – receiving and giving, with energy of my $ and/or my time and effort.  I am soooooo grateful for your efforts, your perseverance, your willingness to put yourself out there.  (as well as being sooooo grateful for what the Universe has gifted me in my life in general)  So far, I've only had the oppty to exchange my energy in the form of feedback.  Here's an oppty to support you with $."
A Massive Thank You to Everyone Who's Donated
With donations coming in I'm happy, humbled and honored, so I want to give back to all of you who are supporting me. I know you don't expect it, but when someone gives you a gift you naturally want to give something back to them too. Seth Godin writes in Linchpin that gift giving's powerful and this experience has made me realize the truth in that.
Special Offers for Readers Who Donate
You'll be featured on my blog as a Hot Entrepreneur giving you exquisite exposure and luscious link love.

That puts your name and blog in front of a lovely, large and growing audience, plus gives you search engine juice. Get In the Hot Spot has Google Page Rank 4 (GPR4), so a link from here should help improve your search engine rankings. A lot of search engine optimisation agencies ask me to link to their clients' sites because they know a link in from a GPR4 site is good for their search engine rankings. Normally I politely decline but for you, it's my pleasure. You're welcome to write the blurb and set it up with key words or phrases that will help you or just leave it to me.
PLUS You'll be one of the people mentioned in my Successful Blogging in 12 Simple Steps ebook, in a special section called Thank You to My Readers.
The suggested minimum donation is $25.  This offer is for genuine people only with websites or blogs which will interest and benefit my readers. Any dodgy spammy sites or sites with dubious materials will be not be accepted.
PLUS You can take advantage of a hugely discounted blog or website consultation.
50% off consultations – For anyone who wants sound, honest advice on how to make their blog or website effective or set up a good one, this is gold. The consultation can be done by email or Skype. I'll spend an hour reviewing your website or blog and advising you on how to improve it, or writing copy for you if you prefer. Normally consultations are $250 but now, for a limited time, you can get it for only $125. Here's what one of my clients says about working with me:
"Annabel rocks. We met on Twitter and developed an instant rapport. What you see of her personality online is what you'll get with her work. Honest, inspirational, easy going with impact. And a funny accent."
Kiki Robinson, The Web Mob
DEADLINE – All this is only valid until Sunday September 12th or earlier if I get enough takers before then as numbers are limited. At the stroke of midnight I'm going to stop taking donations. If I don't have enough to make it to BlogWorld I'll donate all the money to charity (consultation fees excluded). With luck I'll be off to BlogWorld in October and I'll be over the moon with happiness thanks to you, in which case I'll thank my lucky stars by making a personal donation to charity.
If everyone whose ever left me a comment or sent me an email thanking me for helping them chipped in I'd be able to go to the moon and back. I know it's a bit odd but the moon doesn't interest me right now – only BlogWorld does!
Hot Entrepreneurs Part 1
I'm going to do small batches of these so we don't get dazzled by their brilliance. This is the first release:

Suellen Hughes set up her business Transforme to inspire and help you kick start your best life. Suellen has everything you need to turn your life around all in one spot, including online coaching, tools and resources, plus access to experts and a like-minded community. Judging from her before and after photo on Twitter she's already transformed her own life and now she loves helping other people change their lives for the better too. Truly inspirational.

Robin Dickinson is a highly sought after business consultant with a blog at Radsmarts. Rob says he helps people succeed in business but that's an understatement. He's leading a team of centurions – 100 strong players, who will attract and equip 100, who will attract and equip 100.  This will result in a global mutual sales team of 1,000,000 – an incredibly valuable asset in the new economy. Check out his inspiring blog post on Share Words with 1,163 comments at last count. I'm a proud member of his winning team and if you'd like to be one of my centurions I'd love to talk to you about it. Follow Robin on Twitter for business tips.

Nancy Burham is a writer, entrepreneur, traveller, mum and L.A. biker chick. Apart from that, she'll remain a woman of mystery until she sets up her own blog and shares her writing and ideas with us. Many thanks to Nancy for sending me the gorgeous email you read above. It's a brilliant example of her generous spirit and positive outlook on life.

Tony Consentino is wonderful as The WordPress Guy and he'll build your WordPress advantage. Tony creates professional, easy to manage business websites. He knows all about the widgets and plug-ins that drive most of us to distraction, and he's got the whole social media integration thing sorted too. Follow Tony on Twitter for WordPress tips and gorgeous retro branding.
That's It
Don't miss the September 12th deadline if you want to see your name in lights at Get In the Hot Spot or take advantage of a consultation at 50% off. Remember the offer may end sooner if spaces get filled up.
No Worries Guarantee
I know not everyone who reads this can make a donation and that's fine. Don't worry about it. You'll still be able to benefit from the tips here and from hanging out in a vibrant, upbeat community. You're valued, wanted and loved. Always. I'll have more more seriously hot tips for you soon. Thank you so much for reading.
Also, if there's anything else you'd rather exchange let me know and I'll see what I can do. As long as it's nothing dodgy of course!
Update
I've ended this now. Will be writing about the outcome soon.
Share This Story, Choose Your Platform!